This post and Froozer Fondue recipe is sponsored by Froozer Fruit Snacks. All opinions are my own.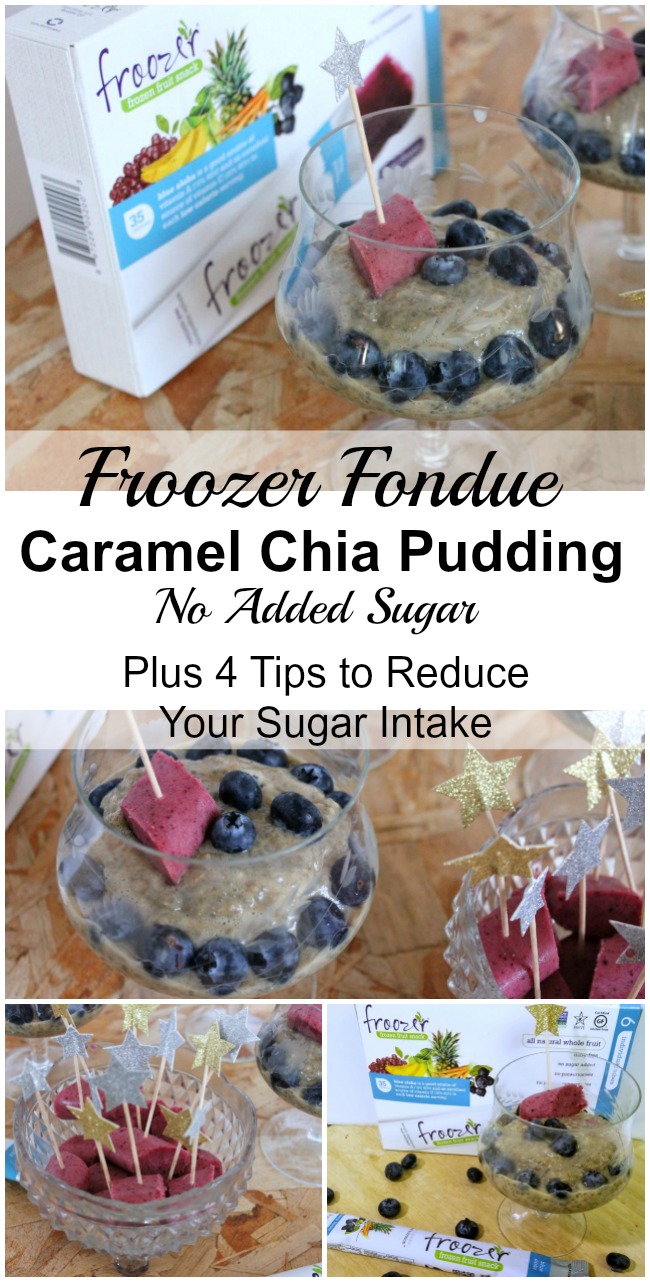 4 Tips to Reduce Sugar Intake
One of my (many) goals for the coming year is to reduce my (and my husband's) sugar intake. Alan's sweet tooth is epic, and that means that I am also struggling with ways to avoid extra sweets because they are always around the house. While it's easy to say "just don't eat it," it is a little more complicated than that. Here are a few tips to help you reduce your sugar intake.
Read Labels and Learn What Ingredients to Avoid
There are a lot of code names for sugar, and you can find them in many processed foods from spaghetti sauce and salad dressing to bread and crackers. While the best thing is to avoid processed food, most of us rely on them from time to time. Take the time to read food labels and decode some of the names for sugar.
Most of us know that sucrose, fructose, and dextrose are different forms of sugar, but remember that high fructose corn syrup (hfcs), brown rice syrup, maple syrup, molasses, coconut sugar, honey, and agave syrup are also forms of sugar, and while some are better than others, they still are basically empty calories that contribute to obesity, diabetes, tooth decay, and heart disease.
Even worse, many products will have a combination of these sugars, adding up to a very high percentage of the calories. Ingredient listing on food labels starts with the highest quantity, but if you have a variety of sugars, their high quantity may be hidden. When reading food labels, be sure to look at the carbohydrate content where you will see a separate listing of "sugar." That will help you determine the true quantity of sugar in the product.
Look for products that say "unsweetened," or read labels to make sure that no added sugar is listed.
Avoid Artificial Sweeteners
Artificial sweeteners, even some of the better ones, actually cause your body to crave sweeter foods. Instead, gradually reduce your need for sugar by using less. Adding extra flavor, like cinnamon or vanilla, can help.
Remember that most artificial sweeteners are made of a variety of chemicals that can have negative effects on your health.
Watch What You Drink
Sure, you avoid soda because you know that it contains too much sugar (or too many chemicals from the artificial sweeteners). But don't forget about energy drinks, bottled smoothies, iced teas, and other drinks that are loaded with sugars.
Use fruit to satisfy your sweet tooth and sweeten food naturally
Fruit is the exception to the sugar rule. While fruit can be high in sugar, it does not cause the negative effects. Some fruits, like berries, actually reduce the insulin spike from high glycemic foods. Fruit also contains nutritional value, including fiber, vitamins, minerals, and antioxidants.  While processed sugars can contribute to cardiovascular disease, consumption of a wide variety and quantity of fruit can reduce risk. Basically, you can eat all the fruit that you want.
Some fruits also make great sweeteners. Dates and bananas are two of my favorites. They sweeten food enough that you can dramatically reduce or even eliminate processed sugars in many dishes. This Froozer Fondue Caramel Chia Pudding has no added sugar, and uses only dates to give it a light and caramelly sweetness.
Froozer Fondue: Caramel Chia Pudding
When I decided I wanted to make this Froozer Fondue Caramel Chia Pudding, I knew that I wanted to make it with little or no added sugar. Using dates both for flavor and as a sweetener allowed me to eliminate sugar altogether.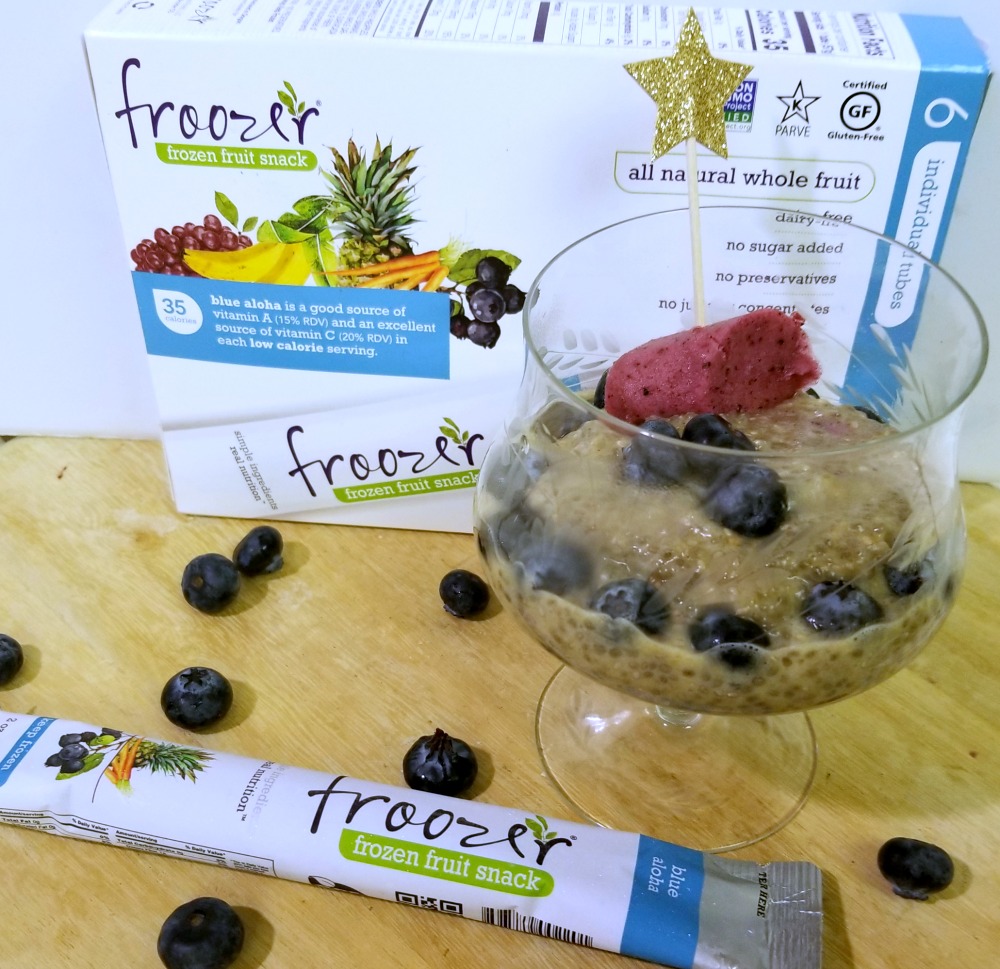 Froozer Fruit Snacks make a great accompaniment to the chia pudding. They are made with 100% fruit and contain no added sugar, fruit juice, or concentrate. They are a great grab and go treat for adults and children. I love that in addition to being dairy-free, they are also non-GMO, all natural, gluten-free, and have only 35-40 calories per serving. And yet, their fruity sweetness will satisfy your sugar cravings.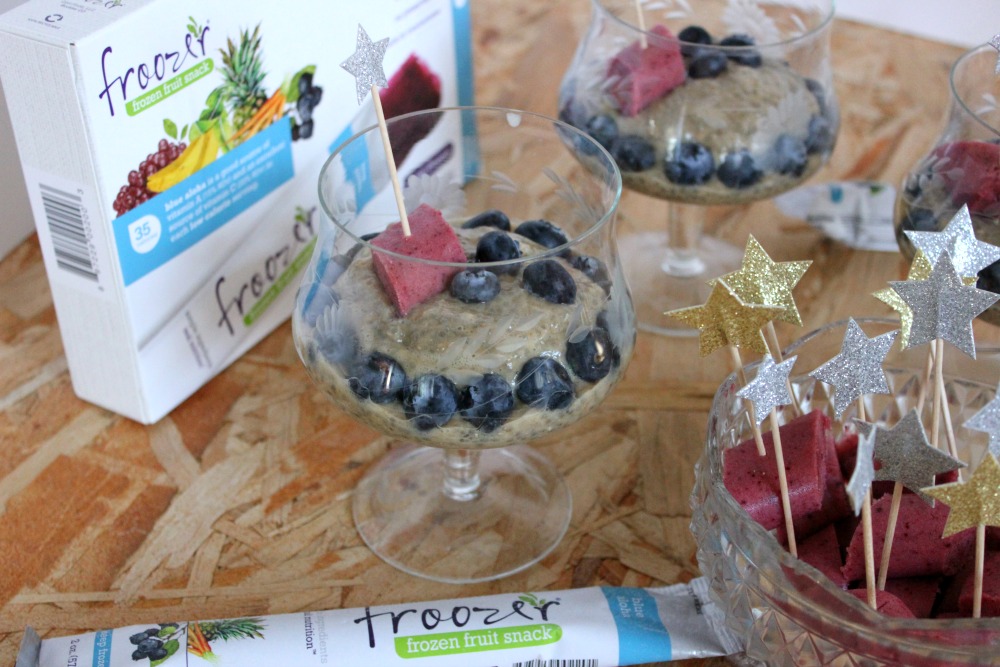 Because Froozer Fruit Snacks are made with only whole fruit, they don't lose any of their freshness, fiber, or flavor. The fruit is vine-ripened to its peak of taste, then flash frozen, sealed into tubes, and voila! A deliciously sweet tube of goodness is shipped to your local store.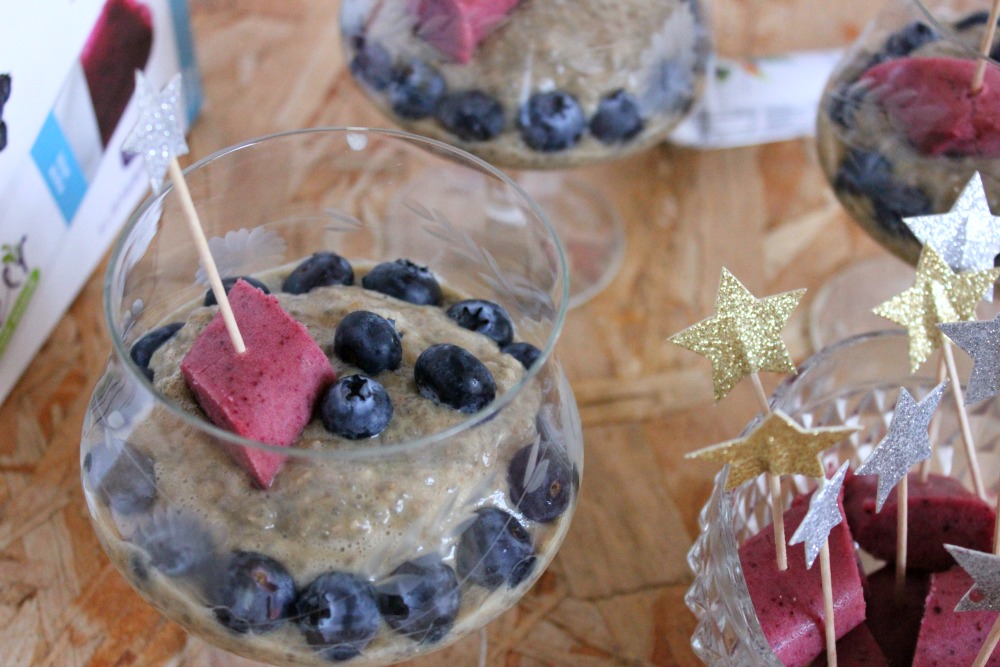 Other fruit bars may have added sugar, or be made with juice or concentrate, which causes the fruit to lose much of its health benefits. Froozer uses no artificial ingredients, additives, colors, or preservatives. As I said, it is 100% fruit.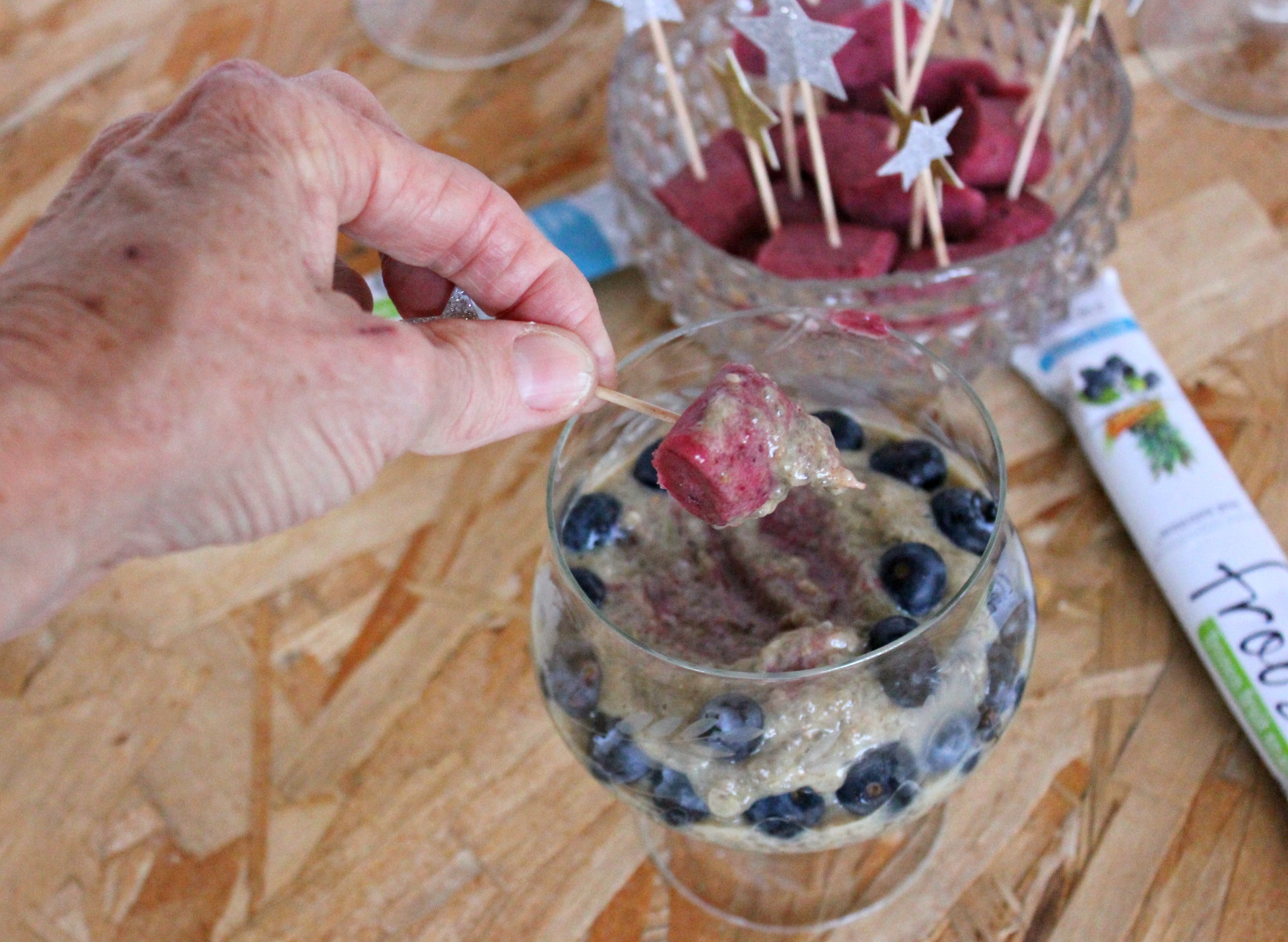 This Froozer Fondue is also fun! Both kids and adults will love dipping the Froozer stick into the pudding. I made it a little easier by cutting the sticks into bite-sized pieces and using a toothpick or fondue fork, but kids might prefer to just dip right in. And parents, you know that your child is eating a healthy, whole-food snack.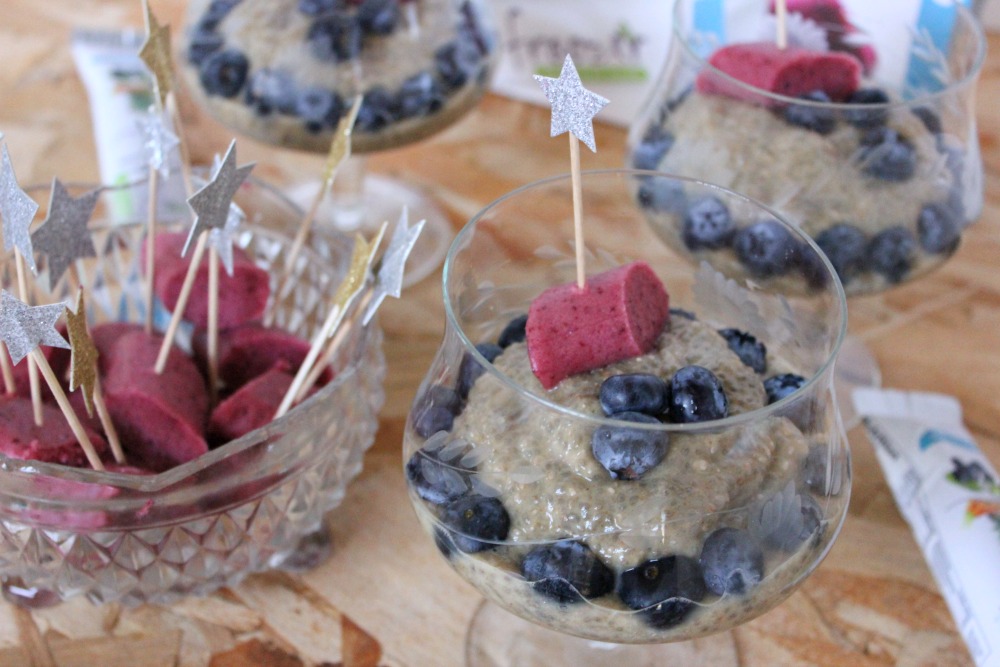 Froozer Fondue: Caramel Chia Pudding (no added sugar)
No added sugar, dairy-free, vegan, vegetarian, gluten-free
Ingredients
4 Blue Aloha Froozer Frozen Food Snacks, cut into bite-sized pieces
2 cups cashew milk (or other non-dairy milk)
5-6 Medjool dates, pitted
1 teaspoon vanilla extract
½ cup chia seeds
Blueberries
Instructions
In a blender, blend the cashew milk, dates, and vanilla until smooth. Start with just a few dates, then add more if you desire more sweetness.
In a medium bowl, carefully combine the cashew milk mixture with the chia seeds.
Cover and refrigerate for at least 4 hours.
Before serving:
Cut the Froozer Fruit Snacks into bite-sized pieces and return to freezer until ready to serve.
Place several spoonfuls of the pudding in a serving cup. Add a row of blueberries. Carefully spoon more chia pudding into the cup.
Top each serving with a few blueberries and a Froozer bite.
Serve with the rest of the Froozer Fruit Snacks on the side.
I used the
Blue Aloha Froozer Fruit Snack
to go along with the blueberries in my recipe, but any of the Froozer Sticks would work just as well. There are four delicious flavors, all with only four to six ingredients (whole fruit only), including
Tropical Sunset
,
Strawberry Bliss
, and
Orchard Cherry Berry
, in addition to the Blue Aloha. You can find Froozer at Walmart, Albertsons, Kroger, Safeway and others (depending on area) or
check here for a list of available merchants near you
.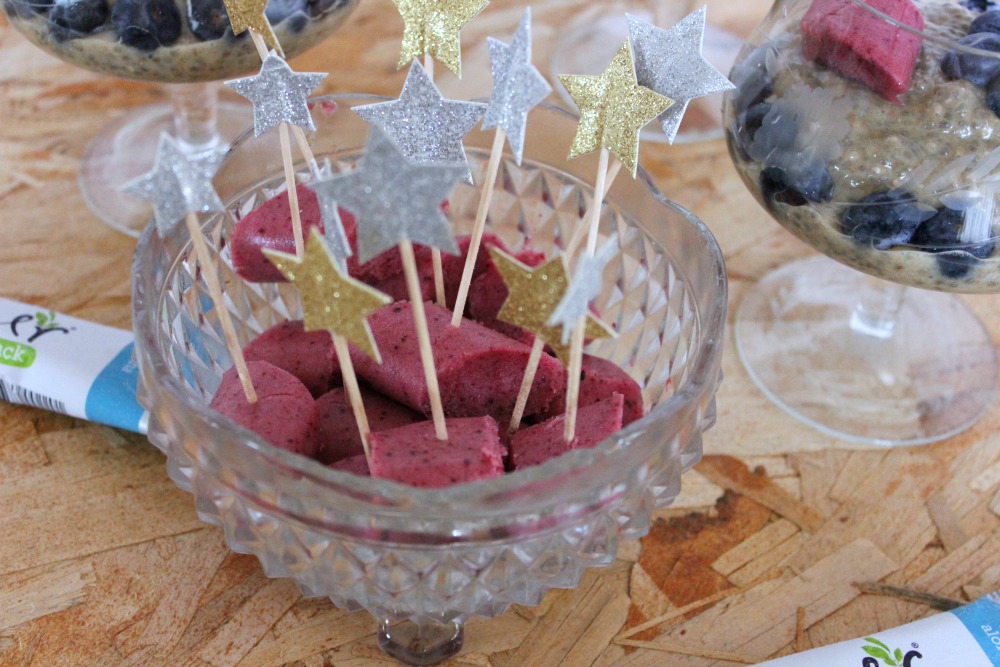 Froozer Fruit Snacks and this Caramel Chia Pudding are a great way to start reducing sugar and improving your diet.
Are you concerned about sugar intake? What is your best tip to reduce sugar consumption?
I am not a dietician or nutritionist. This information is from my own research, and while I am making suggestions, I am in no way providing diet or nutritional advice.
---
Weekly Linkups
My weekly linkups! Please stop by and check out all of the great recipes, workouts, and information that all these awesome bloggers share every week!
Meatless Monday with Sarah and Deborah
Meatless Monday with Annmarie  and Dixya
Tuesdays on the Run with Marcia, Erika, and Patty
Inspire Me Monday with Janice
Wild Workout Wednesday with Annmarie, Jen, and Nicole
The Plant-Based Potluck Party with Deborah
The Running Coaches' Corner with Rachel, Suz, Lora Marie, and Me!
Friday 5 2.0 with Rachel and Lacey and Meranda