The first week of September. Just saying that phrase brings a smile to my face. While I wish I could say I feel a change in the air, it will be a few more months weeks until we feel a change here in the desert. It was 110 today, hot and humid.
School started last Tuesday. I know that phrase brings a smile to the faces of many mothers. I'm happy about school starting too. Even though I don't have children at home anymore, the beginning of school means the beginning of our cross country season. As I wrote in a email to the parents this morning, the first cross country meet is so exciting, not only because it signals the start of a new season, it is also the very first race for many of our athletes! Remember that kind of nervous, queasy feeling before your first race? More than half of our team will be feeling that on Saturday morning (yeah, I still get it a little too).
Just as an aside, we had kind of a funny practice this afternoon. What was supposed to be a fairly easy, but hot, four mile run turned into about eight miles for my girls varsity team, who for some reason missed the turn that everyone else managed, and ended up getting lost. I actually had to drive out on the route, and I finally found them, way off course, and we brought them all back safely. Now they'll go down in our cross country team history as what NOT to do on a hot afternoon run.
Here is a little workout in honor of back to school and cross country. A local high school track is the best place for the workout, but anywhere you have room for about 100 meter intervals will work. (Click on the graphic to enlarge or to print.)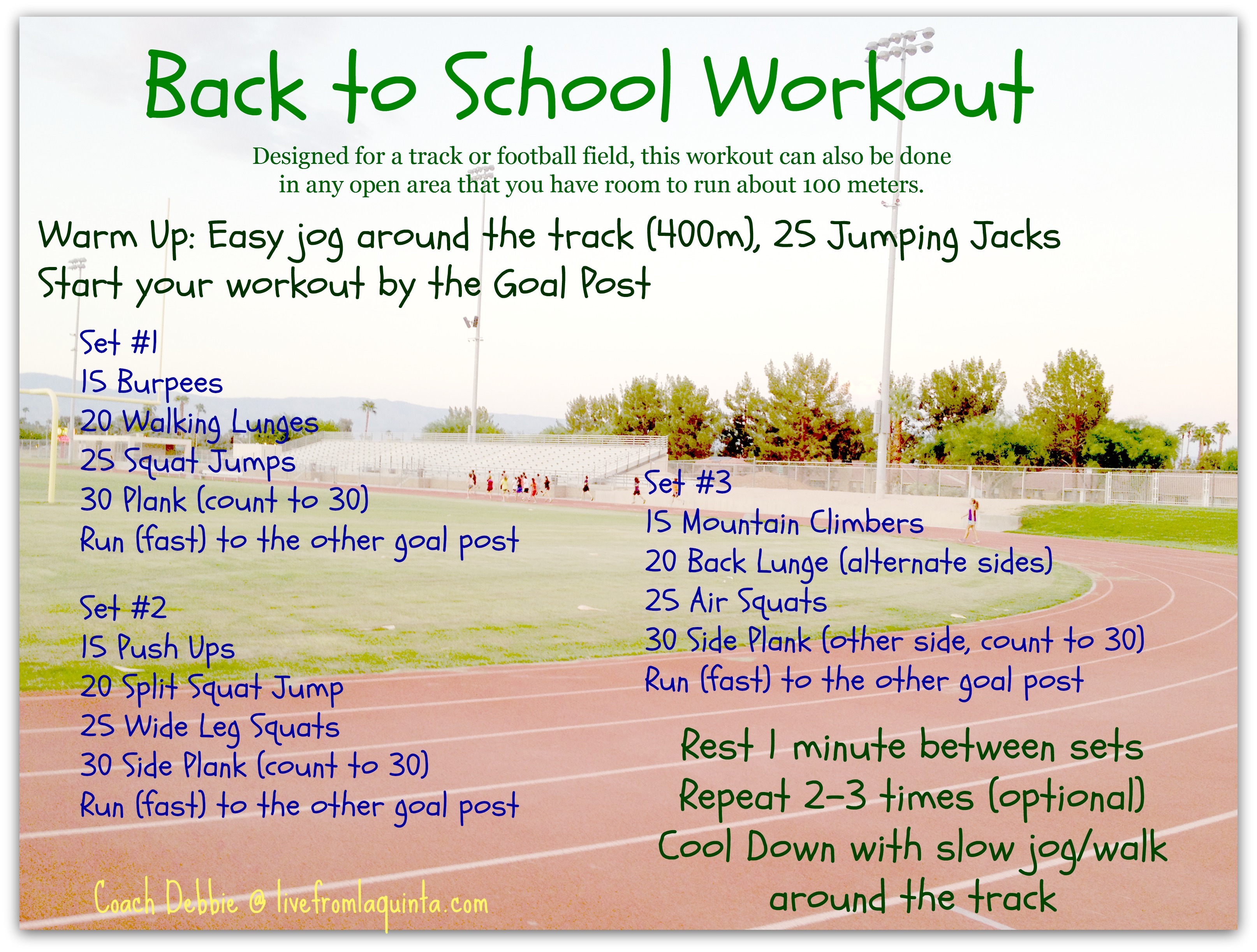 You can do this one time through for a good workout. You can repeat it a couple more times for a great workout. It will challenge you either way.
Oh, and because I can't shut up as another aside, Alan crashed on his bike today. He is okay, just some road rash (and probably some sore muscles tomorrow), but what really bothered me is what he told me about how it happened. It was bad enough that a driver that may or may not have seen him, basically cut him off, causing him to have to turn quickly to evade the car which caused the crash. But what really pissed me off made me mad is that Alan told me that there was a car right behind him as this happened, that saw the whole thing, but didn't stop to see if he was okay. What is the matter with people? You see a bike crash, the rider go down, just barely miss getting hit by a car, and you don't stop? That is just wrong.
Okay, rant over, now get to work and enjoy the workout. We have our first meet on Saturday. What are your plans for the weekend?