Can you still I'm excited about football season? This is my second recipe post this week for delicious and easy meals with a football theme. Today I'm bringing you two recipes for quick and fun gameday dishes, both made easy to prepare using Gardein. These are two of my favorites: Spicy vegan wings, made with Seven Grain Crispy Tenders and meatless potato boats, prepared using Ultimate Beefless Ground.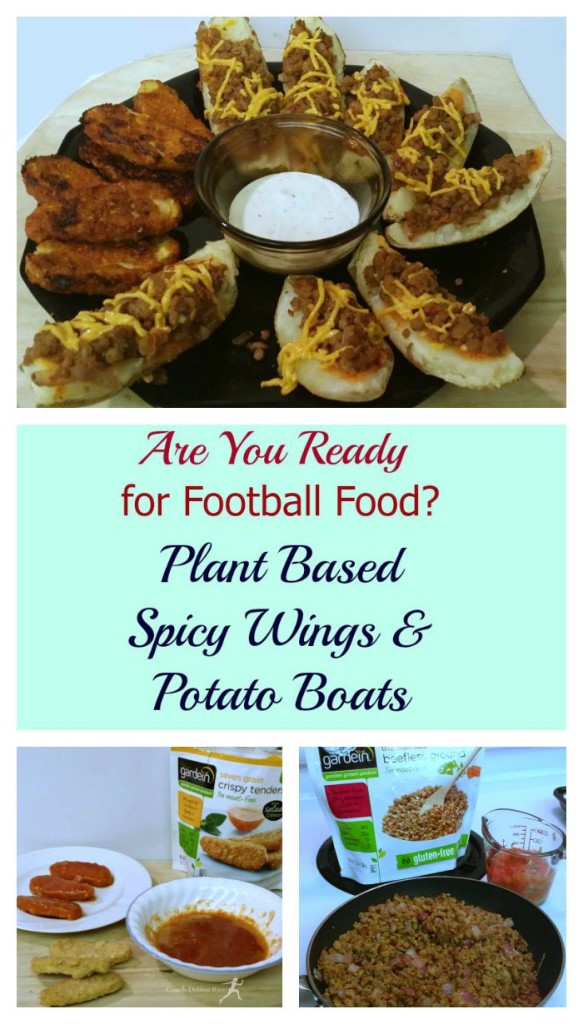 Football snacks can be unhealthy and loaded with fat and calories. These vegan treats are much healthier and, served alongside a green salad, are nutritious enough to serve your family for a meatless dinner.
Whether you're a meat-eater looking for an occasional change-of-pace, just beginning your meatless journey, or have followed a plant-based diet for a while, Gardein makes healthy meat alternatives that taste good, have the texture and nutrition of meat with no cholesterol, fewer calories, and less fat than meat. It is also good for the planet. You can help reduce greenhouse gasses and save water just by going meat-free at least one day a week. Gardein makes it easy.
Spicy Vegan Wings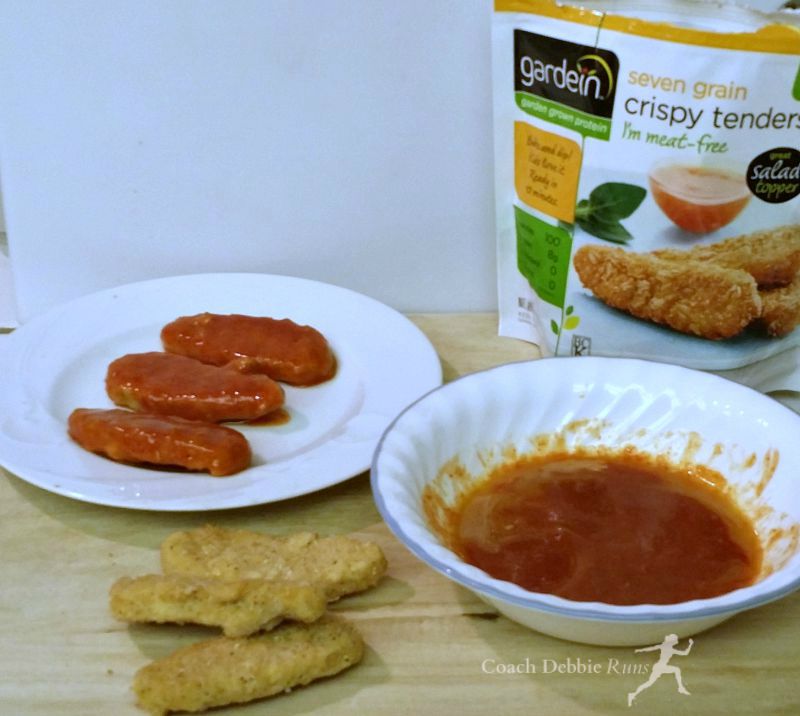 I used Gardein Seven Grain Crispy Tenders for this recipe. One of the great things about this product is that you can serve it as is. Kids and adults love them with a little dipping sauce or ketchup. I like to spice things up a bit though.
Ingredients
One package Gardein Seven grain Crispy Tenders
1/2 cup Sriracha (or your favorite hot sauce)
1 tablespoon vegan butter, melted
Instructions
Preheat oven to 450
In a small bowl, combine the hot sauce and melted vegan butter.
Dip each crispy tender into the sauce, turning to coat thoroughly. Place onto a baking pan.
Bake for about 25 minutes, turning once.
Serve with your favorite dipping sauce
Potato Boats with Gardein Ultimate Beefless Ground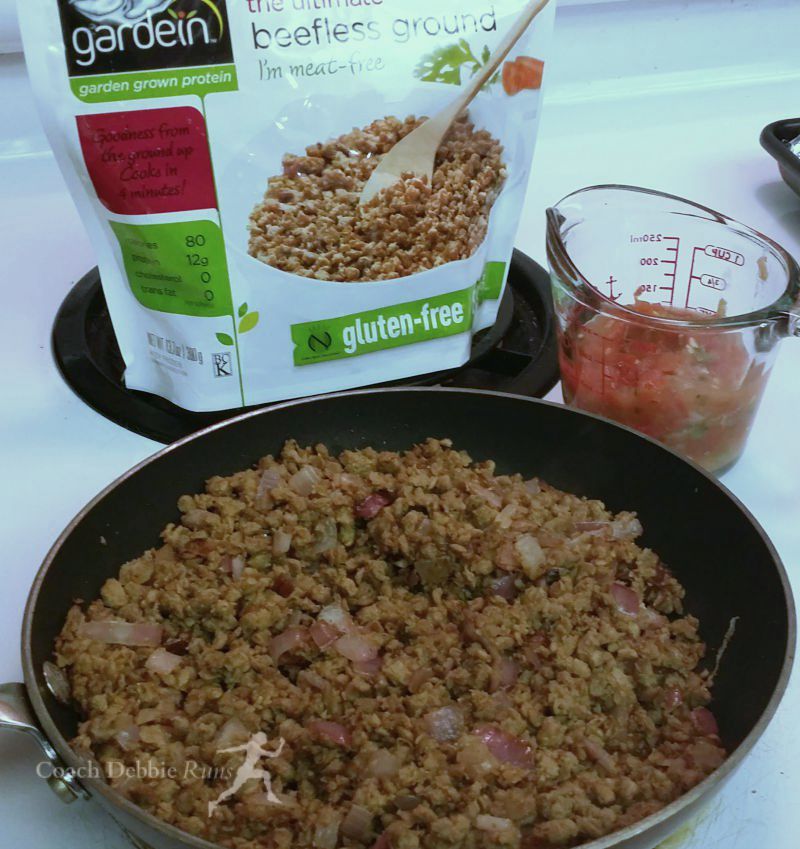 I may have mentioned this before, but I love potatoes. And potato skins may just be the king of all potato based football snacks. These potato boats are a little different but are still deliciously cheesy and good. Plus they have more nutritional value because of the beefless ground, which has 12 grams of protein, is a great source of fiber and iron, and is gluten free.
Football Dinner: Spicy Vegan Wings and Potato Boats
Ingredients
1 tablespoon oil
½ cup onions, chopped
½ cup salsa
½ teaspoon cumin
½ teaspoon garlic powder
¼ cup water
Salt to taste
¼ cup hot sauce
½ cup vegan cheese
4 large potatoes, baked until tender
Instructions
Preheat oven to 450
Heat the oil over medium heat in a large frying pan
Add the onions and cook until tender, about 5 minutes
Add the Beefless Ground, and cook for another 5 minutes, stirring frequently
Add the salsa, the spices, and the water
Continue to cook until the liquid is reduced, about 5-10 minutes, stirring occasionally.
Slice the cooked potatoes lengthwise into quarters.
Spoon out enough potato to make a scooped area for toppings
Spread a little hot sauce on each potato quarter
Spoon the Beefless Ground mixture onto each quarter and sprinkle with vegan cheese.
Place on a baking pan and bake until the vegan cheese is melted, about 5 minutes.
Serve with hot sauce and your favorite dipping sauce.
I used the leftover hot sauce from the wings for my potato boats, and just added them to the baking pan for the last 5 minutes or so of cooking time. And instead of salad, I sliced up some zucchini and yellow squash that nobody ate for some extra nutrition.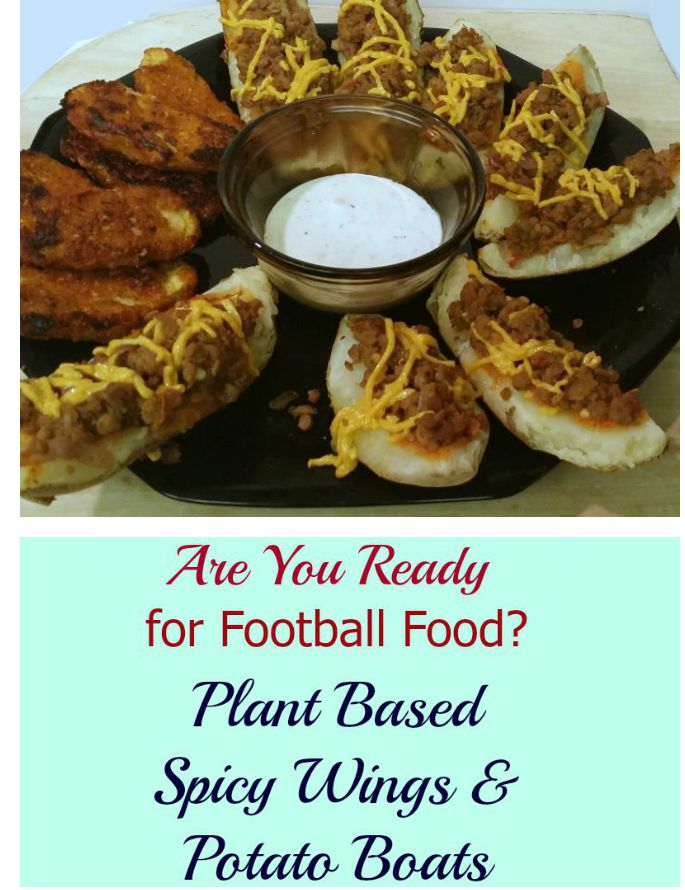 Be sure to stop by the website to get a coupon and save $1.00 on your next Gardein purchase! Plus you can find more recipes and dinner ideas.
What is your favorite football food?
---
My weekly linkups! Please stop by and check out all of the great recipes, workouts, and information that all these awesome bloggers share every week!
Sunday Blog Hop with Jenn
Meatless Monday with Tina and Deborah
Meatless Monday with Annmarie 
Inspire Me Monday with Janice
Anything Goes with Marilyn
Bonnie, the Pin Junkie
Tip Tuesday with Debbie in Shape
Wild Workout Wednesday with Annmarie, Michelle, Sarah, and Angelena Marie
Wednesday Wisdom with Nanna's Wisdom
The Blog Booster Party with Kathleen
Friday Fitness with Jill