I am still in Tempe, Arizona for my Fascial Stretch Therapist course, and, since this is Thursday night, I am preparing for tomorrow's final day. We have to work through the stretching sequence with a partner, who will not be able to cue us (until now we've been working like a team). There is also a practical test, so as soon as I'm finished typing and scheduling this post, it's back to the books for me.
This is a workout that I posted a couple years ago, but it's a lot of fun and very challenging. It really is a total body functional workout. You don't need any equipment, and you can do it anywhere, but it's nice to have somewhere where you can run, which you'll be doing after each set. Have at it!
Fast and Furious Total Body Functional Workout
This workout is pretty high intensity from beginning to end, including a quarter mile run to finish off each set. It will really get your heart rate up  and work your whole body in a short amount of time. Each set takes less that five minutes (plus the run), so you can complete a great workout in less than a half hour. Because it needs no equipments, you can take it outdoors (maybe to the high school track for a great place to get your running in).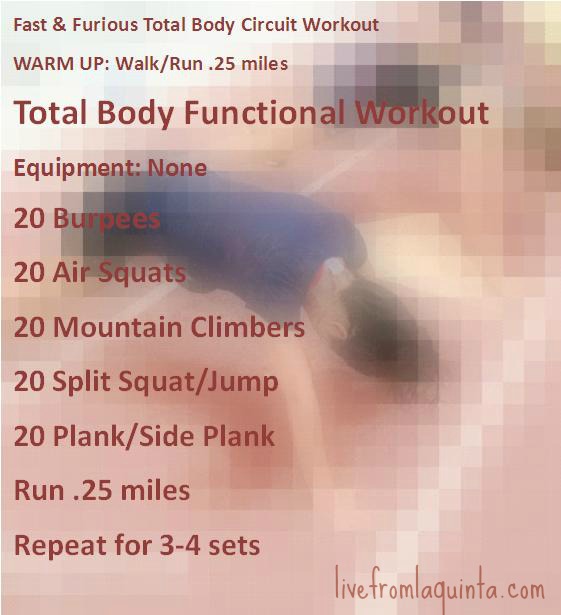 Enjoy the workout! What are your plans for the weekend?
Disclaimer: Although I am a certified Personal Trainer, I am not YOUR Personal Trainer. Always adapt workouts to suit your body and fitness level. Always consult your doctor before beginning a new exercise program.
---
My weekly linkups! Please stop by and check out all of the great recipes, workouts, and information that all these awesome bloggers share every week!
Meatless Monday with Tina and Deborah
Meatless Monday with Annmarie 
Inspire Me Monday with Janice
Anything Goes with Marilyn
Bonnie, the Pin Junkie
Tip Tuesday with Debbie in Shape
Wild Workout Wednesday with Annmarie, Michelle, Sarah, and Angelena Marie
Wednesday Wisdom with Nanna's Wisdom
The Blog Booster Party with Kathleen
Friday Fitness with Jill