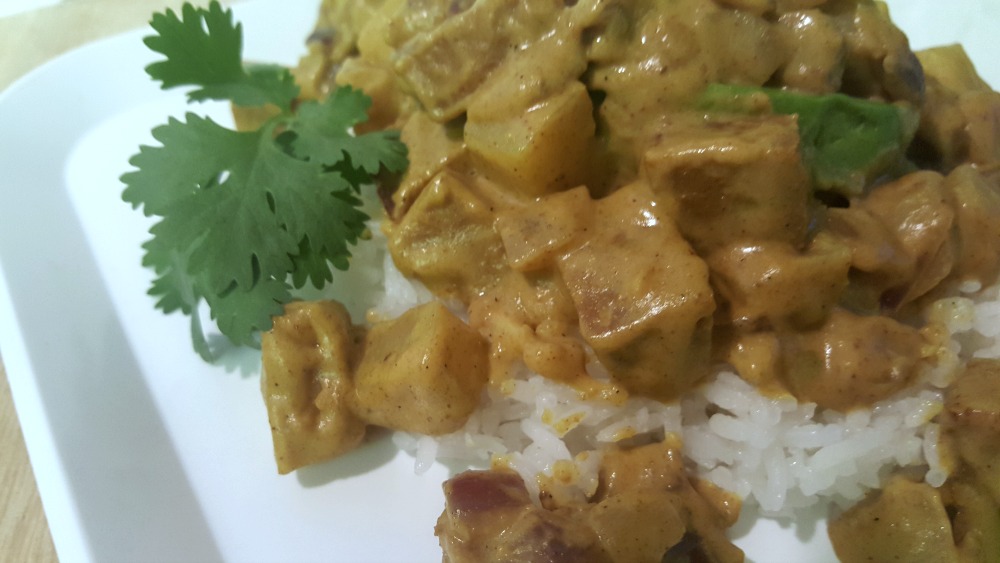 I first made this vegan curry a few weeks ago and I decided right then that it was not only the best vegan curry ever, it was also the easiest. I pretty much shared the recipe on Instagram (<–follow me!) but I thought I'd go a little bit more in depth and share it here as well.
My weekend was incredibly dull restful. A huge dust storm on Friday night killed the air quality for the whole weekend, and when combined with high humidity (something we are NOT used to in the desert) pretty much put a damper (haha) on any kind of outdoor activity. Instead, I did a little yoga (YogaDownload.com for the win!), did a little housecleaning, and basically not much else.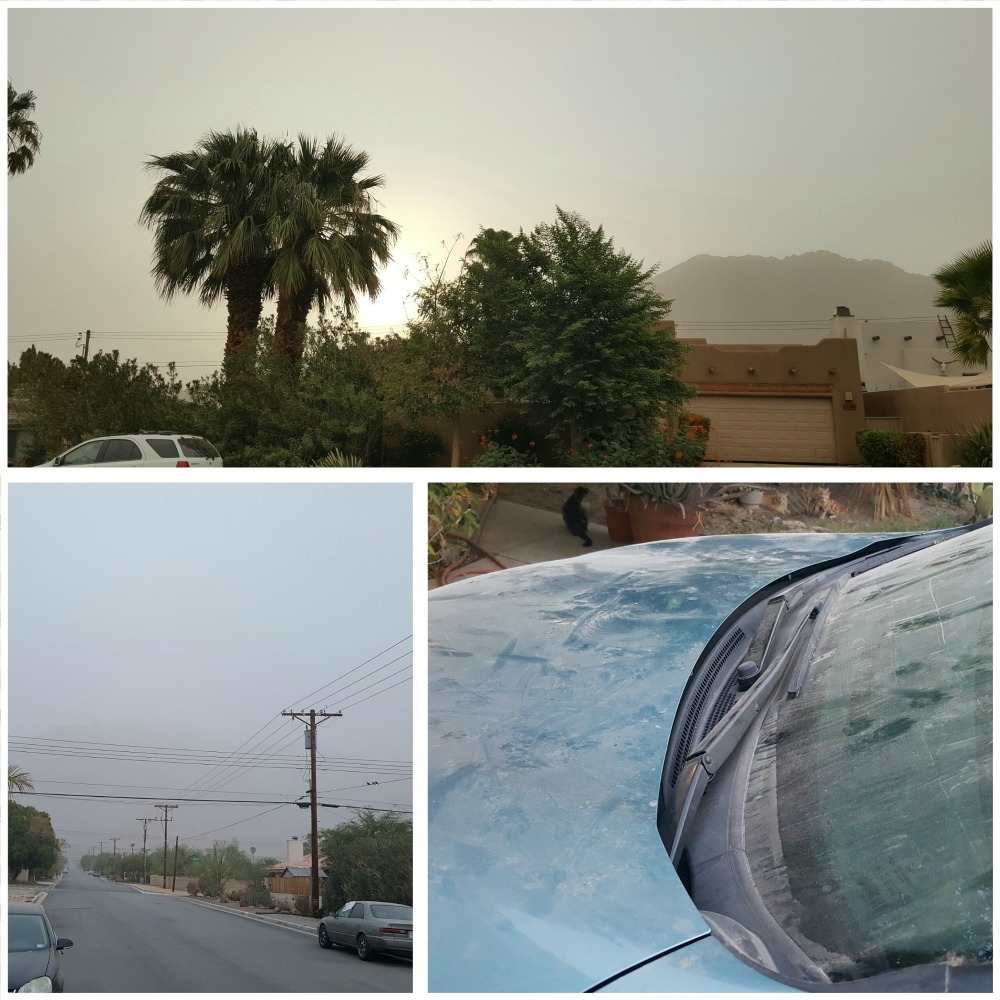 Well, I did cook this vegan curry again. It was so easy and delicious the first time that I wanted to share, but I like to make doubly sure of my ingredients before I do that.  I (and my husband) will be the first to say that it was just as awesome the second time around.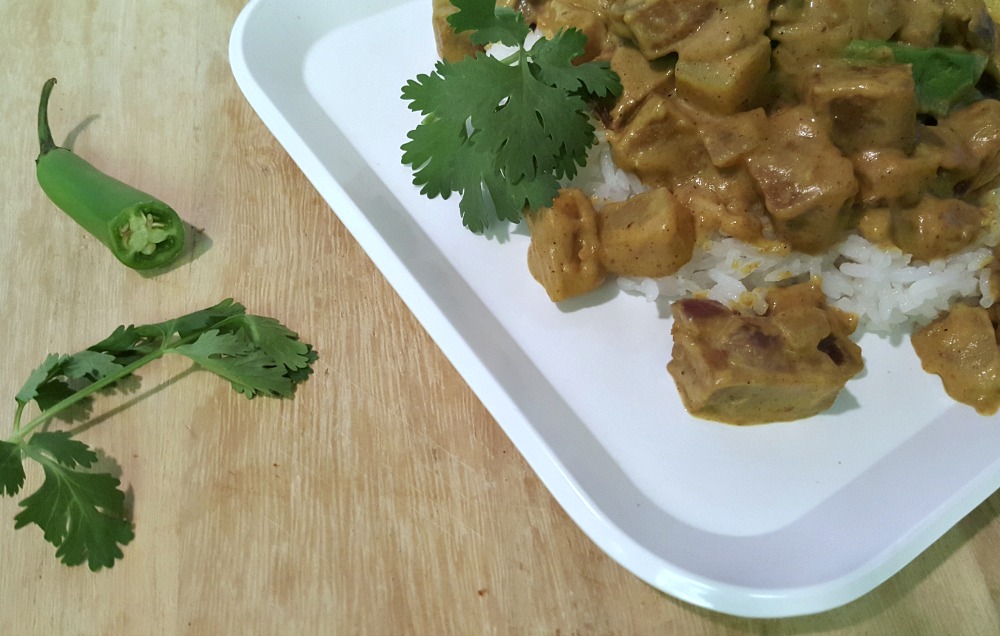 Quick and Easy Vegan Curry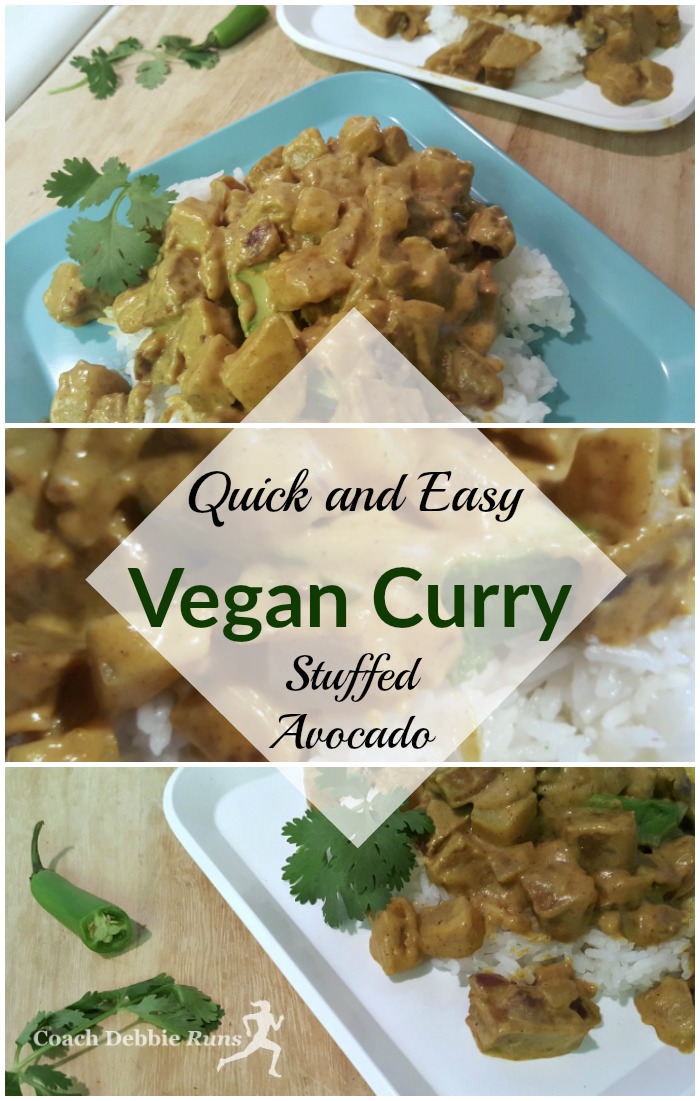 Several weeks ago I picked up Sweet Earth Curry Satay seitan by accident. I usually buy the plain version, sometimes the chipotle. Once I got home I thought, oh, what the heck, let's have some curry! Using the seasoned seitan is part of what makes this a quick and easy dish, but you could use plain and simply add a bit more seasonings when you cook it.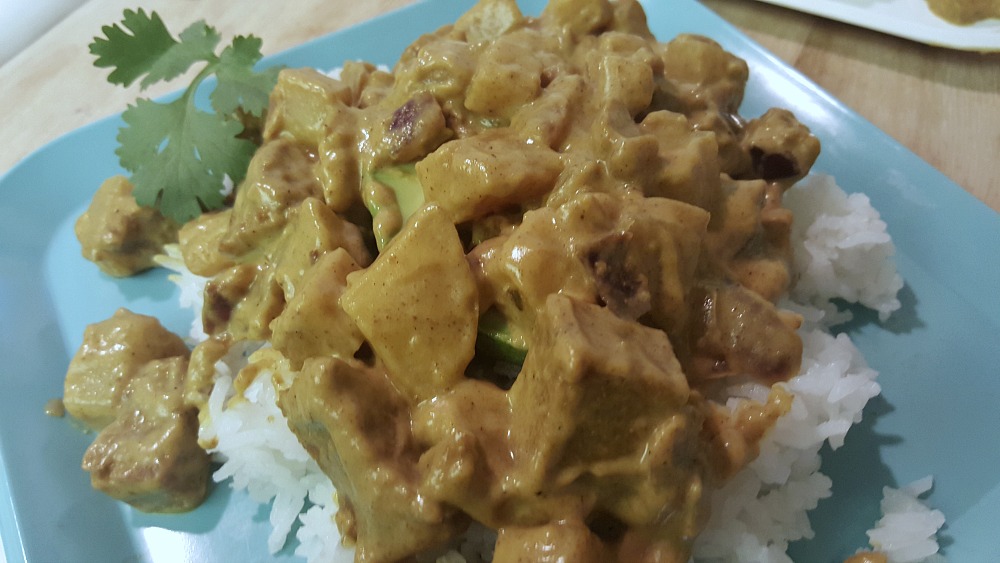 Quick and Easy Vegan Curry Recipe
Ingredients
1 cup onions, chopped
2-3 cloves garlic, minced
1 tablespoon coconut oil
1 potato, peeled and chopped
½ Serrano chili, minced (I love spicy and leave the seeds. It's your choice.)
1 package Sweet Earth Curry Satay seitan, cut into about 1-inch pieces
1.5 tablespoons curry powder
½ teaspoon turmeric
½ teaspoon garam masala
¼ teaspoon asafetida
1 teaspoon salt
1 tablespoon flour
1 cup coconut milk (canned)
1 cup vegetable broth
2 avocados, peeled and halved
rice
cilantro for garnish
Instructions
In a large fry pan, heat the oil over medium heat.
Add the onion and garlic, stir for a minute, then add the potato and chili.
Cook and stir until the onion is soft and the potato has started to brown.
Stir in the Sweet Earth seitan. Cook and stir for a minute or two.
Add the curry powder, turmeric, garam masala, salt, and asafetida. Stir to combine.
Sprinkle on the flour, then stir it in.
Stir in the coconut milk and vegetable broth.
Increase the heat to medium-high and bring to a low boil, stirring frequently.
Reduce the heat to low and simmer for about 10 minutes until the sauce is thick and creamy.
Heat the avocado for about 30 seconds in the microwave.
Serve the curry on the rice and avocado. Garnish with cilantro. Serve with your choice of curry condiments.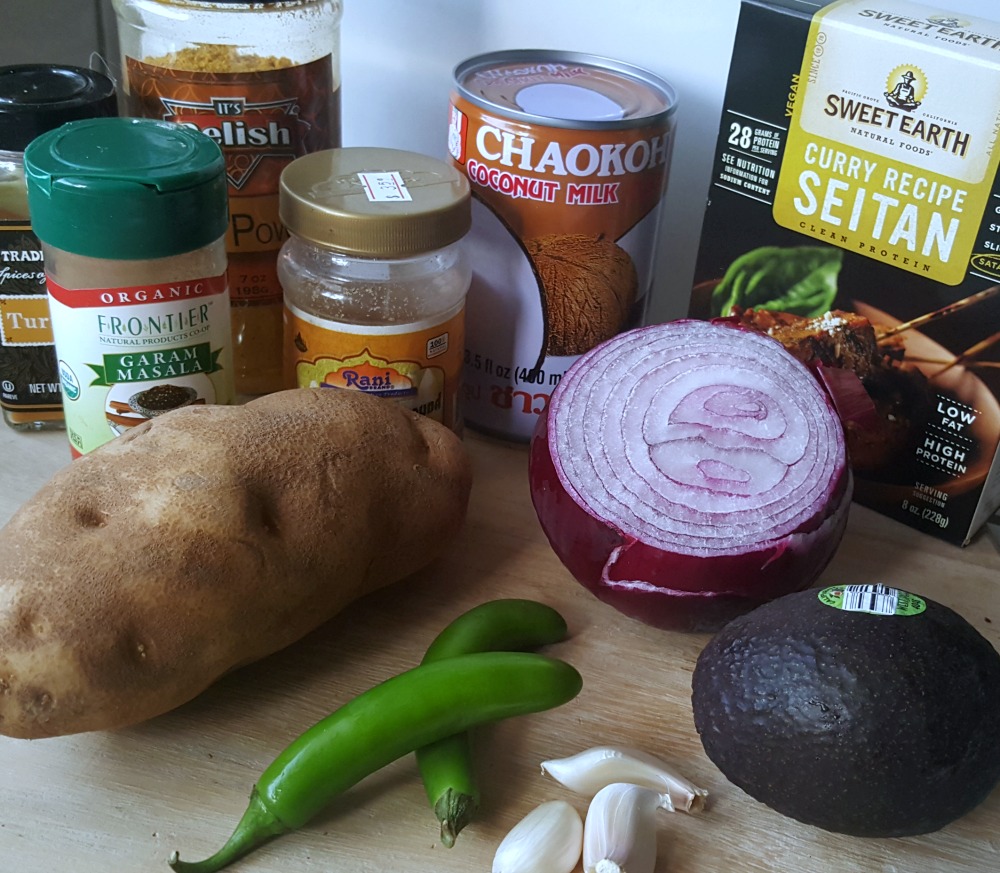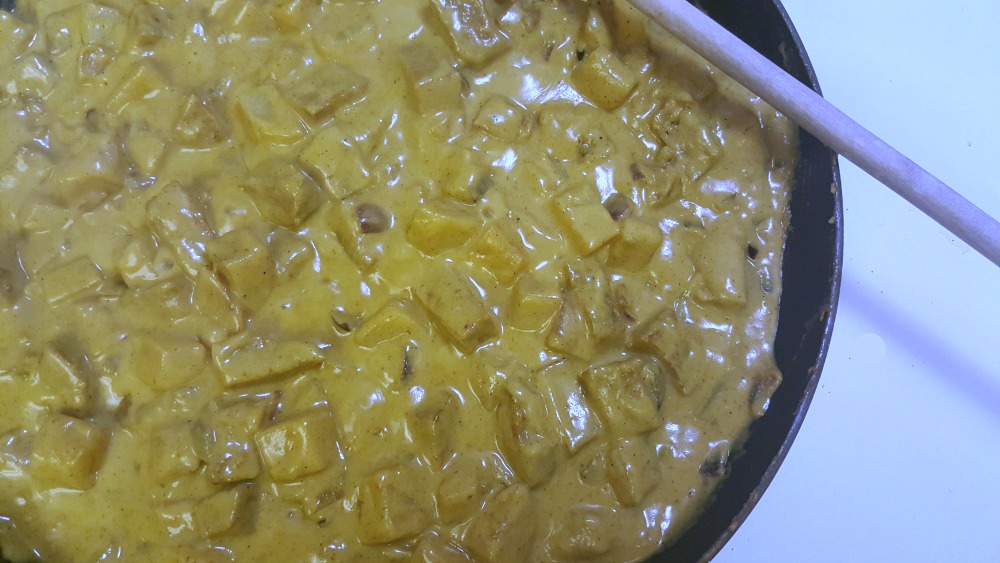 By the way, this is not a sponsored post. I simply love Sweet Earth and their products. While they are not all vegan, they do have quite a few completely plant-based choices, including several new prepared artisan bowls. I'm looking forward to trying the Moroccan Tagine and the Black Bean and Mango Cubano. They also have a Chana Masala, but I'm pretty happy with my own recipe (and for some reason, theirs is not vegan).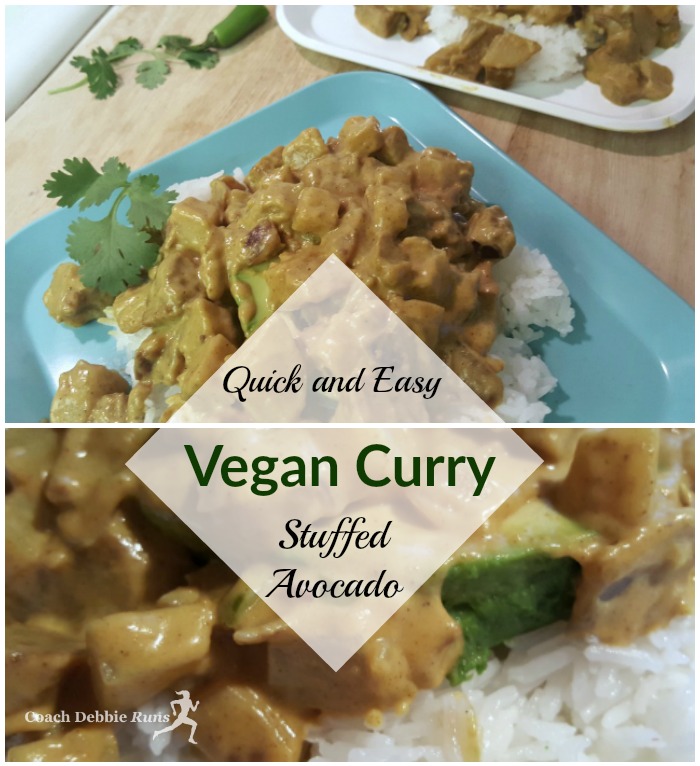 Do you like curry? Have you ever tried it with avocado?
This post contains affiliate links.
---
My weekly linkups! Please stop by and check out all of the great recipes, workouts, and information that all these awesome bloggers share every week!
Sunday Blog Hop with Jenn
Meatless Monday with Sarah and Deborah
Meatless Monday with Annmarie 
Inspire Me Monday with Janice
Weekend Snapshots with Erin
Anything Goes with Marilyn
Wild Workout Wednesday with Annmarie, Michelle, Sarah, and Angelena Marie
The Plant Based Potluck Party with Deborah
The Running Coaches' Corner with Rachel, Suz, Lora Marie, and Me!
Giveaway Roundup and Try Out Thursdays with Smitha
The Blogger's Pit Stop with Kathleen
Friday Fitness with Jill