Before we get to the Vegan Chicken Piccata recipe, a little, um, housekeeping because I haven't written an update post for weeks.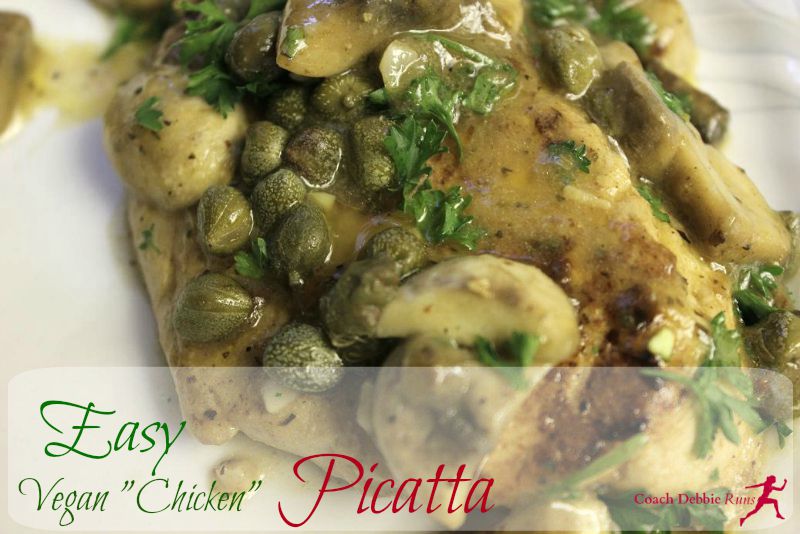 I want to tell you about a really cool website that can help save money on your running shoes. Seriously, we all want to do that, right? It's called Shoe Kicker and you simply enter your favorite shoe, your gender and shoe size and it will give you the lowest priced options. Seriously, I entered my fave Wave Riders and I found them for about $60 below retail. In seconds. For free! Cool, right?
I have actually had a bit of a challenging week, some of which you know if you follow me on Instagram (<– If not, why not?). Our almost 25 year old air conditioner finally kicked the bucket last weekend (which was fortunately comparatively mild, with lows in the 70s and highs "only" about 105). It took a couple days, but we finally found out we had to replace our outside unit, a not inexpensive purchase. In fact, we are now calling it Paris, because for what it cost we could have enjoyed a lovely trip to one of our favorite cities.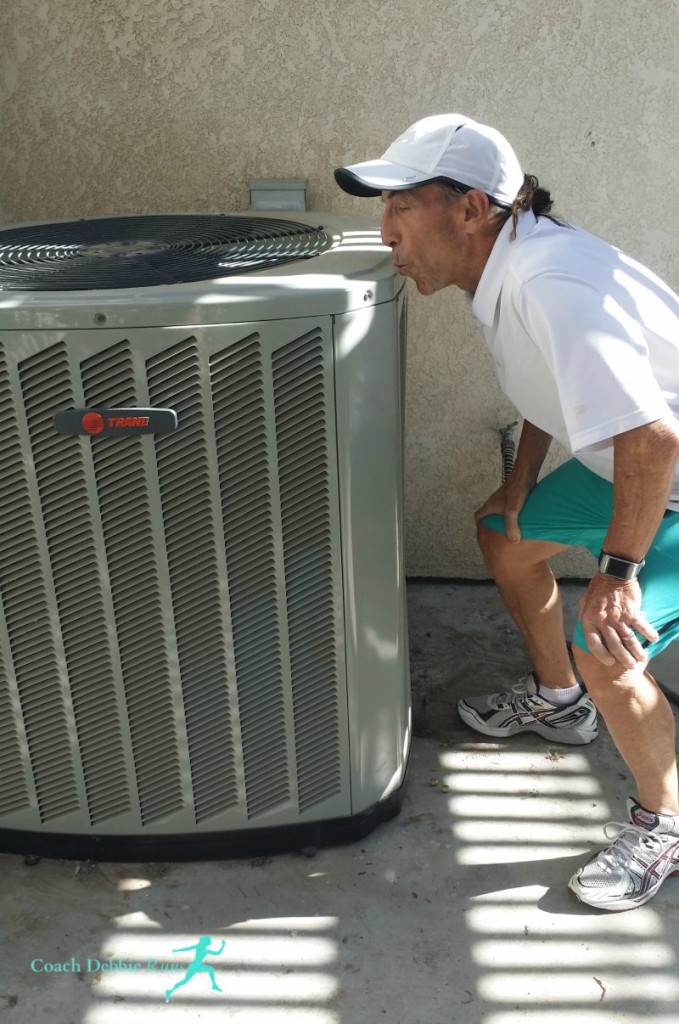 On top of that, I've been laid off from work for the summer, which it normal when you work as a personal trainer in the desert (all the people leave when it gets hot). The problem is that my new unemployment claim started up on July 19. I'd taken care of everything ahead of time, but then I didn't receive a payment for about two weeks. It's an impossible mission to actually talk to anyone at EDD, but I sent an email, checked on line, and did what I could to figure it out.
I finally found out online that I had a scheduled phone call last Wednesday (and a good thing I checked because I didn't receive the notice in the mail until Saturday). There appeared to be a question about eligibility having to to with my coaching job (from which I was fired in June if you recall). Anyway, they asked a few questions, I gave them some information, but, and it's a huge BUT, they take up to 10 days to decide if I'm eligible, then who knows how long to get my past payments to me. Bureaucracy at its finest, but in the meantime I have had no income since my last payment around July 22. Yes, this is a bit stressful.
Finally, and thank goodness we got our A/C fixed, all of California is in the middle of a heat wave this week. In the desert that means highs up above 120, and lows, if you can call them that, of around 95. But it's a dry heat. Like an oven.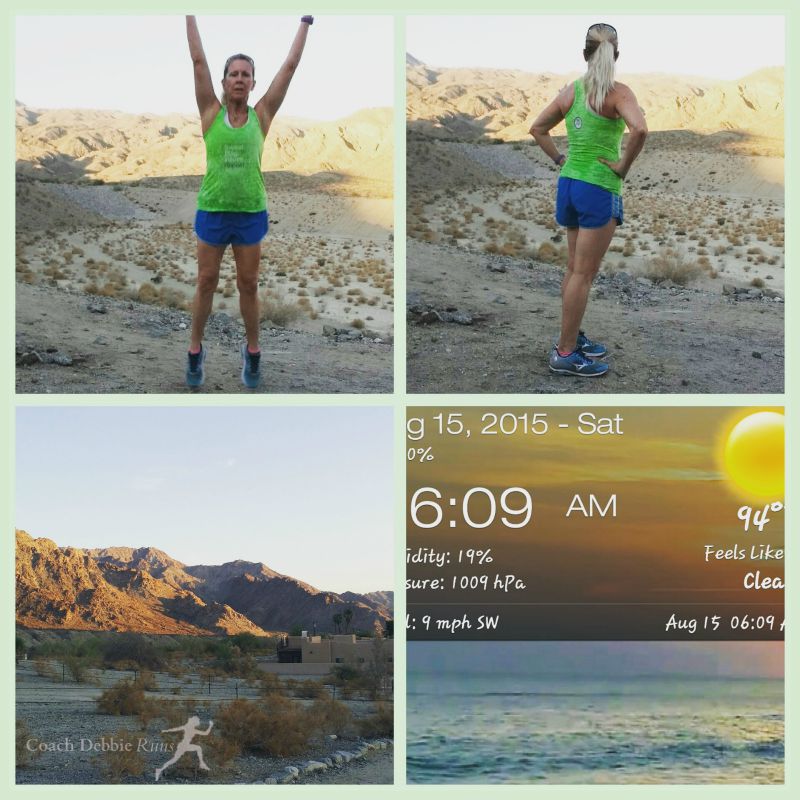 My feet really did get off the ground (a few inches, anyway).
The weather was even worse on Sunday morning. It was 97 degrees at 5:30, fairly dry, but after Alan and I started our run, it just seem to get more humid.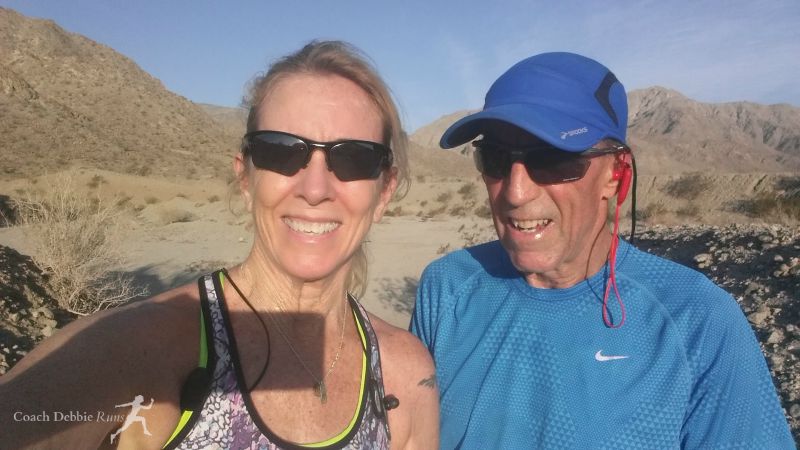 We have managed to find the shadiest routes, and can get about 80% of our run in the shade. The tough part is that the last mile or so is in the sun and it's killer!
Vegan Chicken Piccata Recipe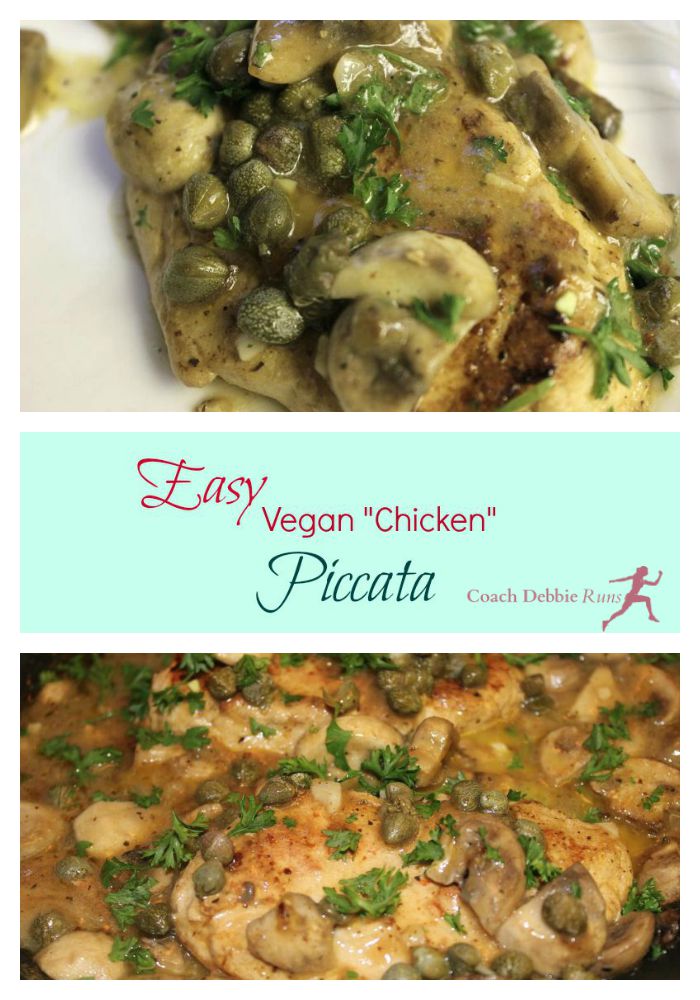 One of the nice things about this vegan Chicken Piccata recipe is that you can use a prepared vegan chicken substitute (like Gardein, which I used), or if you prefer, you can use tofu, tempeh, or even seitan. The only difference in the preparation would be to marinate the the tofu, etc. in an easy marinade of vegetable broth, lemon juice, and a little Bragg liquid aminos for about 15 minutes before cooking. I'd also suggest that you steam the tempeh (directions here), which improves the flavor and helps it absorb all the flavors.

"Chicken" Piccata
Ingredients
2 vegan "chicken" breasts, or 2 slices of tempeh, seitan, or pressed tofu*
2 tablespoons olive oil
2 cloves garlic, minced
½ cup mushrooms, sliced
2 tablespoons lemon juice
2 tablespoons vegan butter
2 tablespoons capers
2 tablespoons parsley, chopped
*If you use tempeh, seitan, or tofu, marinate in ½ cup vegetable broth, 2 tablespoons lemon juice, & 1 teaspoon Braggs Aminos for 15 minutes.
Instructions
Heat the olive oil in a frying pan over medium high heat.
Brown the "breast"s on both sides. Remove from the pan and set aside.
Add the garlic and the mushrooms. Cook and stir for 1-2 minutes.
Add the broth, lemon juice, and vegan butter. Stir to mix with the mushrooms and garlic, then reduce heat, cover, and simmer until the sauce has thickened.
Return the "chicken" to the pan, add the capers and heat for two minutes.
Sprinkle with parsley and serve.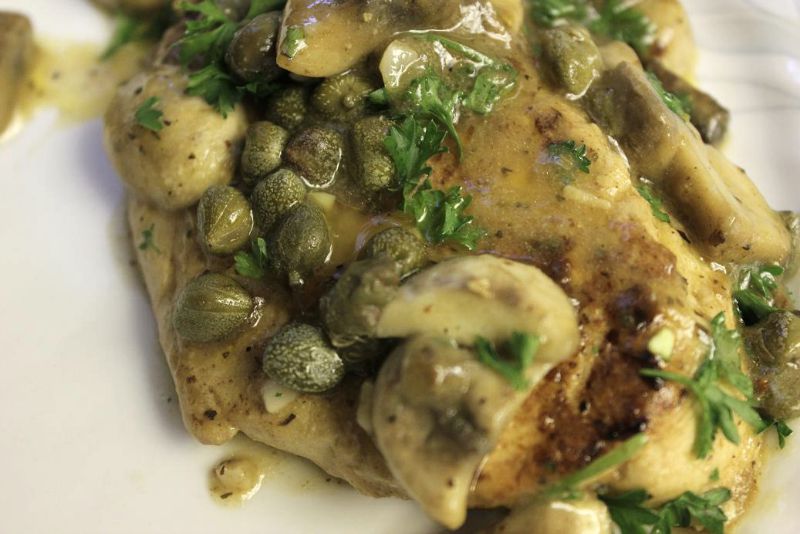 How's the weather been in your neck of the woods? How do you stay cool when you exercise in the heat?
---
My weekly linkups! Please stop by and check out all of the great recipes, workouts, and information that all these awesome bloggers share every week!
Meatless Monday with Tina and Deborah
Meatless Monday with Annmarie 
Inspire Me Monday with Janice
Anything Goes with Marilyn
Bonnie, the Pin Junkie
Tip Tuesday with Debbie in Shape
Wild Workout Wednesday with Annmarie, Michelle, Sarah, and Angelena Marie
Wednesday Wisdom with Nanna's Wisdom
The Blog Booster Party with Kathleen
Friday Fitness with Jill