I was inspired to create this dish by a recipe on a so-called fitness blog that I used to follow. It was called grilled beef bruschetta with feta. Obviously, that grosses me out, so I didn't read the recipe, but it started a little thought rolling in my head. (I stopped following this blog when the next post was about Texas steak and potatoes and talked about some stupid challenge from the National Cattleman's Beef Association. Really? Fit blog? How much more can you sell out? A lot more, apparently because when I checked in on the site as I was writing this paragraph, the most recent post is Taco Time, using, you guessed it, ground beef in the recipe. Complete with tips for purchasing the pink slime ground beef. Bye bye fitness blog, good riddance.)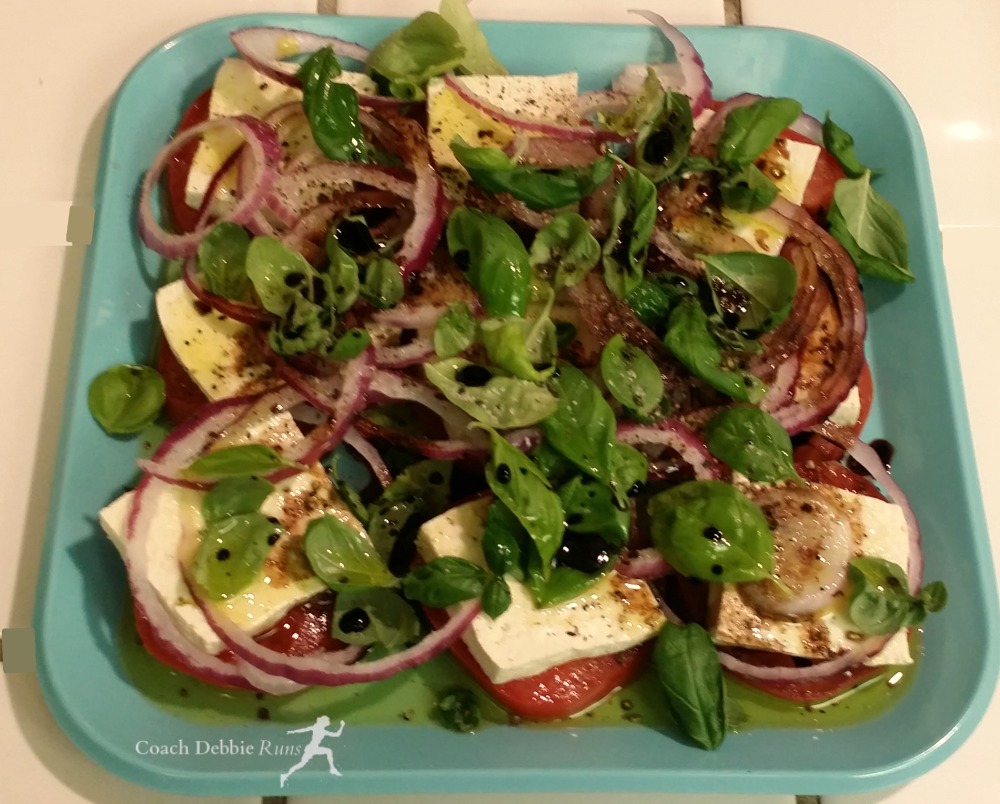 In my vegan version, I decided to combine the tangy bruschetta with thinly sliced, marinated tofu (which beautifully replaces the fresh mozzarella in caprese) and pile it on a toasted baguette slice. This should be an appetizer, or maybe a side salad, but it was so yummy that Alan and I made it our entree.
Ingredients
1 Package Firm Tofu, drained, pressed and cut into 1/4 inch thick squares (about the size of a baguette slice
3 thin slices red onion
2 Tablespoons Olive Oil
1 Tablespoon Balsamic Vinaigrette
Salt and Pepper to taste
Four medium tomatoes, chopped
4-6 cloves garlic, minced
1/4 cup fresh basil leaves, chopped
2 Tablespoons Olive Oil
Salt and Pepper to taste
Fresh Baguette (vegan)
Olive oil to brush on bread, optional
Vegan mozzarella cheese to sprinkle on bread, optional
Method
Place the sliced tofu in a large dish. Pour the olive oil and vinegar over the top. break up the onion slices and place on top. Season with salt and pepper. Set aside.
Combine the tomatoes, garlic, basil, olive oil and salt and pepper. Stir carefully. Set aside.
Turn on oven to broil
Slice the baguette into 1/2 inch slices. Brush lightly on one side with olive oil (optional). Place under broiler until very lightly browned. Remove from oven and turn. Brush with olive oil and sprinkle lightly with cheese (optional). Place back under broiler until the cheese is melted.
Build your Bruschetta Caprese: On a slice of toasted baguette, place a slice of tofu with a few onion slices. Top with the bruschetta mixture.
Recipe makes about 16.
No one died for this delicious appetizer.