In dog rescuer news: Things I didn't do this weekend: House cleaning (oh darn!). Write my Meatless Monday blog post. Figure out the email problem I'm having with my @coachdebbieruns account. Run on Sunday. Watch football. Shower.
What I (and Alan) did do this weekend: Rescue one (very cute) dog and almost rescue her companion. Still working on that part.
Here's how it went down.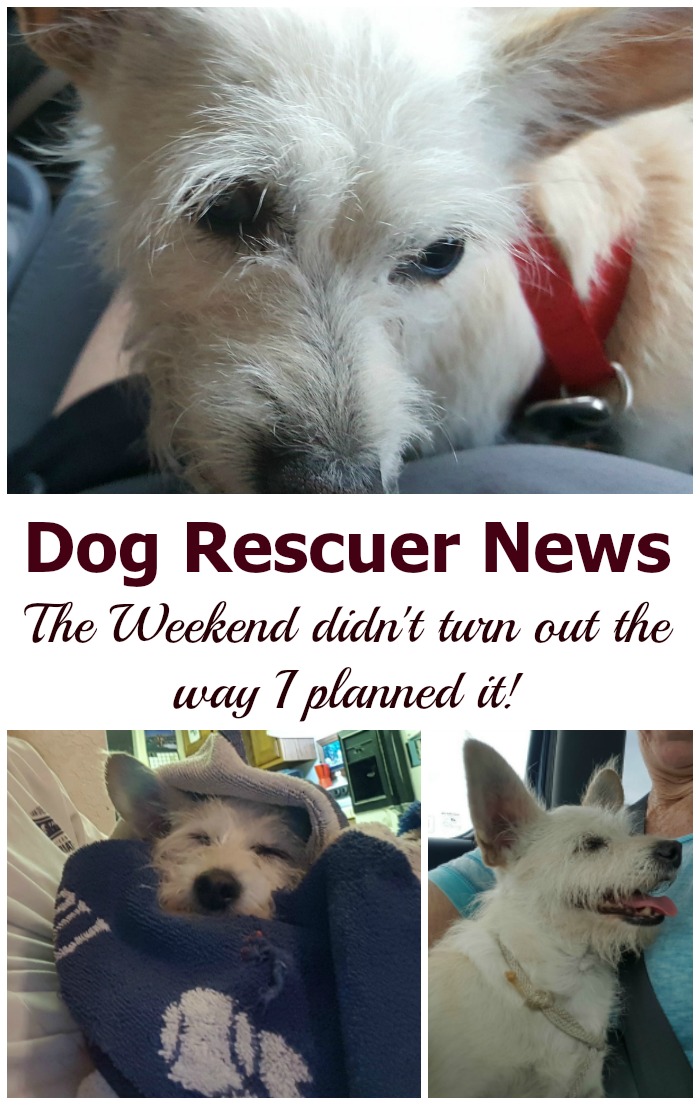 Dog Rescuer News
On Saturday I took my usual run, while Alan rode his bike. When he got home, he told me we had a dog rescue mission. Just our normal Saturday!
We gathered our dog rescuer gear, leashes, water, food, and headed out. As we drove, Alan told me that on his ride he had seen two dogs running free. No collars (of course).
When we got to the area, both dogs, a male and a female, were still there, right on the corner. They were very scared and ran away from us as soon as we got out of the car. One of them barked furiously at us. I put out a little food, and the male seemed interested, but as soon as we got close he ran away.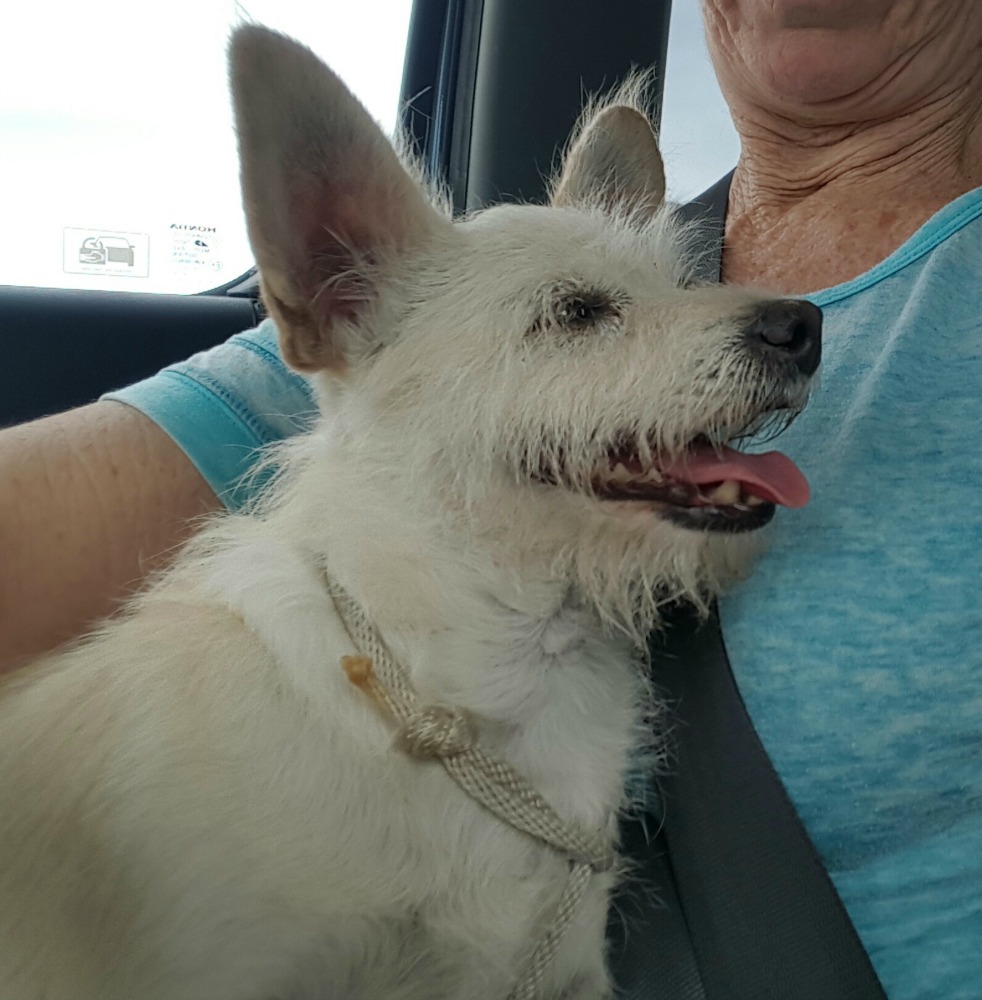 Finally, we tried a brilliant solution (that works with many dogs, including our own when they get out). We opened the car door. Yep, and the female jumped right in. She was still scared and snapped a little bit, but within minutes she allowed us to pet her and pick her up.
The male was another story, though. Even though we had his partner, he wasn't having any. We'd get close and he'd run away. We'd try to head him off and he'd run in the other direction.
We spoke to a couple people out there. It's a fairly desolate area, but right behind a country club, so people were walking and driving by from time to time. One man said he had first seen the dogs on Thursday. Two nights for these little guys!
A young man stopped to help. Good intentions, but unfortunately, he managed to scare the dog to run into an open desert area. Once we caught up to where he'd disappeared he was out of sight.
At that point, about three hours into our dog rescuer adventure, we decided to go home and regroup (and eat!). We took the female with us, obviously, after trying to feed her and give her water (though she wasn't very interested at that time). I took a picture and posted it on Facebook, asking my friends to share and adding it to the local rescue page.
I'd started to call her Dolly. Even though we saw her at the Monroe Street intersection, the next block over is Madison, so I thought of Dolly Madison. I can't remember who James Monroe was married to!
When we went back, we brought some traps and a net. We also stopped by a vet's office to see if Dolly was chipped. We didn't expect her to and we were right. Back to look for her partner.
It was all for nothing, though, because the male was nowhere to be found. Alan set up the traps and we decided that we would run there in the morning, giving us a chance to get out into the open area and possibly see the dog.
In the meantime, when we got home, we started the process of introducing Dolly to our pack. It all went pretty well (just a couple of sighs like they're saying, "what? Another one?"). We gave her a bath, tried to get her to eat and drink, and gave her some good cuddles. She was quickly becoming a sweet, loving dog.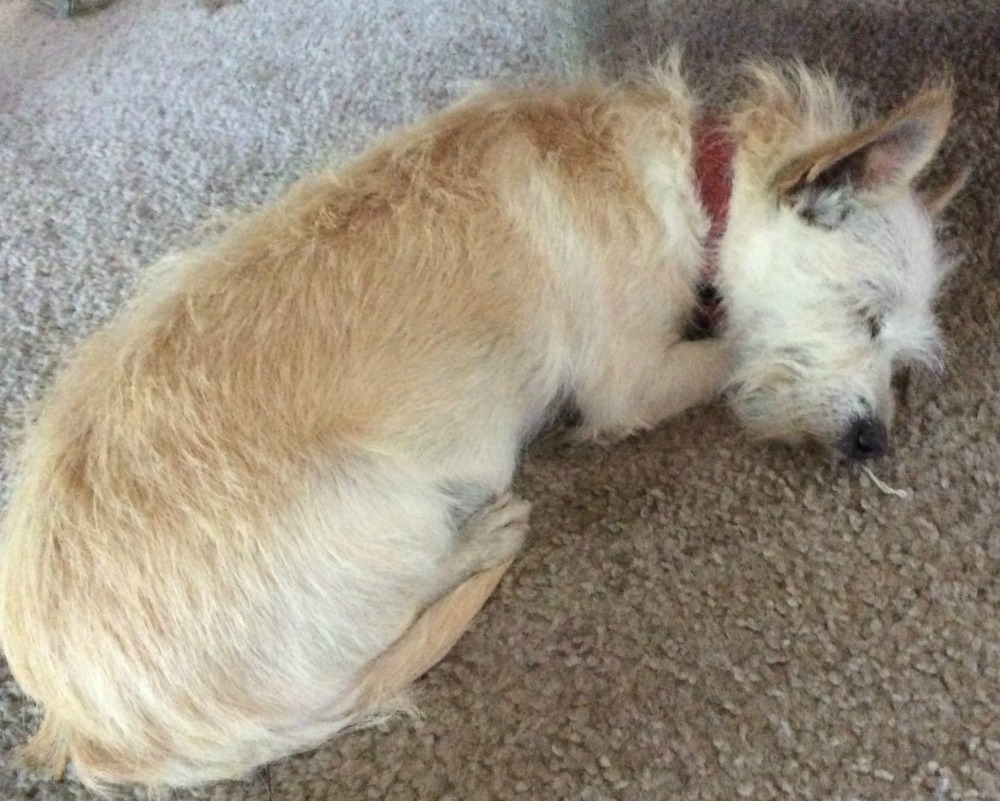 We headed back out early the next morning. We didn't bring Dolly because we were planning to run. Instead, when we parked the car we saw a man walking with his two dogs and he told us he'd see the dog pretty close to where we'd first seen them the day before. Goodbye run!
We drove down one street and a water district guy told us he'd see two dogs running loose! We tracked them down. Neither one was who we were looking for, and they appeared to be local dogs who were allowed to run loose. Not the best, but on a barely trafficked road pretty safe. We continued on.
When we got back to the road we'd been on before, the water guy was there and had spotted our dog! He flashed his lights at us and guided us to the area where the dog was. There was a row of tamarisk trees and he was hiding in them.
We couldn't catch him. He ran, hid in the trees until finally, we decided to come back a little later, bring Dolly with us, and try again.
When we came back, we put her on a long leash and it wasn't long before she lured him out! He was so happy and excited to see her that it brought tears to my eyes! He followed her out of the trees and Alan almost caught him in the net. Unfortunately, once he got away he was even more scared. He ran away and scooted under a gate. Gone, for the time being.
On the way home, we stopped and bought a tag for Dolly. We are terminal foster failures.
By this time, it was about noon on Sunday. We went back home to eat and feed the dogs, with the plan of going back out again a little later. I connected with one of the people who had shared my Facebook post and she offered to come out and help. I gladly accepted. Turns out she already knew Alan!
We met her out there later in the afternoon. We brought Dolly of course and tried again to lure out the male. No luck. Fortunately, Dolly was helpful and marked a few spots, which will hopefully bring him back tonight.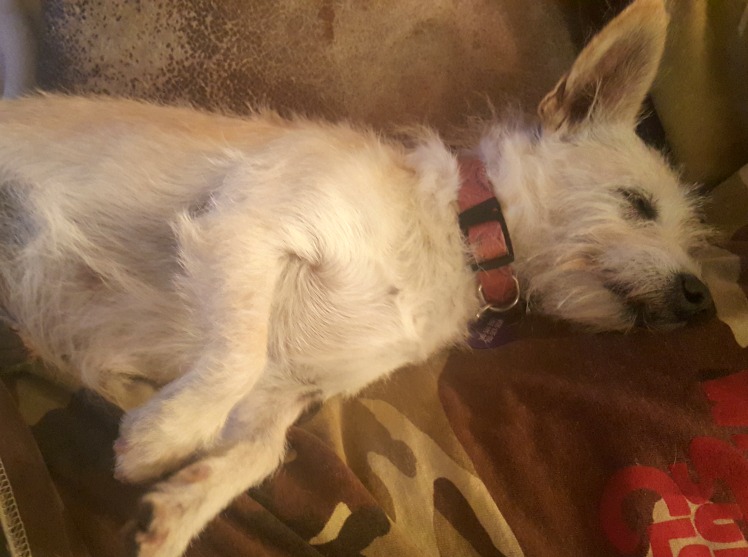 That's where we stand right now. Dolly is happily sleeping on Alan's lap. Her brother/partner/companion is still out there somewhere. I have to work in the morning, but Alan will be out there early, trying to track him down.
The life of a dog rescuer. Stay tuned Friday where I will (hopefully) post my planned recipe from today!
UPDATE! We caught him!
Alan went out this morning to check the traps and there he was. I never thought I'd say this but thank goodness for hot dogs. They did the trick and lured him in.
Now he is reunited with his partner, clean, fed, and safe. He's still a little skittish, but very sweet. We hope to find a home for the two of them together.
Other Dog Rescuer Stories
Johnny B. Goode: A Dog Rescuer Story
The Dog Rescuer: Called Into Action in San Dimas
Meet the Pack: The Little Dogs
---
Weekly Linkups
My weekly linkups! Please stop by and check out all of the great recipes, workouts, and information that all these awesome bloggers share every week!
Meatless Monday with Sarah and Deborah
Meatless Monday with Annmarie  and Rachel
Inspire Me Monday with Janice
Anything Goes with Marilyn
Wild Workout Wednesday with Annmarie, Michelle, Jen, and Nicole
The Plant Based Potluck Party with Deborah
The Running Coaches' Corner with Rachel, Suz, Lora Marie, and Me!
Giveaway Roundup and Try Out Thursdays with Smitha
The Blogger's Pit Stop with Kathleen, Janice, Julie and Me!
Living a Life of Fitness, Health and Happiness with Jill
Friday Favorites with Heather