Are you planning to run a spring or summer marathon? Well, good for you! Do you have a training plan yet? It's never too early to start planning your training, building a base, and mentally starting to prepare. While many of us can't afford a coach (though it may not be as expensive as you think), a generic internet training plan doesn't have to be the only option.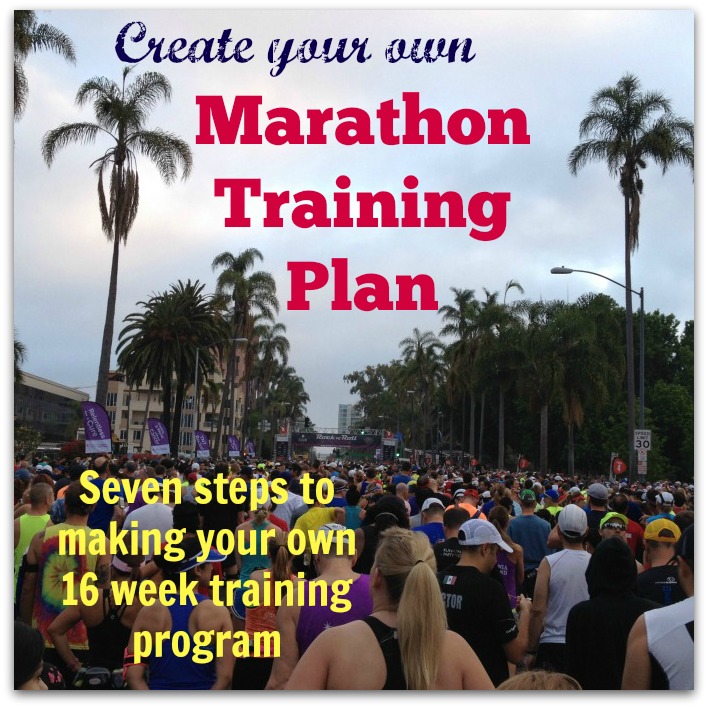 Believe it or not, you can create your own effective and safe training plan whether you are a beginner, looking to improve your times in your second or third marathon, or an experienced runner who wants to run at a high level. Just follow the steps below to create a 16-week marathon plan. Beginners, follow just the first five steps. If you have longer than 16 weeks until your marathon, use that time to build your base mileage. By the time you start the training plan, you should be able to run 10-12 miles for your long run, and about 25 miles per week.
Getting Started
Before you create your marathon training plan there are a few things you need to think about. First, you need a goal time. This can be based on a previous marathon or races of other distances (check here for a useful chart of time calculations). This time will be used for several purposes, including marathon pace runs, determining your long run pace, and giving you a guideline while you're actually running your race.
It would also be helpful to know your race paces in the half marathon and 5k. If you don't have those, that's okay, you can gauge your training pace by effort level. Use a recent time, not your PR from two years ago.
Then sit down and figure out what days you can run. Think of your work and family schedule, then write down the days of the week that you can use for your training plan. Be honest with yourself. If you think you want to squeeze in a run on a weekday afternoon, but you know that you hate to run after work, don't write it down.  Ideally you will plan to run a minimum of four to six days. You will need at least one day for a long run, so make note of that day. You will eventually need three to four hours for that workout.
Finally, make a chart that extends all the way to your marathon date. An Excel or Word table works just fine, or you can use a real calendar. See below for my revised SLO Marathon training plan. Label it Monday-Sunday, and date it through to your race. If you have any planned races, write them in. Now you're ready to make your plan.
Seven steps to making your own 16 week training program
1. Long Run. The first step is to take a look at your long run. Working back from your marathon date, give yourself three weeks to taper. That will be your longest run. I would recommend at least 20-22 miles. For the first long run, write in your current long distance. Now, working back and forth, increase that mileage 1-3 miles per week. Every third week or so, give your body a break and cut back the long distance run by about 25%. Try to work in at least two runs of 20 miles or more.
Long runs should be run at an easy, slow pace, a minute or more below your goal race pace. During the second half of your training, plan to run about 5 or 6 miles of your long run at Marathon Pace, somewhere in the second half of your run. This will give you an idea of what race pace feels like, especially when your legs are already tired.
2. Recovery run. Ideally, the day after your long run will be a short recovery run or complete rest. A recovery run should be around 3-4 miles.
3. Speed Training. The second run to schedule in is your speed training run (more advanced runners will have a second hard run, see #6). Schedule this run so that you have at least one recovery day between it and your long run. Two is even better for beginners. The total mileage will be about 4-8 miles and you can choose from any of these workouts:
a. Hill Repeats
b. Tempo Workout: The link has directions on how to find your tempo workout pace and effort level.
c. Half Marathon Pace run: Warm up for about 10 minutes. Run 20-40 minutes at your current half marathon pace. Cool down for 5-10 minutes.
d. Interval Training: Longer intervals of 800-1600 meters, at a pace about 15 seconds per mile slower than your 5k pace.
Try to vary these workouts. If you know that your marathon has a lot of hills, you might want to schedule more hill workouts.
Note: If this is your first marathon and you "just want to finish" I still recommend this workout. It will help you feel stronger throughout your race.
4. Easy/Moderate runs. The other two or three days can be easy to moderate runs. Cross training is an option, especially for beginners. On one of those days, build your mileage a mile at a time to about 8 to 10. Just like the long run, drop the mileage by about 25% every third week to give your body some recovery time.
5. Taper time. Starting after your last long run, three weeks out from your marathon, you will start to taper your distance and intensity down. The first week, drop the long run by about 30%. That is the only change. Two weeks out from your race, drop your long run again, to about 40-50% of your longest distance. About 10 days out from the race, you will also start to drop the mileage of your other runs.
The last week of your marathon cut your mileage way back. Take an extra rest day. No speed work during this final week, though you might want to try a three mile marathon pace run several days out (that is exactly what it sounds like. Warm up for a mile, run two to three miles at your goal pace, then recover for a final mile.). Running the day before the marathon is optional. Called a "shakeout run," it can help loosen up muscles (and shed some nerves), but it is up to you. Keep it short, and try to stay off your feet for the most part the rest of the day.
6. Second Speed Workout. If you have run a marathon or two (or three or four), and want to improve your time, add a second speed workout during the week. You can pick another option from above or try one of these:
Don't schedule your high intensity runs back to back. This includes your long run. Insert an easy or rest day in between your hard runs.
7. Run More. If you really want to set a PR or even qualify for Boston, you need to run more. Run at least 5 days a week, and 6 is optimal. That doesn't mean to run through injury, or to disregard your body's signals that you are overtraining. Be smart, rest if you need to, but to really run at a high level, you need to put miles on your legs.
Follow these tips and you'll be able to create a personalized marathon training plan that will be perfect for you! It will fit into your schedule, progress at your pace, and get you where you want to go. Please feel free to ask any questions in the comments or email me at debbie [at] coachdebbieruns.com. And if creating your own plan isn't your thing, I can create a program for you that will be designed to get you to your goal.
Disclaimer: I am a coach, but I'm not your coach. Marathon training is challenging and you need to be in general good health (see a doctor if you're not sure!) and have a solid running base to attempt it. Rest is very important, and if you notice any minor running aches and pains, or other injuries, take appropriate action to resolve the issue. Injury prevention is not addressed in this article, but it is a risk during marathon training.
Have you made your own training program before? What is your current training goal (running or otherwise)?