Meatless Monday
I know that chili is not a meal that is usually associated with summertime and warmer temperatures. I can imagine snuggling up around a fire, wrapped in a comforter, holding a hot bowl of chili to warm me up even more. Well, not really, I live in the desert and I haven't used my fireplace since I've owned my house, but you get the idea.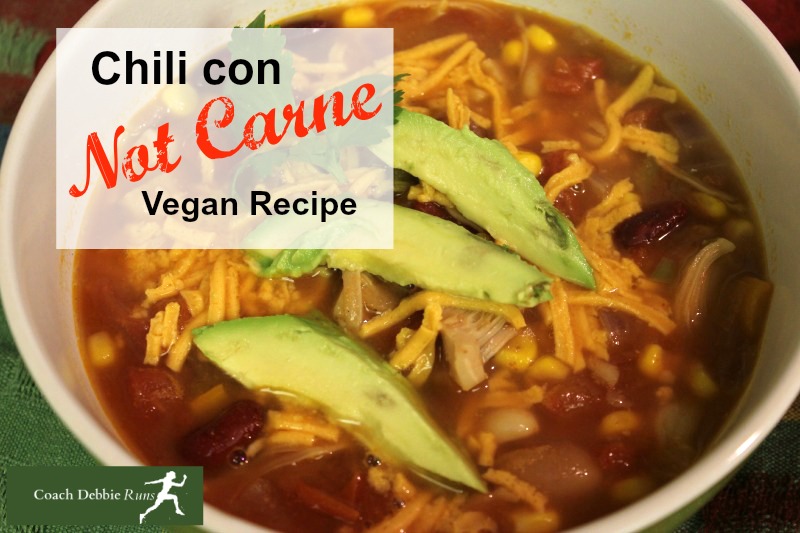 The concept came, though, when I wanted a quick meal after work the other night, and upon reviewing the contents of my cupboards, I decided to try using the seitan that I had on hand to create this Chili con Not-Carne.  The meal took about 45 minutes to prepare, including cooking time, but you can let it simmer for a longer time if you'd like, which would make it even more flavorful.
Chili con Not-Carne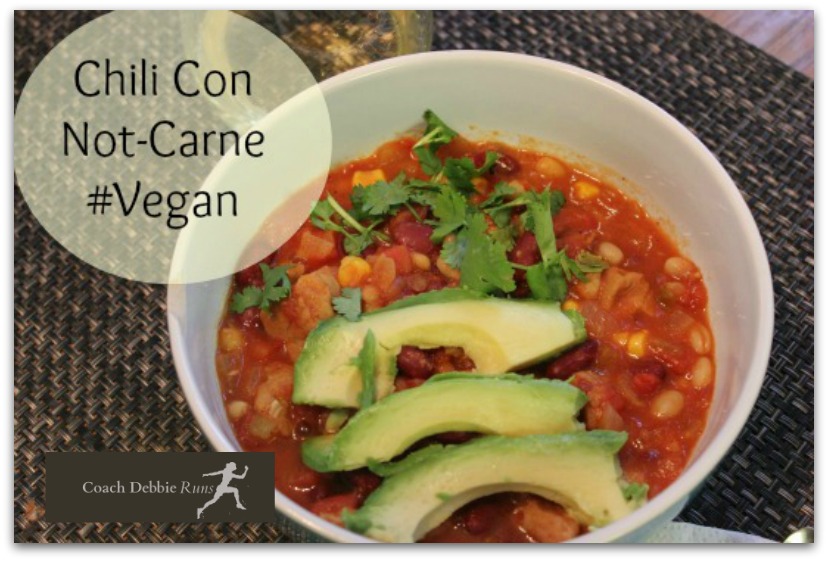 Meatless Monday: Chili con Not-Carne
Cuisine:
Vegan/Vegetarian
Ingredients
2 tablespoons olive oil
2 small onions, chopped
4 cloves garlic, minced
2 Serrano or Jalapeno pepper, seeded and chopped
2 cups or 1 packages seitan, cut into small cubes
2 28 ounce can tomatoes
2 tablespoons chili powder
1 teaspoon cumin
1 teaspoon paprika
1 teaspoon salt
1-2 tablespoons Sriracha (the more the spicier!)
4 15 ounce cans beans, drained and rinsed (Use a variety: kidney, pinto, white, whatever you prefer)
1 cup corn
Avocado, cilantro, vegan cheese (optional)
Instructions
Preheat the olive oil over medium heat. Add the onions and garlic and cook until soft (about 5 minutes).
Add the seitan and chile. Cook until the seitan starts to brown.
Add the tomatoes (along with their liquid), Sriracha, chili powder, cumin, paprika and salt. When the mixture starts to bubble, add the beans and stir. Add the beer slowly, stirring as you do so, scraping up anything that may have stuck to the pan. Bring to a boil then stir in the corn. Reduce heat to low. You can simmer anywhere from 15 minutes to a couple hours (you may have to add more liquid if you simmer longer, you can use water or more beer).
Serve in individual bowls with a few slices avocado and some cilantro sprinkled on top.
Seitan is one of my favorite meat substitutes. It is made from wheat gluten. You can make this chili without the seitan for a gluten-free meal (make sure that you use gluten-free beer, or substitute water or vegetable broth). Another gluten-free option is to substitute tofu or mushrooms, which add protein and a meaty texture. It is a great dish to prepare as you're making the transition to vegan, or to enjoy for a
Meatless Monday
, because it is quick, with easy to find ingredients, and has a rich, meaty flavor.
So that opens the question: If you are vegan or vegetarian, do you enjoy meat substitutes? If you occasionally go meat-free, do you just skip the meat or use a sub? What are your favorites?