It seems a little unfair to call this a recipe. It was a spur of the moment meal, made with ingredients I had on hand, and really fast and easy to make. And I try to add avocado to every meal, so this chick'n and veggies stuffed avocado was born. It was really good, good enough to make again, so I guess that is one reason to write it down.
Then again, fast and easy to make, vegetarian (vegan actually), and full of fresh ingredients is what Meatless Monday is all about, right? I'm all about making vegan easy and delicious.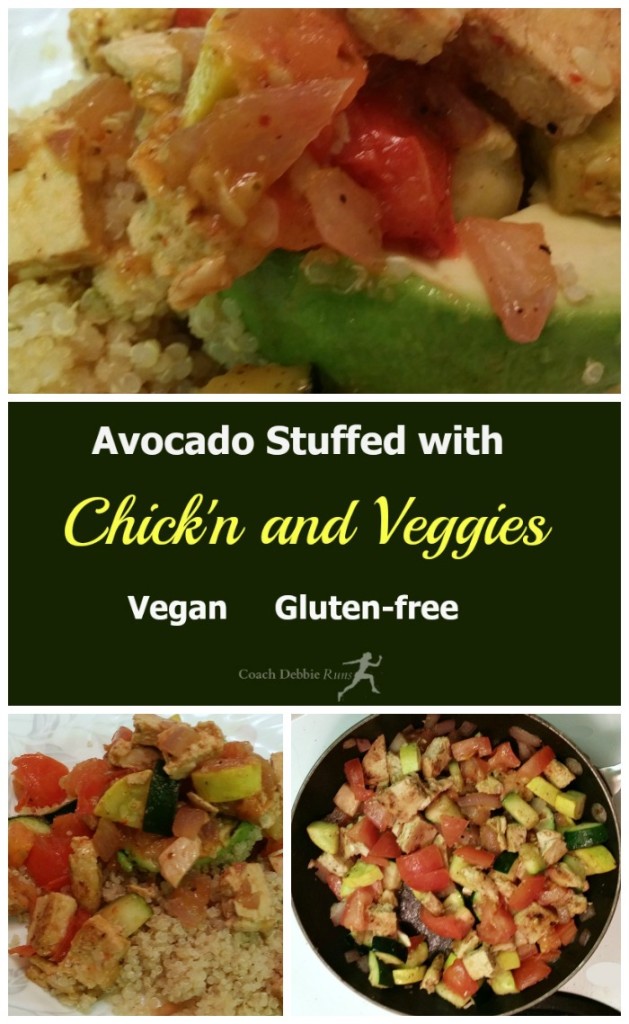 For this dish, I used Gardein Chick'n Scallopini. It is my favorite chicken substitute. I think it has the best flavor, even compared to some of the other Gardein chick'n products. It is also gluten free, which many substitutes are not, so that is another advantage. I always seem to have a hard time finding it lately, but last time I was at Whole Foods not only did they have it, it was on sale. Score! This is not a sponsored post, just my opinion.
You can use your favorite faux chicken product, or you can use seitan, or even skip the fake meat altogether and use extra vegetables (mushrooms make a great choice). The Gardein Chick'n Scallopini has 12 grams of protein, something to remember in your meal planning.
Chick'n and Veggies Stuffed Avocado with Quinoa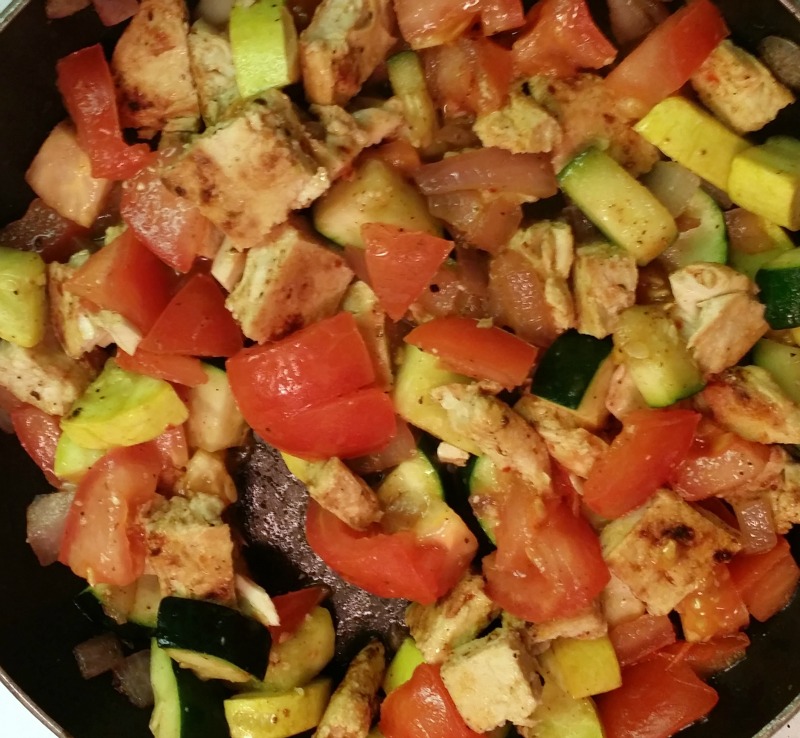 Chick'n and Veggies Stuffed Avocado with Quinoa
Ingredients
1 cup quinoa, cooked according to package directions
1 tablespoon oil
2 Gardein Chick'n Scallopini filets (or other vegan chicken of your choice).
¼ cup onion, chopped
½ cup zucchini, chopped
½ cup yellow squash, chopped
½ cup white wine or vegetable broth
1 medium tomato, chopped
Salt and pepper to taste
1 avocado, seeded, scooped out, and cut in half.
Instructions
Heat the oil in a large skillet over medium heat.
Add the Chick'n filets, and brown lightly on each side (about 2 minutes per side).
Remove the files from the pan and set aside. When they've cooled slightly, slice them into half inch slices.
Add the onions, and cook until soft (about 5 minutes).
Add the zucchini and squash, and cook, stirring for about 2 more minutes.
Return the Chick'n to the pan, then add the wine or vegetable broth and salt and pepper.
Stir in the tomato.
Increase the heat to medium high and bring to a low boil, then reduce the heat to medium and allow to cook for a few minutes until the liquid is reduced.
To serve, spoon quinoa onto a plate and place a half avocado on top. Spoon the Chick'n and veggies on top of the avocado.
Because this Chick'n and Veggies dish is so quick and easy to make, it's perfect for a Monday evening. Or any evening after a busy day.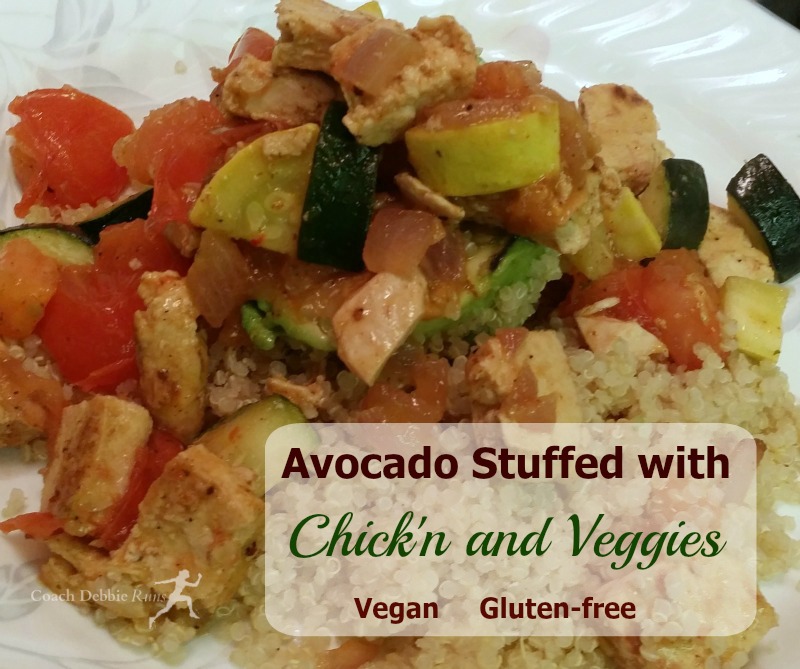 I know you are not all vegetarian, but do you have a favorite meat replacement? What is your favorite Meatless Monday meal?
---
My weekly linkups! Please stop by and check out all of the great recipes, workouts, and information that all these awesome bloggers share every week!
Sunday Blog Hop with Jenn
Meatless Monday with Tina and Deborah
Meatless Monday with Annmarie 
Inspire Me Monday with Janice
Anything Goes with Marilyn
Link it to Me with Chantal
Bonnie, the Pin Junkie
Tip Tuesday with Debbie in Shape
Wild Workout Wednesday with Annmarie, Michelle, Sarah, and Angelena Marie
Wednesday Wisdom with Nanna's Wisdom
The Blog Booster Party with Kathleen
Friday Fitness with Jill