It's hard to believe since it's already April, but the Carlsbad 5000 All Day 20k was my first race of 2017! I did pick a good one to kick off the year, though.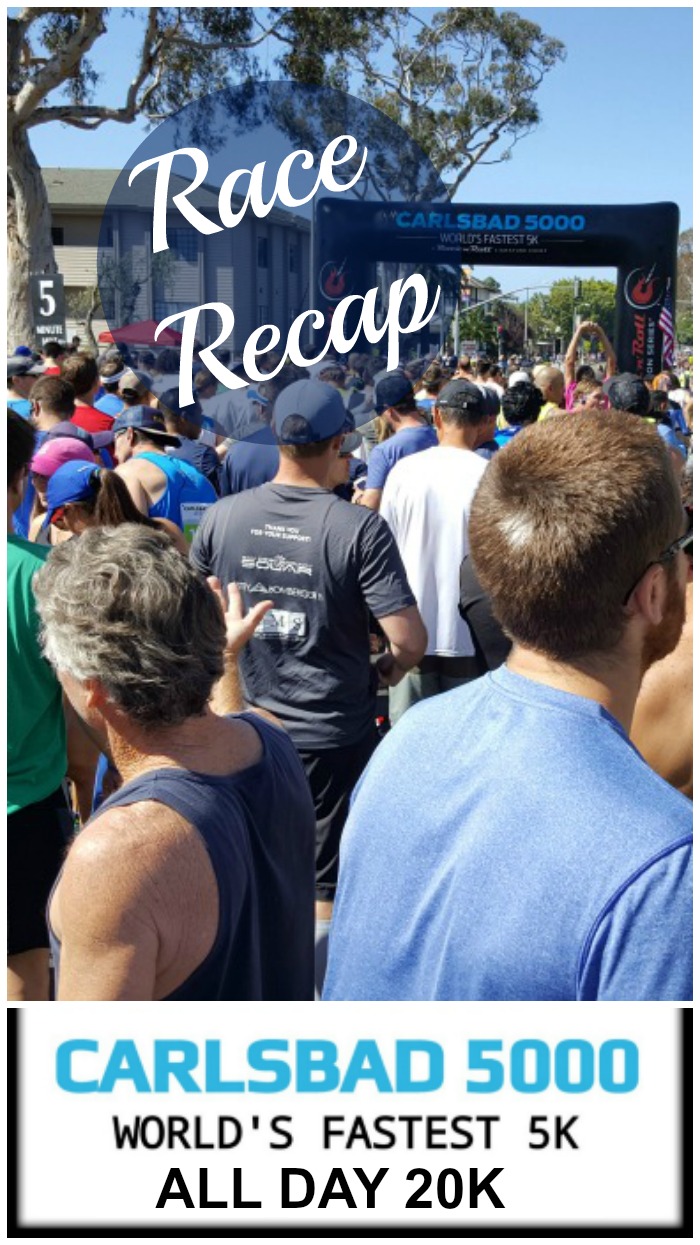 My first Carlsbad 5000 was in 1995! I've done it many times over the years, most recently last year when Alan and I both ran our age group races. We found that many of our friends were signed up for the All Day 20k and the idea intrigued us. After all, between Alan and me we have run more than 100 marathons! That would be 37 for me, 67 for my dear husband.
Before I start my recap, let me remind you that today is the last day to enter the giveaway for the Nathan Hydration Long Run Pack. Head over to Instagram to enter!
What is an All Day 20k?
In case you've missed my multiple Instagram posts over the last few days, the Carlsbad 5000 All Day 20k is basically four races in one. Participants sign up to run four 5ks in a row! That comes out to about 12.4 miles, with short breaks every 3.1 miles.
It sounds a little crazy, even to me, but I'm never one to turn down a challenge. I signed up, even though I was just coming back from my latest fall. So real training wasn't in the picture, though I managed to ramp up my mileage over the last few weeks, and even added a couple tempo runs!
I did know that Alan wouldn't be able to come with me. He was committed to announcing the TriEvent Triathlon in San Dimas that day. So Saturday we basically headed off in opposite directions to different events.
It's kind of weird traveling alone to a race, though I have done it before. I was staying in Encinitas, my second home (no I don't really have a second home, Encinitas just feels that way to me), at the Days Inn. Right from the start I found it difficult making easy decisions. Do I go out to dinner or bring it back to the room? Do I drive home directly from the race or ask for a late checkout and shower before heading back? Silly things like that.
My biggest dilemma was picking my race day outfit! I know, first world problems, but still…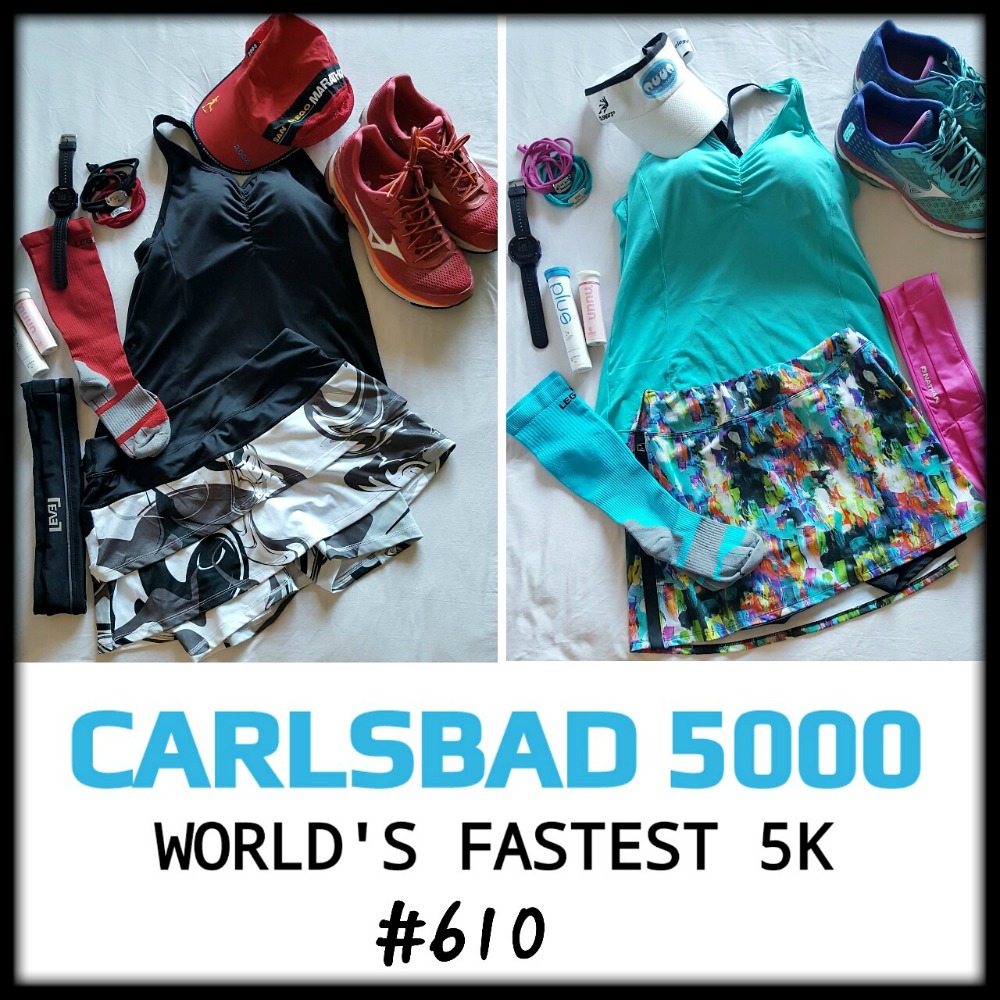 I finally put it out to Instagram and Facebook. Interestingly, even though the votes seemed to be leaning toward the Shades of Blue ensemble, I started favoring the Black and White and Red All Over. I really love that Skirt Sports Cascade skirt and the Persevere print. So I went with black. And I went out to dinner and asked for a late checkout, just in case you were wondering.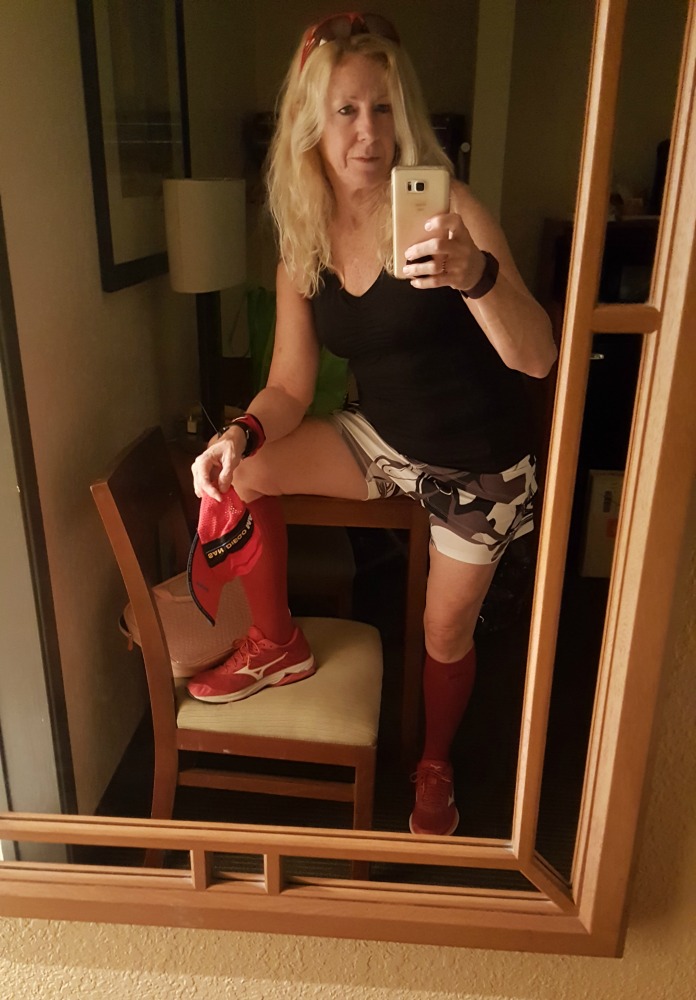 Carlsbad 5000 All Day 20k Recap
I woke up pretty early because I was worried about parking and wanted to arrive early enough to get a decent spot. Yes, I stress over things like that. I don't really know the area very well, just that the start line is one block north of Carlsbad Village Drive, but somehow I ended up with a great spot, just about two blocks from the All Day 20k Lounge. The perks of being an early bird!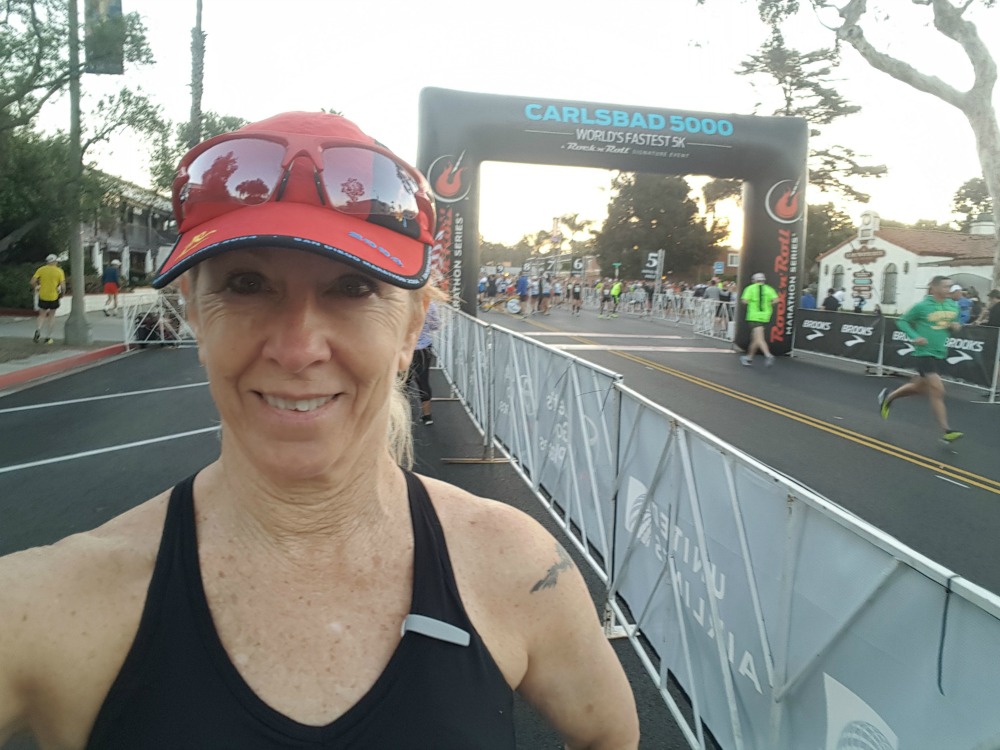 The All Day 20k Lounge
Yes, you heard that right. The All Day 20k Lounge is the place to hang out between races when you're running four 5k races in a row. It was located just a few blocks from the start line in one direction and the same from the finish line in the other direction.
There we had our own place to chill: tables, chairs, water, sports drinks, snacks, and best of all, private porta-potties! If you've ever run a race with thousands of participants, you can appreciate the idea of having a row of potties just for the 300 or so All Day 20k-ers!
We also had our own gear check, which was nice because we had access to our stuff between races. I always carry my own vegan snacks just in case, plus I want to add some Nuun electrolytes to my water between each race. I know that was one of the things that kept me going!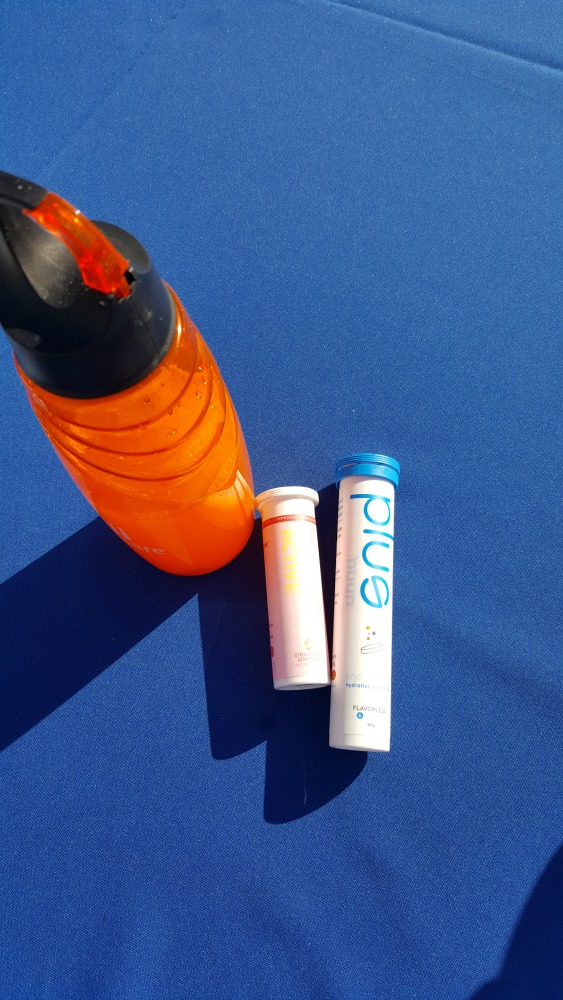 When I arrived I saw Carlee right away, so I went up to say hi and I met Sarah, who is also a Rock 'n' Blogger. Since I didn't know many other people, I kind of attached myself. They were nice about it.
All Day 20k: Race #1
The first race of the day is the Men's Masters, for men 40 and over. Obviously, it also contained all of the All Day 20k runners as well. I wandered over to the start line about 10 minutes before the 6:55 start and lined up with Carlee and Sarah to wait for the start gun. We listened to a great rendition of the National Anthem and then we were off!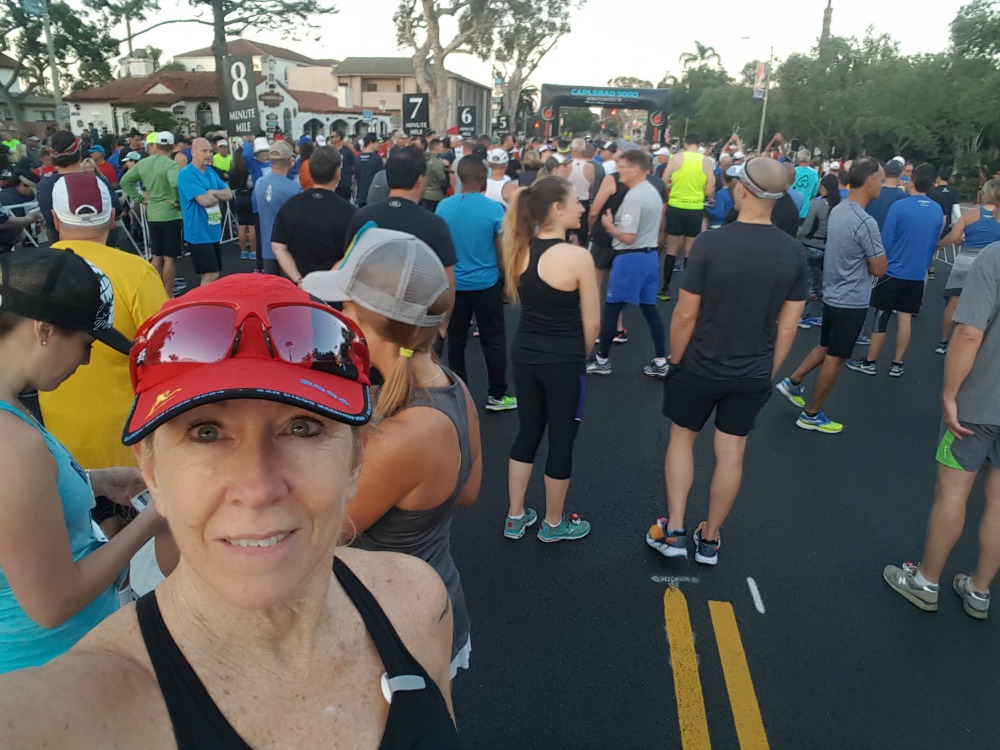 My plan for the first race was to use it as a warm up, basically. The way the All Day 20k is designed is that even though you're running all four races, and you obviously get "credit" for them, you really only compete in your own category race. For me, that is the Women's Masters, which was the second race of the day. Not that I had any kind of high expectations, but it seemed fitting to push a little more in that race.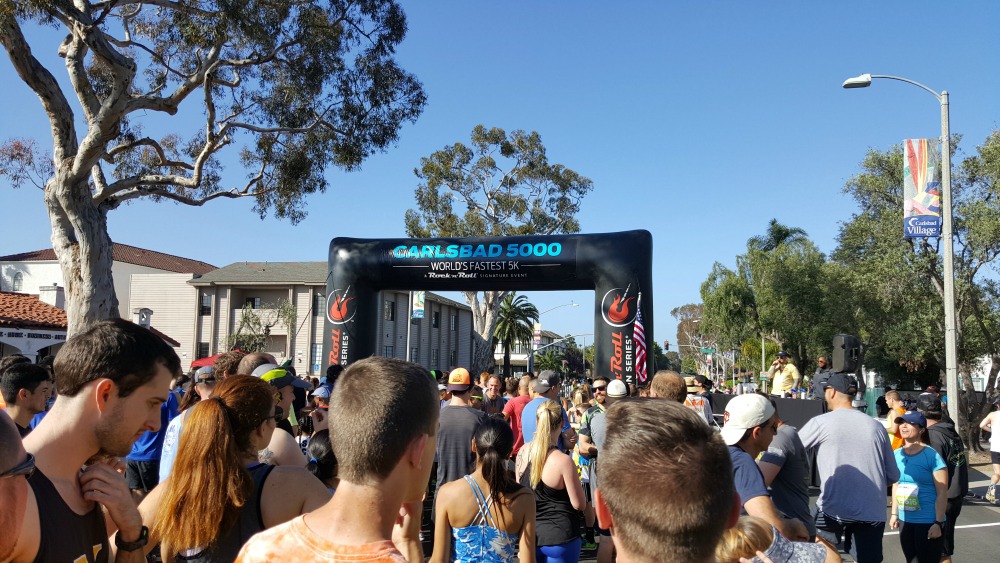 I quickly said goodbye to Carlee and Sarah as they dashed off ahead of me. The first quarter mile or so is slightly downhill, so I did have to remind myself that I was just warming up. That was easy to remember right before the first turn as the road had the sharpest incline of the day!
When the course turns left onto Carlsbad Blvd., it levels out again, heading south right along the ocean. It has a few hills, but nothing that really affects the pace too much. It was a bright, sunny day, still chilly in the early morning (and staying race-perfect throughout the day).
It's funny that, at a point in my life where I struggle to run fast(er), I had a hard time staying slow(er) for the race. I made myself settle into a steady pace, though, and managed to hold it at about a 10-minute pace.
The race heads south for a little over a mile then turns around to head north. Now the ocean is on the left, though I did not give in to the urge to stop and take a selfie (at that point, anyway). We passed the one water station at about a mile and a half, but I passed it by.
When you hit mile two, you can hear the announcer who is at the corner urging the runners down the last quarter mile or so to the finish line. It was nice to hear Rudy's voice, who was also at the start line and has been announcing races for as long as I've been running them. Carlsbad is his home turf, so he really gives it the personal touch as the runners go by.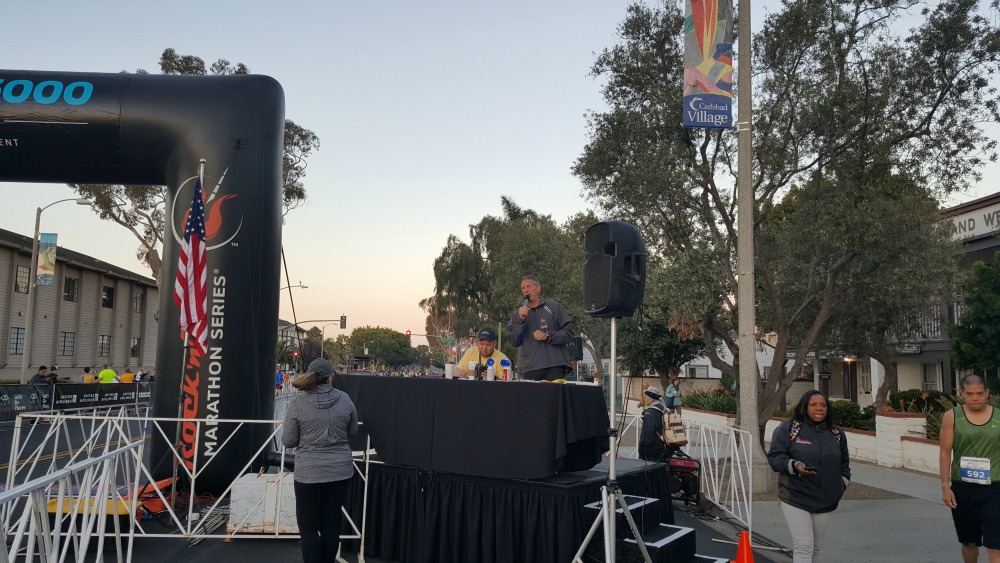 I still had to head north for another half mile or so, then hit the turnaround at 2.5 miles. Almost home. I still resisted the urge to push too much. Having done this race before, and knowing my exercise induced asthma, I did not want to have an attack on the slight uphill within sight of the final turn. That would not make for a happy day!
Finally, I reach the last turn, grateful for that final downhill to the finish line. I finished in 30:51, which is a 9:56 pace. Perfect for my first race. I headed back to the lounge, drank some Nuun, then we all headed back to the start line for the 8:15 race.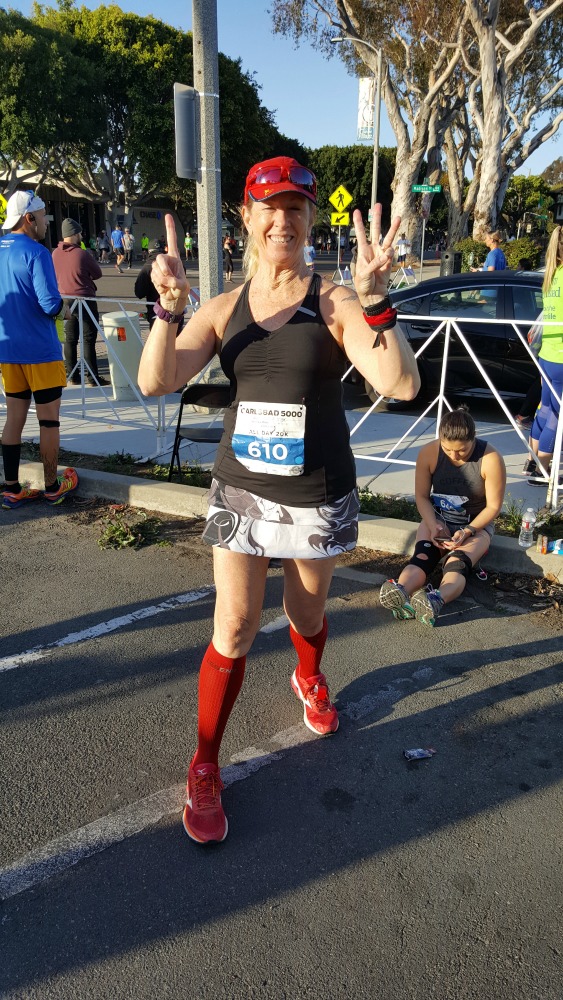 All Day 20k: Race #2
Here's the thing about running multiple races in a day. Anyone who has done a relay race with multiple legs knows this too. You finish running your race (or leg). You feel good because you've stopped running. Then you start running again and your legs basically say, "what the heck are you doing?"
Still, I stuck to my plan, staying steady on that first part of the run, until we took that turn south, then I tried to pick it up a bit. Basically, my goal was to run under 30 minutes. Boy, do goals change as the years go by! The Carlsbad 5000 is billed as the World's Fastest 5k and multiple records have been set there. I did not run my PR there, but my fastest time was 20:16 (many years ago) and I did manage to snag one of those "Top 250" medals a few times. Ah, memories.
Anyway, I wanted to push my pace a bit, but I didn't want to trigger my asthma either, so I ran walked a fine line between too slow and too fast. I always carry my inhaler, but it's hard to completely recover even after using it, so my goal was to avoid it altogether. Mission accomplished!
As I approached the final turn, I knew that I was ahead of my first race time, and I thought I had a chance to pull off that sub-30. Sadly, I missed it by three seconds! My official time was 30:03, which is a 9:41 pace. My own Garmin had a slightly different time (and distance!), but the official one is better, so I'll take that!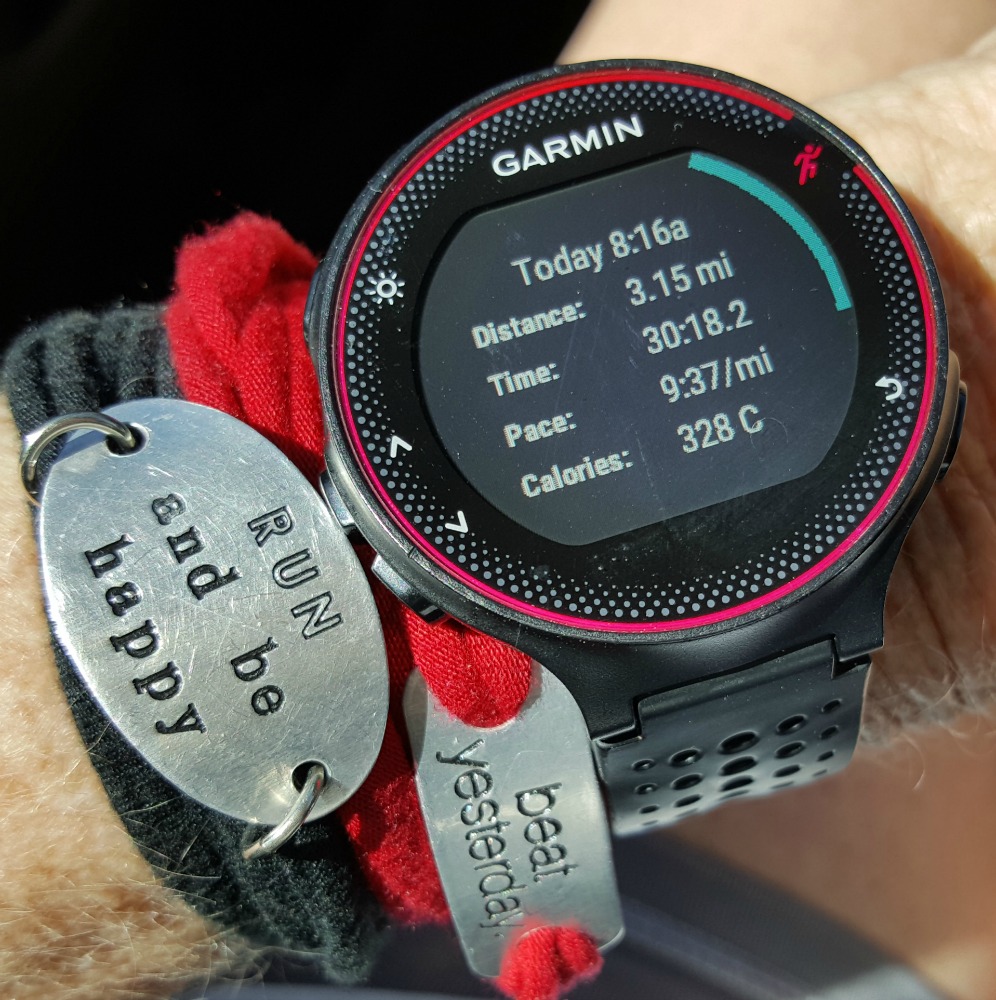 As I headed back to the lounge, I saw that Daiya had a booth and was serving up some of their vegan Greek yogurt, so I stopped and grabbed a little cup. I did that after the next two races too! I also grabbed a banana and drank some more Nuun before heading to the start line for race number three.
All Day 20k: Race #3
At first glance, it looked like the time between races was going to be really short, about 15 minutes. However, since the railroad tracks run right through the run course, the Carlsbad 5000 must plan each race around the train schedule, so we were delayed for about 15 minutes before heading out for the third 5k.
My goal for this race was to relax and enjoy it. I had already accomplished the speed part of my plan, so I thought it was time to have some fun. As we waited I had the chance to meet a few more Rock 'n' Bloggers, including Megan, who was doing her age group 5k.
After the race started, I watched my group head out ahead of me, as usual, only to see them pull over only about a quarter mile into the race. It turned out that Megan had stumbled and fell, so they stopped to make sure she was okay.
Fortunately, they were able to get her to the side of the road quickly, because she really could have been trampled by the multitude of runners starting out the race. I heard that not only did Megan manage to fall gracefully, she even hit the stop button on her Garmin mid-fall. Now that's a woman after my own heart!
I did not stop my own watch, though, because I usually let it go to keep it in line with official race time. I figure we lost about a minute, though, before getting started again. Megan had a little road rash on her knees, but was otherwise fine. I think they all decided to take the race easy too, after losing that time, because I caught up again at about the halfway point because they'd stopped to take selfies. I made the extra effort to pull ahead of them for a moment, though, just so I could say that I passed all the youngsters!
After that delay, I decided to just keep running, without any stops, even though my pace had slowed quite a bit. I ended up finishing in 34:38, an 11:09 pace (though in my mind I take off that one minute delay 🙂 ). Back to the lounge, where I ate a half a bar and drank some more Nuun. Three 5ks down, one to go.
All Day 20k: Race #4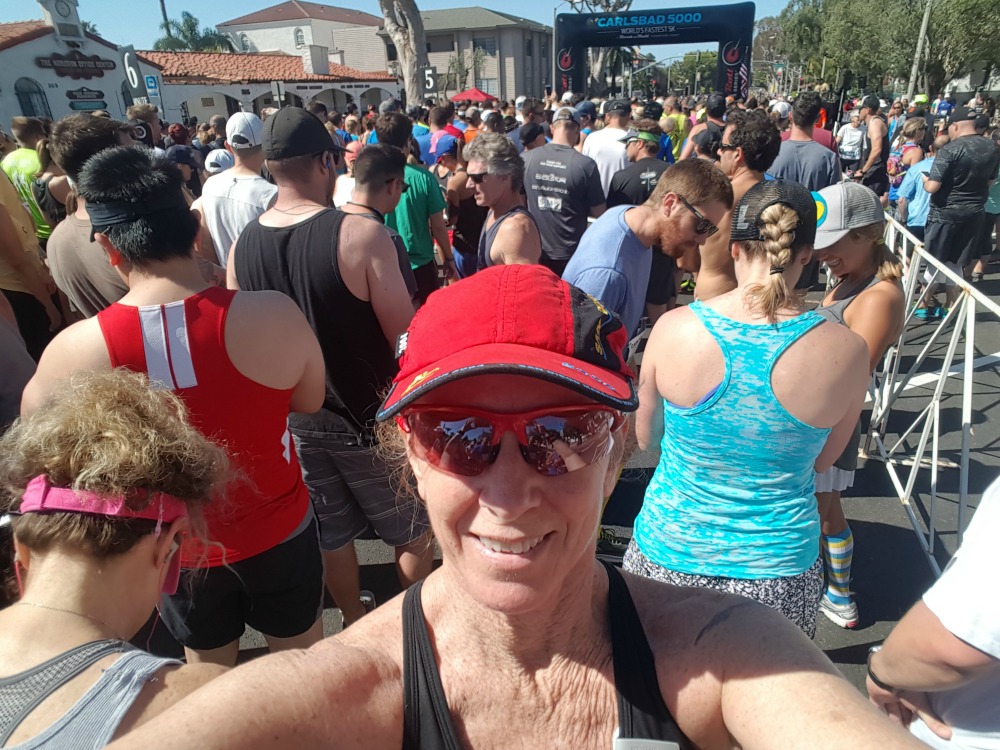 I knew that the final race would be a challenge. While I felt good in between, and was well fueled and hydrated, my legs were getting pretty tired. Plus, because of the delay from the third race, there wasn't much time between for recovery. We headed back, heard the Anthem for the fourth and final time that day and then we were off! By the way, the woman who sang the National Anthem was amazing. I'd swear she got better each time she sang!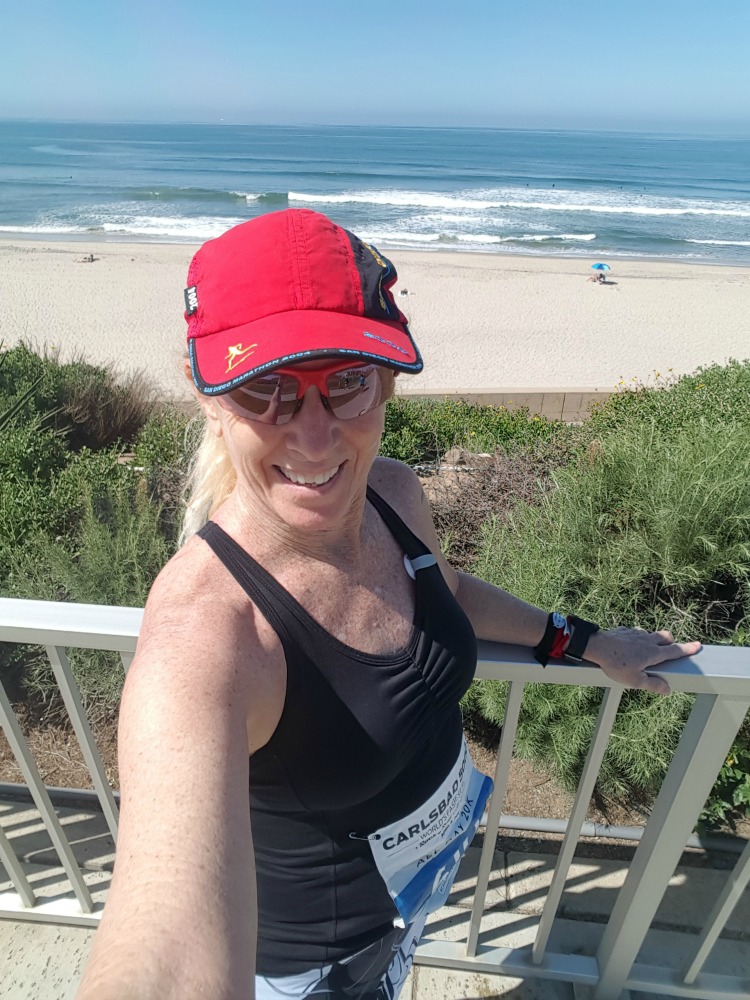 My one claim to fame for the final race: With the exception for one stop for an ocean selfie, I ran the entire way. No walking for me, even though it really, really started to sound like a good idea! In the end, I ran race number four in 35:55, an 11:34 pace. That left me with a total time of 2:11:17 for the All Day 20k, an average pace of 10:35! I'll take that! Here are my complete results if you're interested.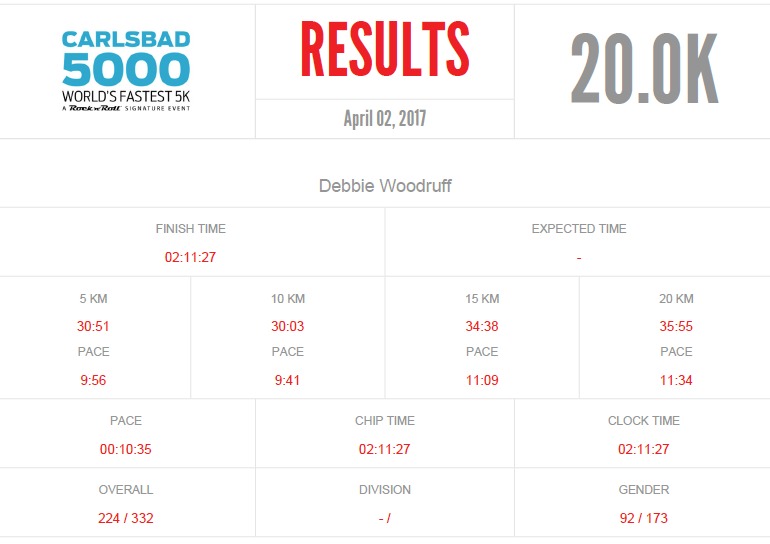 Post Race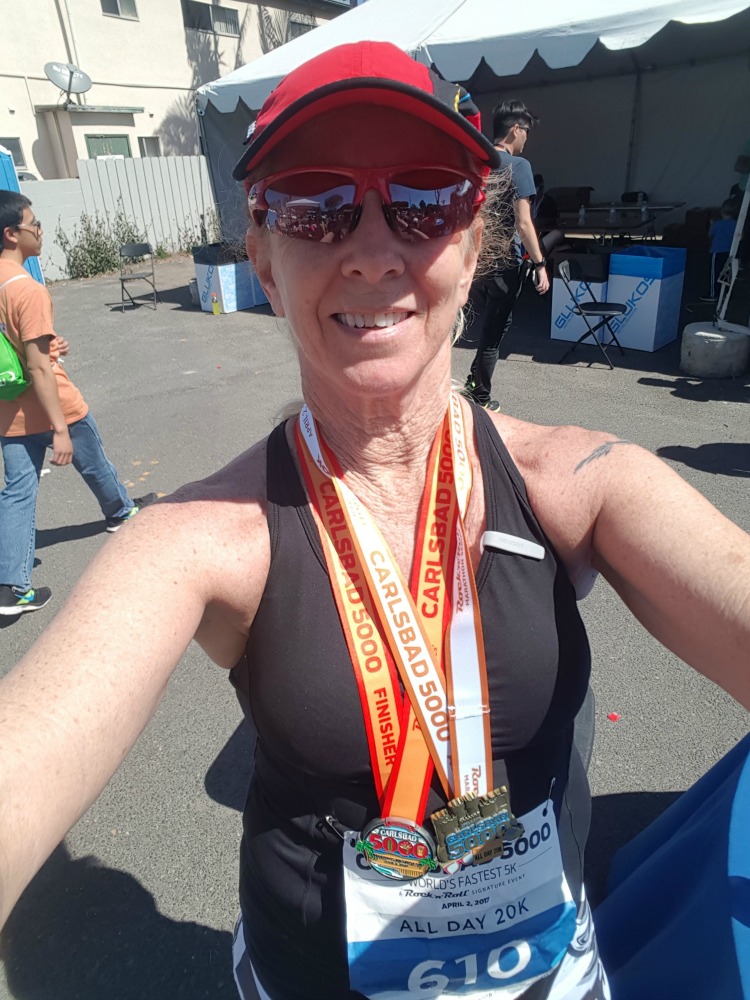 I'll wrap this up quickly, since I realize that this post is already longer than, well, my drive home! I did not stick around for the beer, or the elite races. Instead, since it was already after 11 when I gathered up my gear and picked up my medals (which were available for us at the All Day 20k Lounge), I headed back to the hotel for a glorious shower, then packed up and headed home. I did stop for lunch because I was starving, but I wanted to get on the road since I knew the drive home would be long and tiring.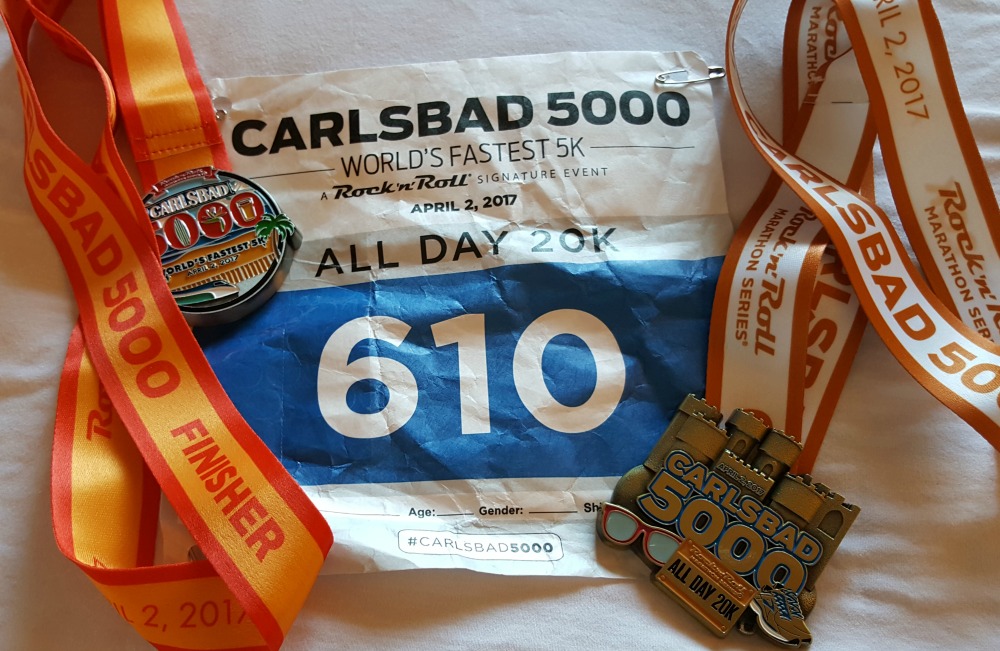 Oh, and for the folks who voted for the Shades of Blue outfit, know this: the Skirt Sports Dash print went perfectly with the Carlsbad 5000 race shirt. And of course, I really needed those Legend compression socks (<–save $15 on your first purchase!) for my tired legs! I actually wore them through the night, and I'm sure that's a reason I felt so good on Monday morning.
Let me just say this. The Carlsbad 5000 All Day 20 was challenging, sure, but it wasn't anywhere near as hard as that drive home! I was tired, my sciatica was screaming at me, and I really wished I could wriggle my nose and be back at home. Instead, I endured a three-hour drive, including two potty stops (thanks to my Nuun I was already rehydrated!).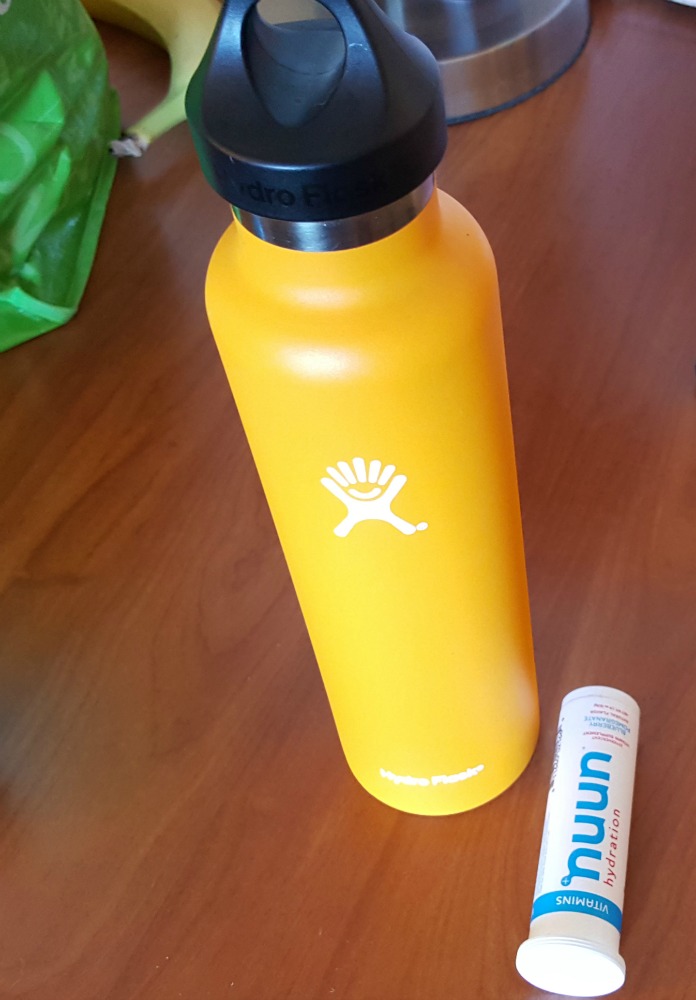 I will also say that I loved this event! I'm so happy that I decided to challenge myself by running the All Day 20k! Alan and I have already decided that we're going to both do it next year. If fact, we'll probably sign up right away because of the great deal that is available this week only. Check it out below and click here if you'd like to join me in 2018!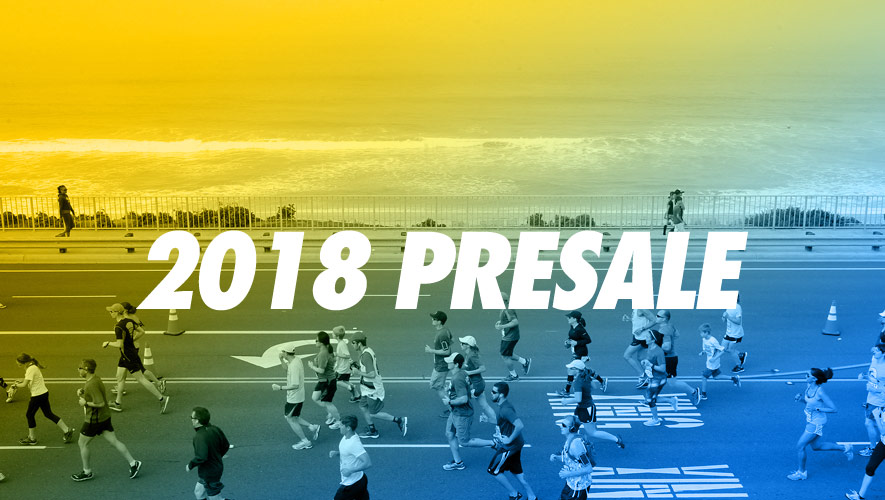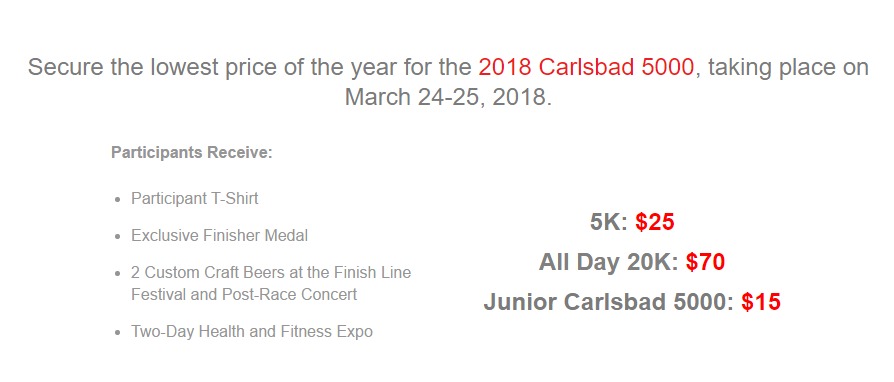 As you know, I am a part of the Rock 'n' Blog team for the Rock 'n' Roll marathon series, of which the Carlsbad 5000 is a signature run. As a part of the team, I received a Tour Pass and free entry to this and other Rock 'n' Roll races. That doesn't influence my honest opinion, though.
The Carlsbad 5000 is an awesome race, well managed and fun, in one of the most beautiful locations and on one of the best courses in the world. The All Day 20k is a great innovation that makes the race even better. I do hope you'll plan to be here next year!
Did you race over the weekend? Tell me about it! Have you ever run an All Day 20k or similar format race?
This post contains affiliate links.
And Now It's Time for the Running Coaches' Corner!
Loading InLinkz ...
---
Weekly Linkups
My weekly linkups! Please stop by and check out all of the great recipes, workouts, and information that all these awesome bloggers share every week!
Meatless Monday with Sarah and Deborah
Meatless Monday with Annmarie  and Dixya
Inspire Me Monday with Janice
Wild Workout Wednesday with Annmarie, Michelle, Jen, and Nicole
The Plant-Based Potluck Party with Deborah
The Running Coaches' Corner with Rachel, Suz, Lora Marie, and Me!
Giveaway Roundup and Try Out Thursdays with Smitha
The Blogger's Pit Stop with Kathleen, Janice, Julie, and Menaka
Friday 5 2.0 with Rachel and Lacey and Meranda
Sunday Fitness and Food with Angela and Ilka