Well, kind of.
The full recap of Rock and Roll San Diego will be coming, but let me just say: Expect a lot of couple selfies.
Because that's what we did best. We had fun, we took pictures, we struggled, we did a lot of walking. Basically what two, ahem, older people will do when they run  a marathon with insufficient training. So, yes. We rocked.
We drove into San Diego on Saturday morning and drove straight to the expo. Even though it has been over eight years since my last marathon, expos are the same. Too many people, lots of things I don't need, overpriced race souvenirs (including the all-important race shot glass), and, did I say, too many people.
Alan bought a few things in the Brooks Happy Island Store, while I didn't buy the Run Happy hat (so I'm going to have to search it down because I really need want that hat).
After the expo, we headed over to Evolution Fast Food for lunch (more on that later), then to our hotel to check in and kick back for the rest of the day.
But first, we had to make a stop at Roadrunner Sports. We are the original VIPs (just a slight exaggeration) and have spent so much money there (starting when it was just a catalog store) that it's almost embarrassing. Alan got a great deal at the lightly used shoe store.
Sorry. I'm a Shoe Dog Fan girl.
We actually stayed in north San Diego county, in Encinitas because that's our favorite place in the whole world.  We ate an early dinner at Native Foods, then, because we had to get up around 2:00 am, went to bed early. After I laid out my running outfit for the photo opportunity of course.
I realized that each part of my race day outfit was from a different company. My top is from Lorna Jane, skirt (which fortunately arrived on Friday!) from RunningSkirts.com, shoes from Mizuno, sock were Nike, and bra was Under Armour. I am Eclectic!
Boy, did 2:00 come early! The reason for our early wake up call was that we were told to arrive by 4:00 am so that we could park, catch the shuttle to the start, etc. We did arrive almost exactly at 4:00, and I guess it was worth it because there were no long lines of marathoners waiting to park. We drove right in (to our pre-paid parking lot), parked, and walked over to catch the shuttle. Of course that meant we had about two hours to wait before the race started.
We camped out at the lawn bowling field (?) at Balboa Park. Even though we were just a few feet from all of the action at the start, there were very few people that joined us. We had a nice bench and were able to relax (with only two potty trips) until about a half hour before the start.
At about 5:45, we headed toward the start line (the marathon started at 6:15, the half marathon at 6:45).
We found our corral (#6), and squeezed in to await the start of the race.
There were quite a few runners.
There were about 8,000 in the marathon, 20,000 in the half. We were told that there would not be waves for the full marathon, but somehow, there were actually waves that started one minute apart. No big deal really, but when you're told one thing, then the gun goes off and you think you're off, then it turns out you have to wait another six minutes, it was, well, a little annoying. Plus that makes the clock off by six minutes throughout the race (not that it mattered too much as it turned out).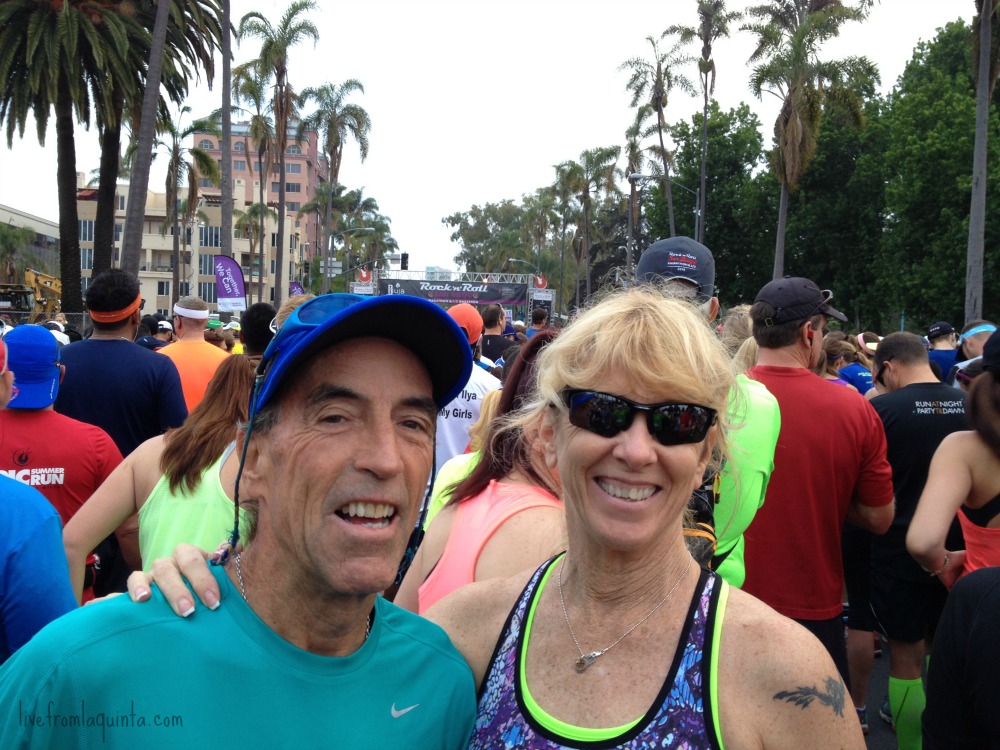 The man who took our picture was very proud that he got the Rock and Roll banner in the background. So was I.
The rest of the recap will be coming tomorrow because it's late, I'm tired, and I ran a marathon yesterday. So stay tuned!
Oh, just so you (kind of) know what's coming, we did earn this: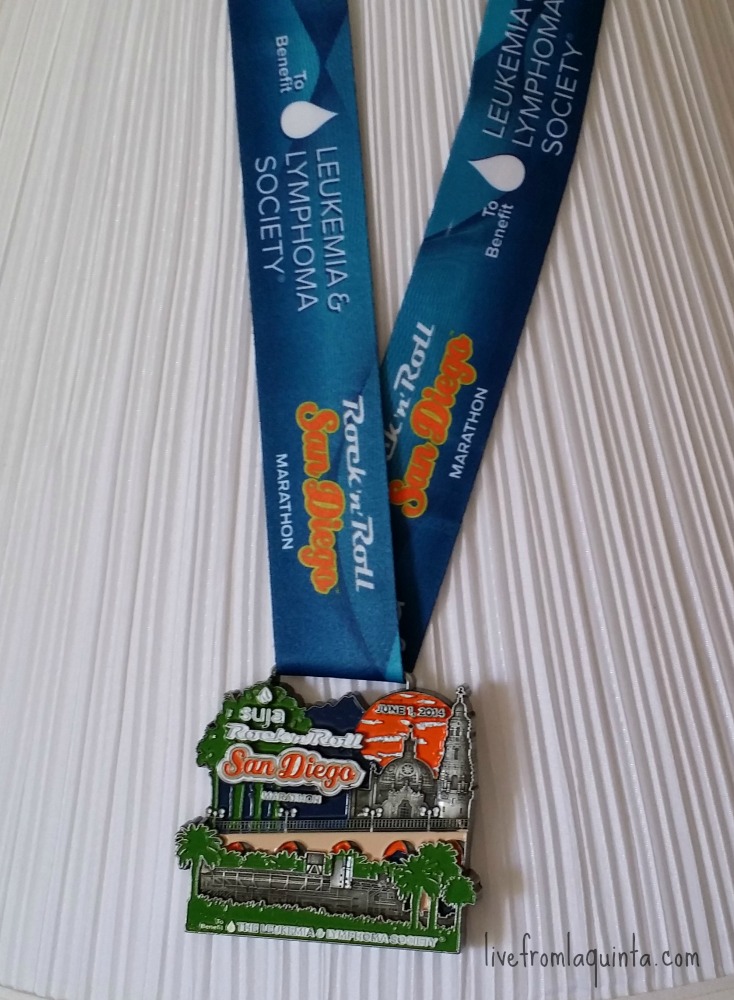 So, how was your weekend? Any event, races, or family fun? Did you Rock and Roll (there were a lot of bloggers there, none of home I bumped into)?