If you're like me, body care frequently gets pushed to the side of your priorities. You get your workout in (possibly exchanging an extra mile for that 10 minutes or so of foam rolling?), then must rush off to work or child care or one of the many things that make up the full plate of your life. In my latest Body First Video, I've put together a quick program you can fit in before or after your workout.
Foam Rolling Before Your Workout
Taking some time to foam roll before your workout is a great way to warm up. In this Body First Video, you will be targeting the muscles in the calves, quads, hip flexors, glutes, lats, and thoracic spine, all of which play a vital role in physical activity. Rolling before your workout will assist with blood flow and help "wake up" those important muscles.
Because you are using foam rolling as a warm up, your technique will be slightly different. You can move a little faster and lighter, with less focus on the trigger points or "painful spots," and pay more attention to activating your muscles.
Foam Rolling After Your Workout
Foam rolling after your run, when your muscles and fascia are very warm, is a great time to work out adhesions and stretch your muscles and fascia. Studies have shown that foam rolling after a workout can reduce DOMS (delayed onset muscle soreness) and help improve recovery time.
This is the time that you will slow down, go a little deeper, find your trigger points and work them out. Yes, it will be a little more painful, but it should not cause shooting pain.
This Body First Video shows you a program that you can use before or after your workout, remembering the differences above. You will target the same muscle groups but in slightly different ways. In the video, I roll a little faster and just make a couple passes over each area, so it is great for your warm up. To use it after your workout, you can do the same moves, just slow down, settle in a little deeper, and pay attention to your own trigger points. If time is short, simply foam roll your tight or sore areas.
Body First Video: 5 Quick Target Zones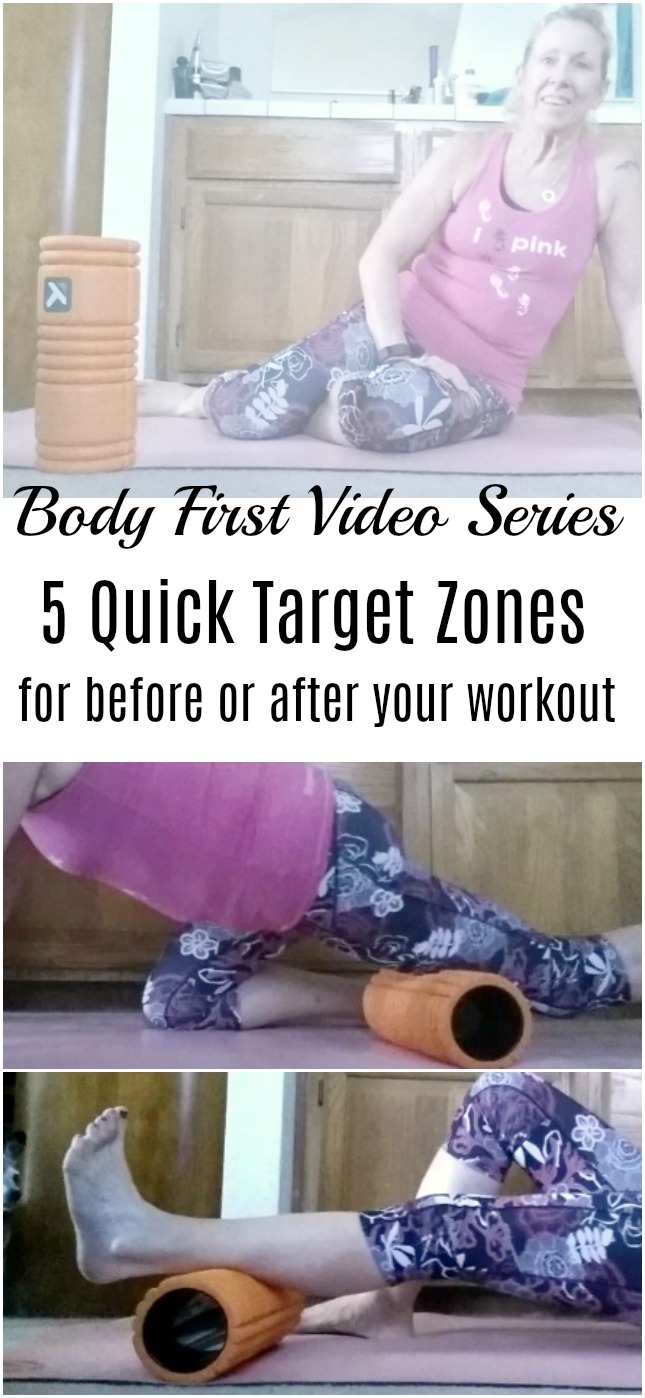 In this Body First Video we target 5 main zones: The back of the lower leg (calves), front of the upper leg (quads and hip flexors), glutes, lats, and the thoracic spine. These areas will be sufficient for most people for both the warm up and post-workout. However, if you have issues with your hamstrings or IT band, you might want to add these to your program.
Here are the basics of the positioning of the Body First Video program. Watch the video for more details. Remember STOP if you feel extreme or shooting pain. Start on your tightest side and complete the first four target zones. Then do them all on the other side. Finish up with zone five, your thoracic spine.
1. Target Zone One: Lower Leg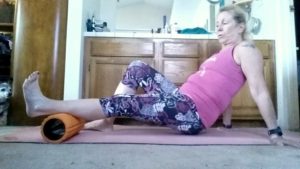 We will actually break up zone one into two smaller sections. The point from right above your Achilles tendon to about halfway up your calf, and from that point to right below your knee (not under it).
2. Target Zone Two: Quadriceps to Hip Flexors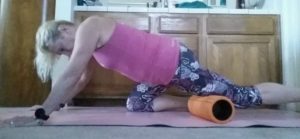 This area will also be broken into two sections. The first part starts right above your knee to about halfway up your quad. The second starts halfway up your quad and goes all the way to right below your hip bone.
3. Target Zone Three: Glutes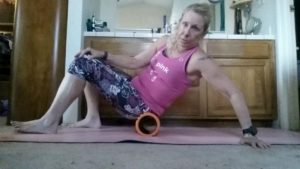 The two sections here are the gluteus maximus and piriformis, right at the meatiest part of your glutes, and the gluteus medius, slightly to the outside.
4. Target Zone Four: Latisimus Dorsi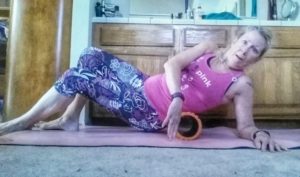 Yes, paying attention to your lats is very important for running. If you think of the body as a fascial system, you know that everything is connected through the various fascial lines of the body. The spiral line connects the lats to the opposite hip. They help create more efficient gait movement and help fight pelvis rotation during gait, so it is important to both strengthen your lats and keep them mobile.
Your lats are the large flat muscles that lay along your back, into your side, all the way up to your armpits. To roll them, lie on your side, leaning back slightly so that you don't put pressure on your ribs.
You will again break your rolling into two sections. The first will start right below your ribs (but not on them) and continue about halfway up your side. The second starts from there and continues up to your armpit.
5. The Thoracic Spine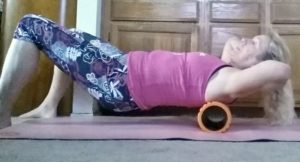 To finish up with the final zone, you will position yourself with your back on the foam roller, right above the small of your back. Again dividing into two sections, roll from there to right about the middle of your shoulder blades. The second section is from there to right below your neck.
Watch the video for all the detailed instruction. I also feel like I should apologize for the quality of the video. When I film at home (as opposed to work where I can film in my group exercise room), I usually do it outside. But the day I filmed, not only did I keep getting interrupted by neighbors and cats, the gnats were going crazy and kept getting in my eyes. I finally gave up and brought it indoors. I do plan to refilm soon and hope for a much better quality.
Click here complete video series.
You can also subscribe to my YouTube page to get instant access to all my Body First Videos! And I just started my Desert Stretch Facebook page! I'd be honored if you'd like it!
Tools Used in the Body First Videos
A few of you have asked about what tools I'm using in my videos. I use a variety of rollers, balls and other tools in my Body First Videos. While a regular foam roller and a tennis ball are certainly adequate, some special tools can offer a better option. Here are some of my favorites (affiliate links).
Intelliroll: This is the roller I'm using in the hip flexor video. I love that it is contoured to fit my body. The center cut-out allows me to roll my entire back and neck without compressing my vertebrae.
Trigger Point Grid: Also available in a 26 inch version. I love the multi-dimensional surface that helps you get into areas that you need to with differing angles and pressure.
Trigger Point Vibe: I don't own the Vibe (yet), but I got to try it out at IDEA World and I loved it. It has all the advantages of the Grid with the addition of vibration.
Trigger Point Massage Ball: I really like this massage ball because it is small enough to get into certain tight areas, but it's not as firm as a lacrosse ball.
Lacrosse Balls: That being said, lacrosse balls are great tools for self-myofascial release. They are firm and great for finding those trigger points. They're pretty inexpensive too!
Activ8r Body Ball: I bought this double hard rubber ball a few years back at the IDEA Convention expo. It's fairly expensive now. A better deal might be this Double Lacrosse Ball at only $12.95.
Spiky Massage Roller: This is the closest thing I could find to an oval spiky foot roller that I picked up years ago. I have no idea who made it (though I found it on a New Zealand website!). This is similar, though. The benefit of it being oblong is that it won't slip out or roll away as easily.
High Density Foam Roller: Nothing wrong with the traditional foam roller. The extra length makes it great for different chest openers. I like the high density because it is a little firmer and lasts longer than a simple foam roller.
Do you stretch and foam roll consistently? Have you tried foam rolling before your workout?
---
Weekly Linkups
My weekly linkups! Please stop by and check out all of the great recipes, workouts, and information that all these awesome bloggers share every week!
Meatless Monday with Sarah and Deborah
Meatless Monday with Annmarie  and Dixya
Tuesdays on the Run with Marcia, Erika, and Patty
Inspire Me Monday with Janice
Wild Workout Wednesday with Annmarie, Jen, and Nicole
The Plant-Based Potluck Party with Deborah
The Running Coaches' Corner with Rachel, Suz, Lora Marie, and Me!
Friday 5 2.0 with Rachel and Lacey and Meranda