Bob's Red Mill Nutritional Booster Protein Powder with Probiotics is making a difference in my life. Thanks to Fit Approach and Bob's Red Mill for sponsoring this post. All opinions (and the recipe!) are my own.
One of the things I've missed in the years since I started following a plant-based diet was yogurt. My daily breakfast used to be plain Greek yogurt with a little fruit and granola mixed in. I loved it, and though I didn't think about it at the time, the active cultures in the yogurt helped keep my gut healthy.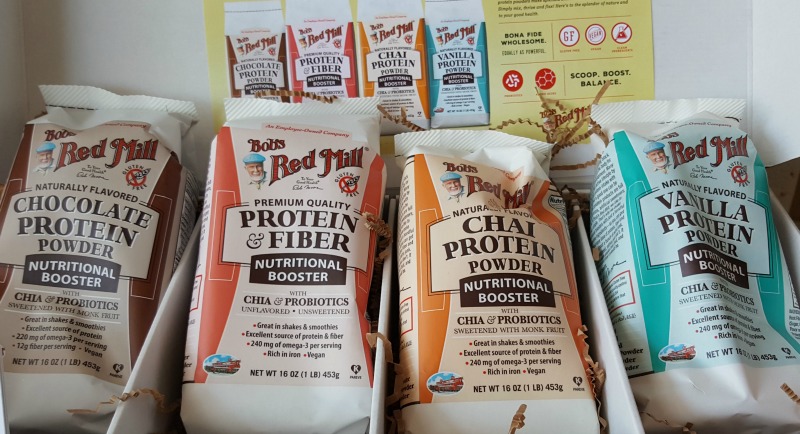 Fast forward a few years. After I stopped eating yogurt, I didn't think about what I was missing out on besides my (former) favorite breakfast. Until I started having digestion problems, I didn't even think about the probiotics I was not consuming anymore. Then, about six years ago I found The Gutsy Girl (now SarahKayHoffman.com). Her blog, and this post in particular, cause a little light to go on inside my head.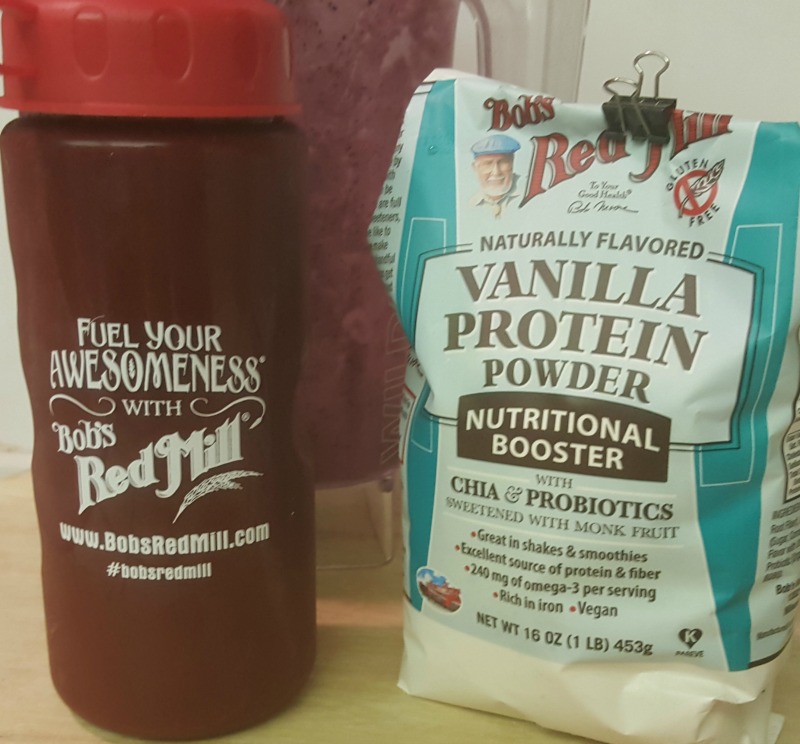 While I had nowhere near the issues that Sarah dealt (and still deals) with, her post about the probiotics in yogurt made me realize that I was probably missing something in my diet. And it wasn't protein!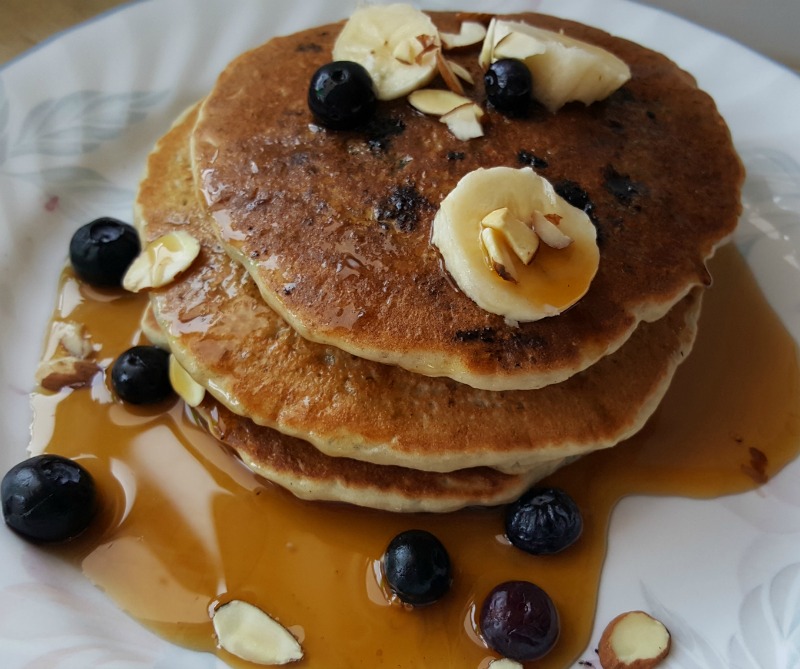 These days, of course, there are plant-based yogurt options, but they are generally flavored, have added sugar, and are also expensive. Then there's kombucha, which sometimes sounds like the vegan's dream tea. Sadly, after trying a couple different brands, I just don't care for it. And, though this makes me sound picky, which I'm really not, I don't care for most of the foods that are probiotic rich, like sauerkraut and pickles. Of course, there's alway dark chocolate…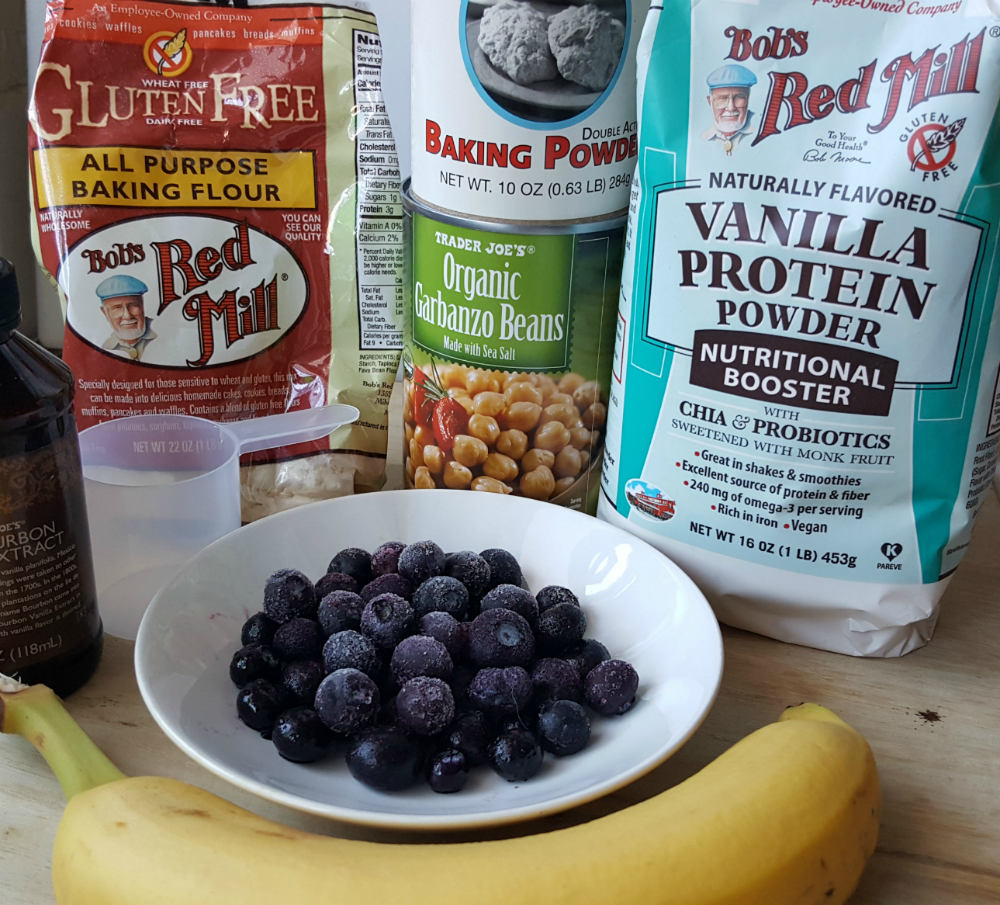 So, I've struggled a bit. I try to use supplements, I do have non-dairy yogurt on occasion, and I eat tempeh once in a while, but none of these offer a daily, whole-food solution.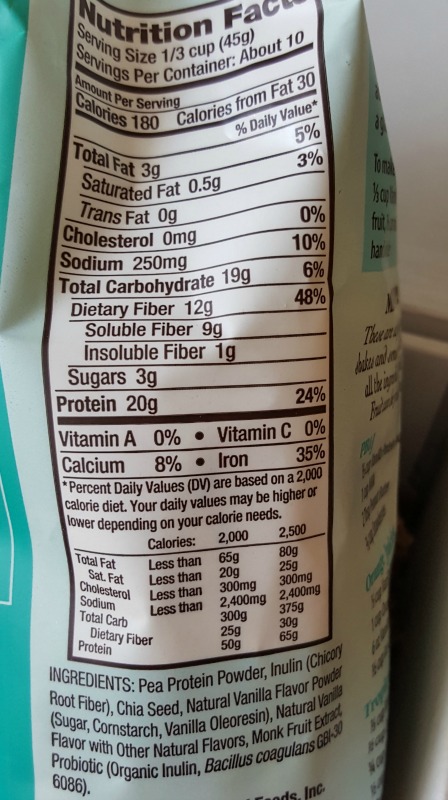 When I learned that Bob's Red Mill was creating a nutrition boosting line of protein powder and that some of them contained probiotics, I was ecstatic! I love Bob's Red Mill products and the combination of plant-based protein, fiber, omega 3, and probiotics sounded (almost) too good to be true. Fortunately, it is true.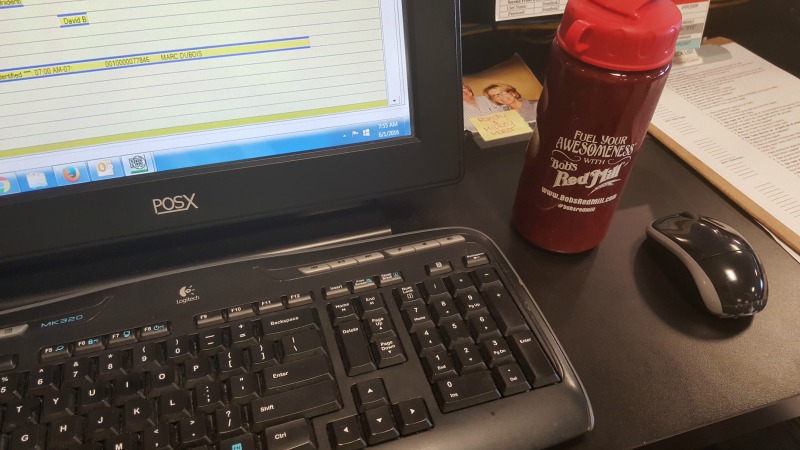 For the month of June, I am challenging myself to have a Bob's Red Mill Smoothie-a-Day made with one of the nutrition-boosting protein powders with probiotics. I'm pretty sure that if I stay consistent, it will make a big difference for me.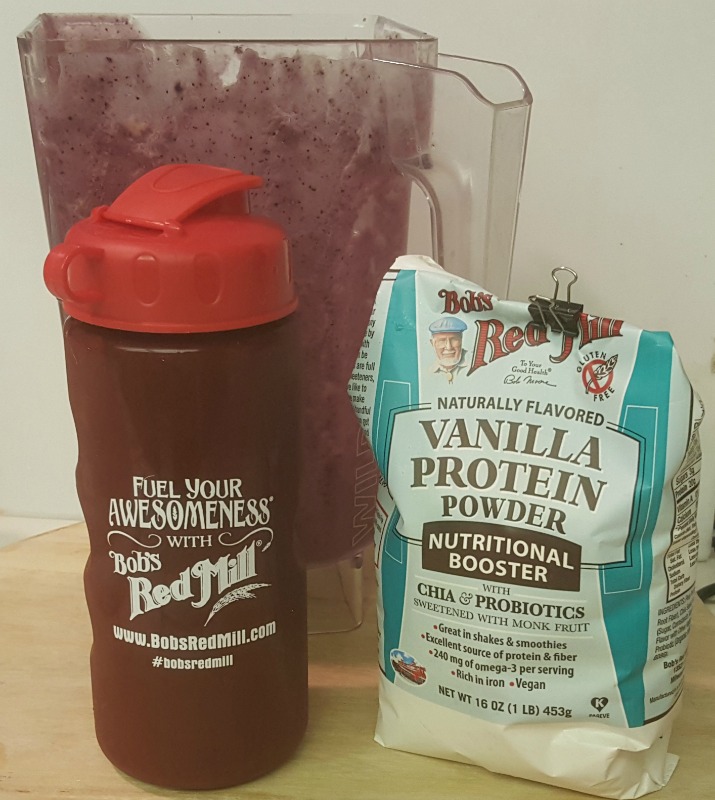 And it's not too hard, they are delicious. Lightly sweetened without added sugar, using monk fruit extract, the Vanilla, Chocolate and Chia protein powders are boosted with pea protein and chia seed, while the Protein and Fiber blend is unflavored and has an extra boost of fiber. They all have probiotics, so I will have lots of choices for my 30 days of smoothies.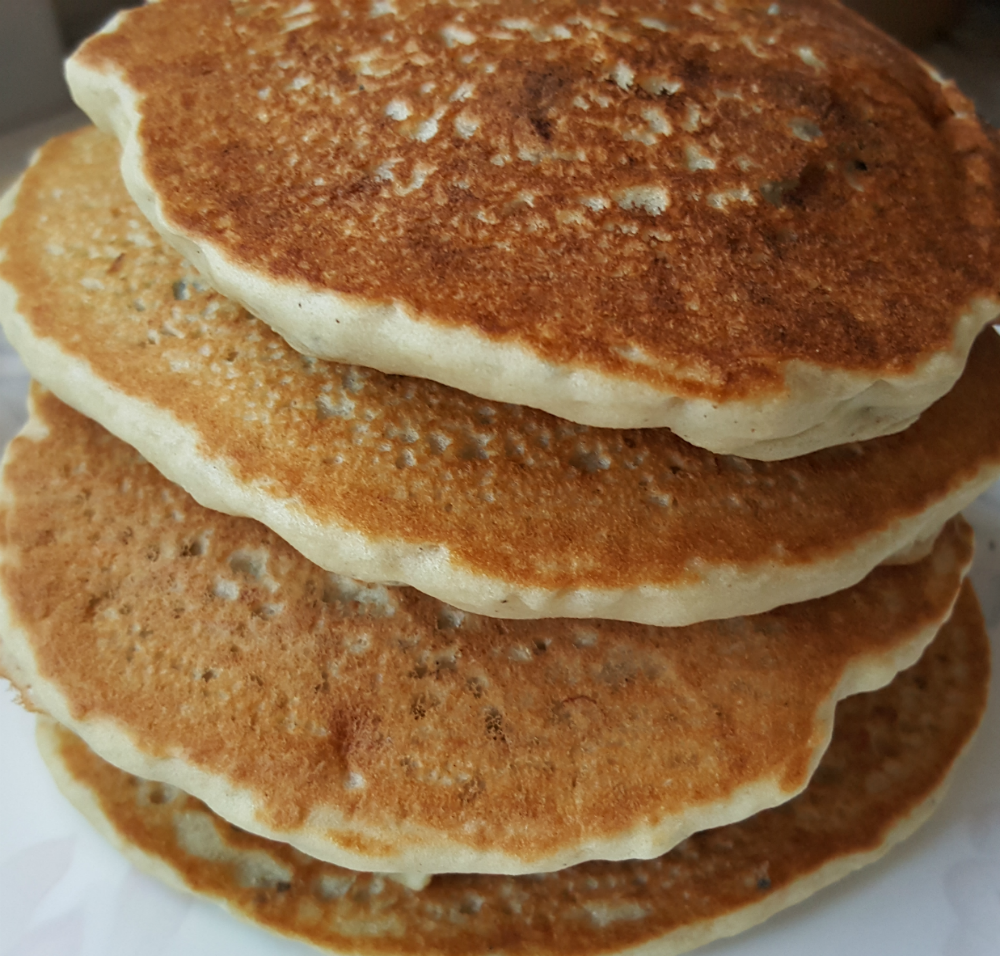 You can download a coupon and save on your purchase!
Banana, Blueberry, Almond Protein Pancakes. Vegan and Gluten-Free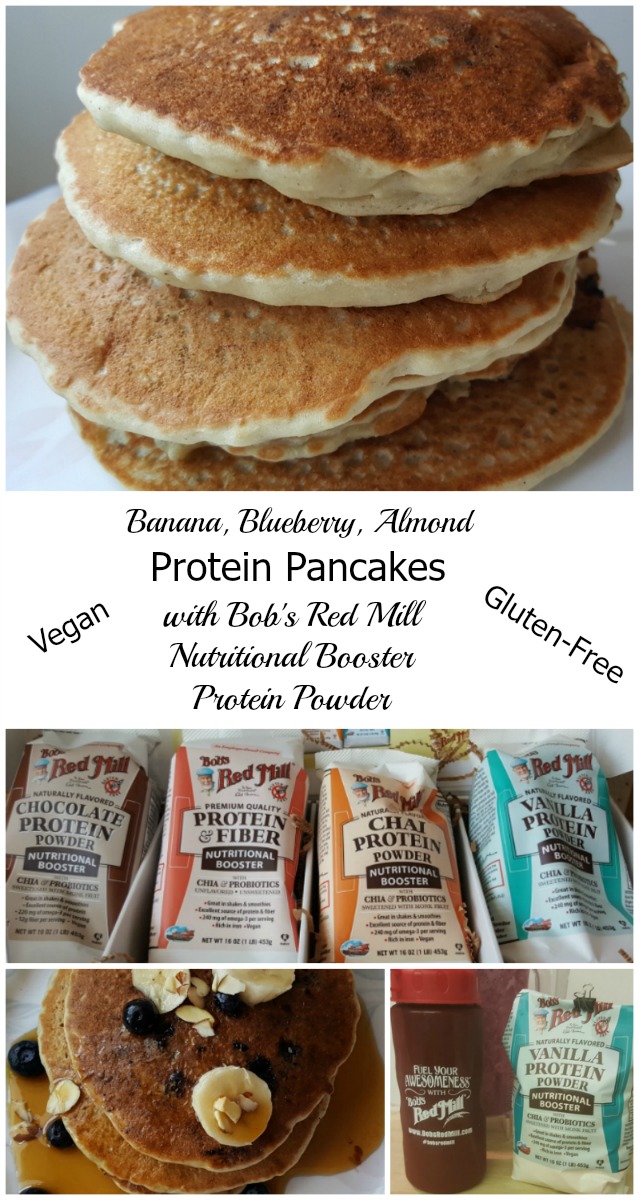 But first, the recipe. I love pancakes. My husband loves pancakes. We don't eat them very often, mostly because for some reason I got it into my head that making plant-based pancakes would be hard. It's not. These pancakes are not only vegan, they are also gluten-free and get an extra boost of protein and probiotics from Bob's Red Mill Vanilla Protein Powder. Oh, and there is no added sugar or oil. And guess what? They're delicious. Just ask my husband!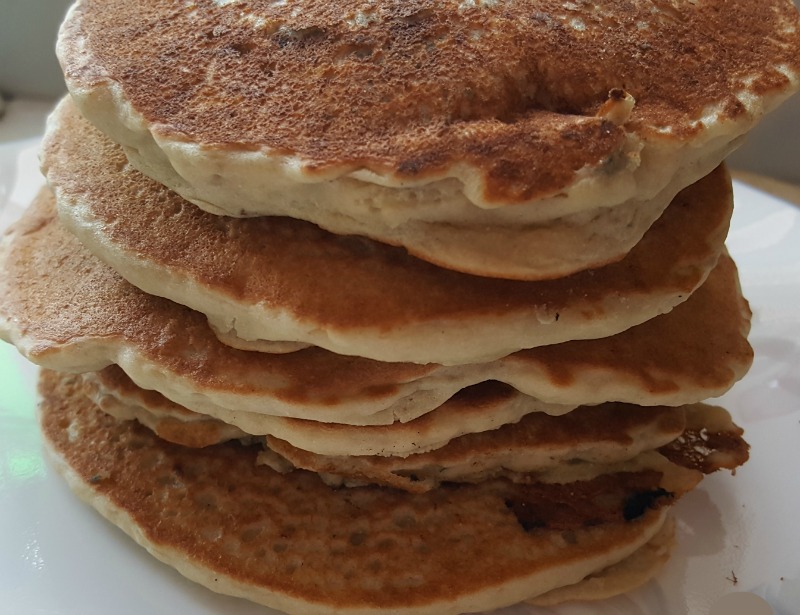 Banana Blueberry Almond Pancakes
These banana blueberry almond pancakes are not only delicious, vegan, and gluten-free, they are also "good for your gut," thanks to the probiotics in Bob's Red Mill. With 20 extra grams of protein and no added sugar or oil, these pancakes are as good for you as they are good.
Recipe type:
Vegan, Gluten-Free, Probiotic
Serves:
6 medium pancakes
Ingredients
1.5 cups gluten-free flour (I used Bob's Red Mill Gluten-Free All-Purpose flour)
⅓ cup Bob's Red Mill Vanilla Protein Powder with probiotics
1 tablespoon baking powder (make sure it's gluten-free if necessary)
½ teaspoon salt
1 large banana
3 tablespoons aquafaba (the juice from garbanzo beans)
1 teaspoon vanilla extract
1.75 cups almond milk (or non-dairy milk of choice)
½ cup blueberries
¼ cup sliced almonds
Instructions
Preheat the grill or large non-stick frying pan over medium heat.
In a large bowl, combine flour, Bob's Red Mill Vanilla Protein Powder, baking powder and salt.
In a medium bowl, take about ⅓ of the banana and mash with a fork. Add the aquafaba and stir to combine. Add the non-dairy milk and vanilla and stir until smooth
Slowly add the liquid ingredients to the flour mixture. Stir until just combined.
Slice ⅓ of the banana into small pieces, and fold in along with most of the blueberries and almonds (save ⅓ banana and few almonds and blueberries for garnish).
Brush the pan lightly with cooking or coconut oil.
Pour the pancake batter into the pan, cooking until golden brown on both sides.
Garnish with ⅓ sliced banana, blueberries and almonds.

Are you a pancake lover? What are your favorite add-ins?Want to join me in a probiotic Smoothie-a-day?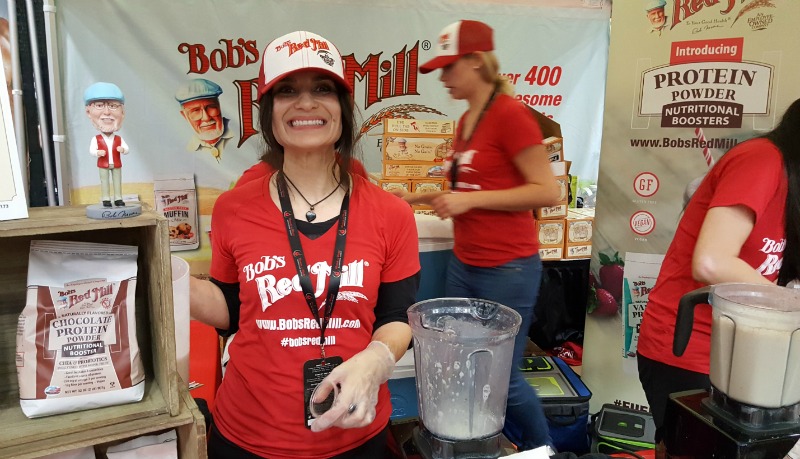 We stopped by the Bob's Red Mill booth at the Rock and Roll Marathon expo!
---
My weekly linkups! Please stop by and check out all of the great recipes, workouts, and information that all these awesome bloggers share every week!
Sunday Blog Hop with Jenn
Meatless Monday with Sarah and Deborah
Meatless Monday with Annmarie 
Inspire Me Monday with Janice
Weekend Snapshots with Erin
Anything Goes with Marilyn
Wild Workout Wednesday with Annmarie, Michelle, Sarah, and Angelena Marie
The Plant Based Potluck Party with Deborah
The Running Coaches' Corner with Rachel, Suz, Lora Marie, and Me!
Giveaway Roundup and Try Out Thursdays with Smitha
The Blogger's Pit Stop with Kathleen
Friday Fitness with Jill