I spent the weekend in San Diego, running the 20th anniversary of the Rock 'n' Roll Marathon. I actually ran the half, and I hope to have the recap for you by Wednesday, but for now, let's celebrate Meatless Monday with some of my vegan eats on the road, plus my favorite vegan tempeh pasta sauce.
Vegan Eats on the Road
Evolution Fast Food
After I left the expo on Saturday, I headed to one of my favorite vegan restaurants, Evolution Fast Food. which is right up the street from the Convention Center. Looking at the menu you might not realize that everything is completely plant-based. I had their special, the Chicken Club, and it was really good. And I may have had a few French fries too.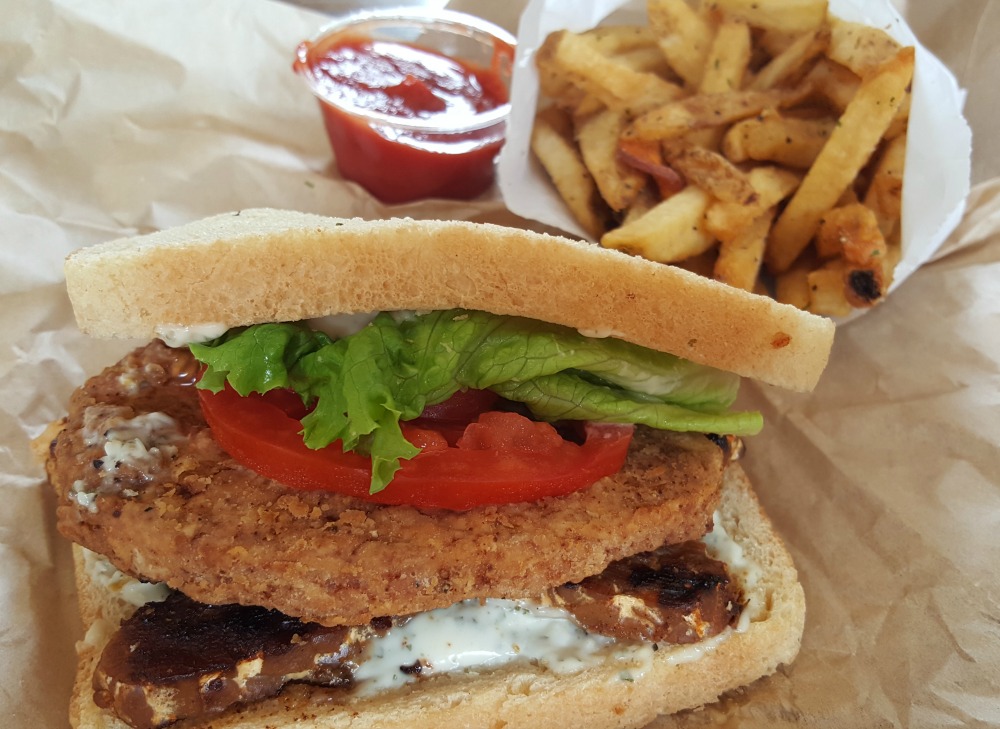 Native Foods
For dinner, I wanted something a little lighter. The fried food at lunch time had me craving something more salad-like. I ended up a new (to me) bowl, the Thai Meatball Bowl at Native Foods. I wanted to take it back to my hotel because I was tired and just didn't feel like hanging out at the restaurant. Great idea, but the server didn't ask me if I needed utensils, and my dead brain didn't pick up on that until I pulled into my hotel parking lot. I ended up grabbing a plastic spoon and knife from the mini breakfast bar they offer. It worked okay, though my food was pretty cold by the time I finally sat down to eat it. It was tasty though, and I'll probably try it (the hot version) again.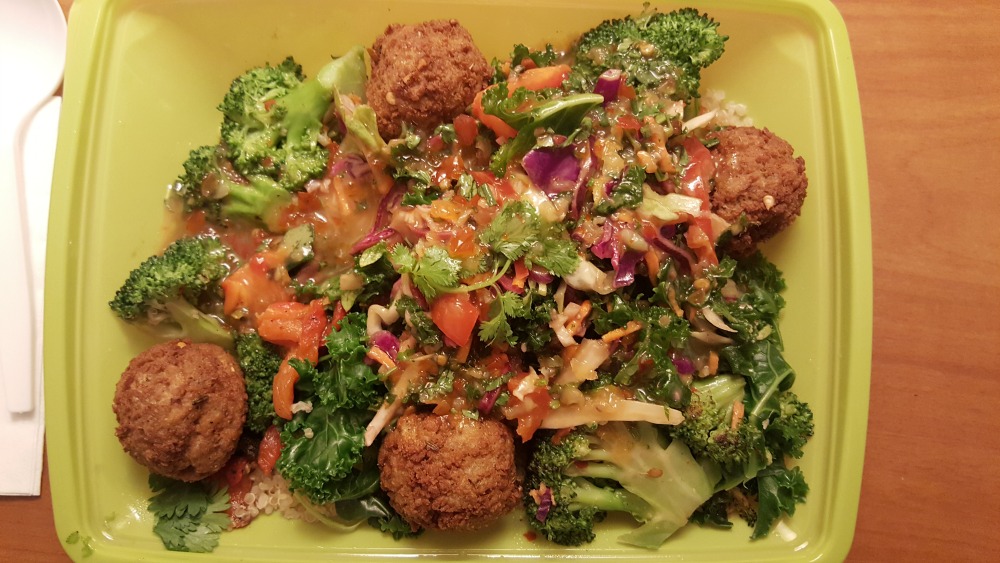 For breakfast, before the race, I did my usual, a banana, bagel, coffee. It works, though not worth photographing.
The Veggie Grill
I'll talk more about this in my recap, but I did one of those things that runners shouldn't do on race day: something new. I decided to take the coaster train from Encinitas to San Diego. Fortunately, I had Sarah as my train buddy. It was her first time too, so we found comfort in numbers. After the race, I decided to head straight back to Encinitas. I did ask for a late checkout, but since Alan wasn't there and I didn't see anybody I knew I thought I'd just get ready to head home.
Because of that, I was able to check out by noon, so I headed to the Veggie Grill. As you can see I was trying to hit up all the plant-based restaurants that I could while I was on the road! I ordered the Tinga Tacos. They were good and just enough to fill me up for the ride home.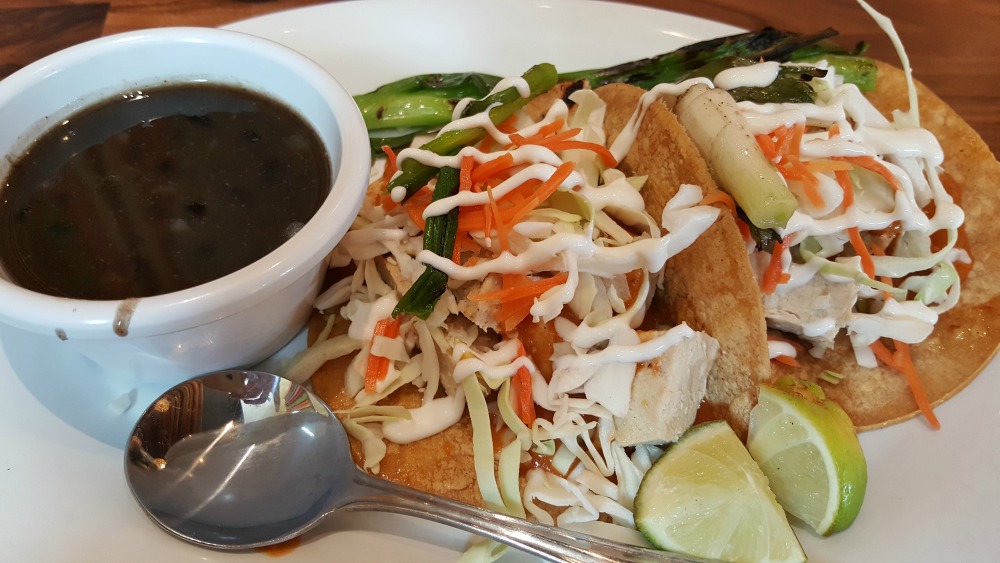 The Best Vegan Tempeh Pasta Sauce
I was never a big tempeh fan, but I've been experimenting with different preparation methods and I'm actually starting to love it. I do know it makes a great vegan tempeh pasta sauce! Not only is it delicious, it's quick and easy to prepare too!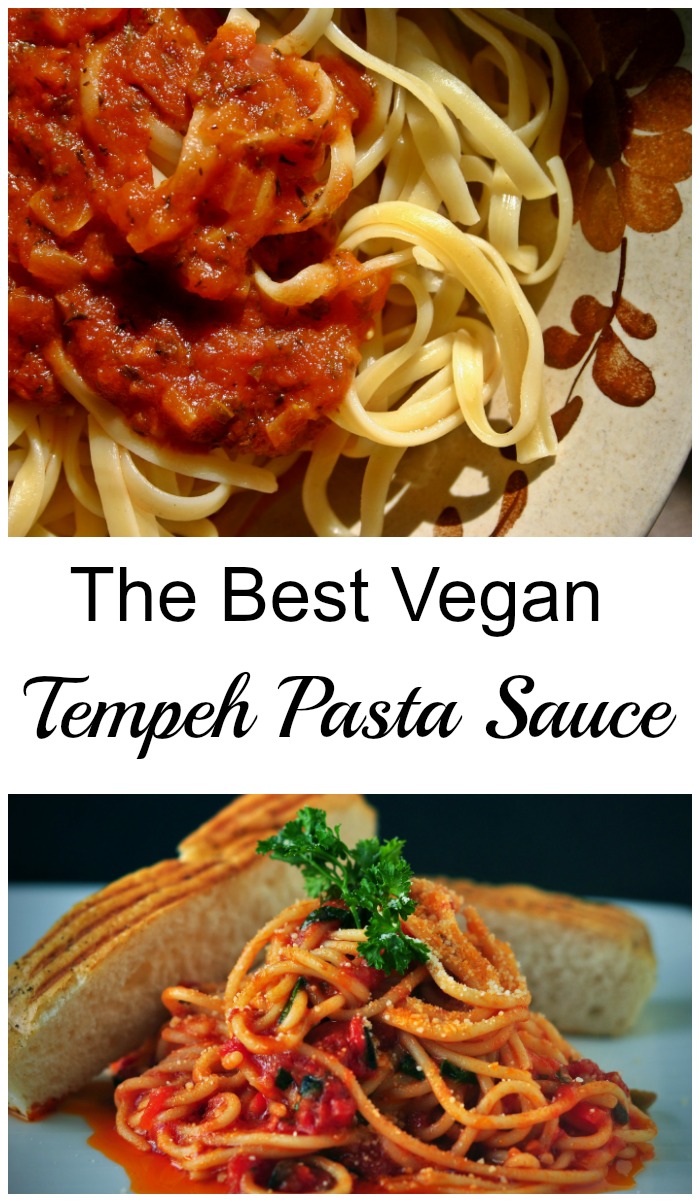 Tempeh Pasta Sauce
Ingredients
1 package (8 ounces) tempeh
1 medium onion, chopped
6 cloves garlic minced
½ yellow pepper, chopped
2 tablespoons olive oil
1 can chopped tomatoes with liquid
1 can tomato sauce
½ cup red wine
1 teaspoon Italian seasoning
1 teaspoon dried basil
1 teaspoon dried thyme
1 teaspoon crushed red pepper
1 teaspoon salt
½ cup mushrooms, sliced
Cooked pasta of choice.
Instructions
Preheat the olive oil over medium high heat. Add garlic, onions, and yellow pepper. Cook for about 5 minutes, until soft.
Crumble the tempeh and add to the pan. Continue to cook and stir until the tempeh is lightly browned.
Stir in the seasonings and cook for two more minutes.
Add the tomatoes, tomato sauce, and the red wine. Bring to a low boil.
Add the mushroom. Cook for two minutes then reduce the heat and simmer until the liquid is reduced and the sauce is thick.
Serve over the pasta of your choice.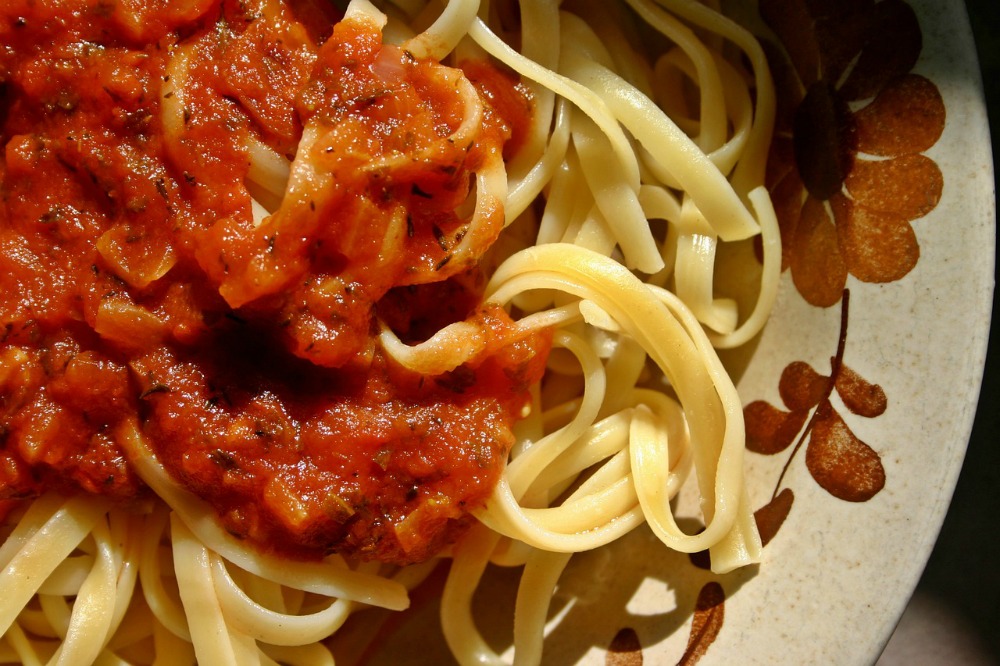 Sometimes it's nice to have a vegan version of a traditional dish like spaghetti and meat sauce (or in my case linguine because that what was in my cupboard).
Have you tried tempeh before? Did you love it or, well, not?
---
Weekly Linkups
My weekly linkups! Please stop by and check out all of the great recipes, workouts, and information that all these awesome bloggers share every week!
Meatless Monday with Sarah and Deborah
Meatless Monday with Annmarie  and Dixya
Tuesdays on the Run with Marcia, Erika, and Patty
Inspire Me Monday with Janice
Wild Workout Wednesday with Annmarie, Michelle, Jen, and Nicole
The Plant-Based Potluck Party with Deborah
The Running Coaches' Corner with Rachel, Suz, Lora Marie, and Me!
Giveaway Roundup and Try Out Thursdays with Smitha
The Blogger's Pit Stop with Kathleen, Janice, Julie, and Menaka
Friday 5 2.0 with Rachel and Lacey and Meranda