When I wrote my Running Resources post last week, I realized that while I have written a lot about training for marathons, I have not written nearly as much about getting ready for my favorite distance. So today I have tips to help you run your best half marathon.
I'm not sure why. Yes, the marathon seems to be a goal for many runners, but the half marathon is currently the most popular race distance in the United States. Yes, the marathon provides a multitude of challenges, but to run your best half marathon is tough as well, and not preparing properly can lead to a bad race or even worse, an injury.
With that in mind, here are 13.1 tips to help you run your best half marathon.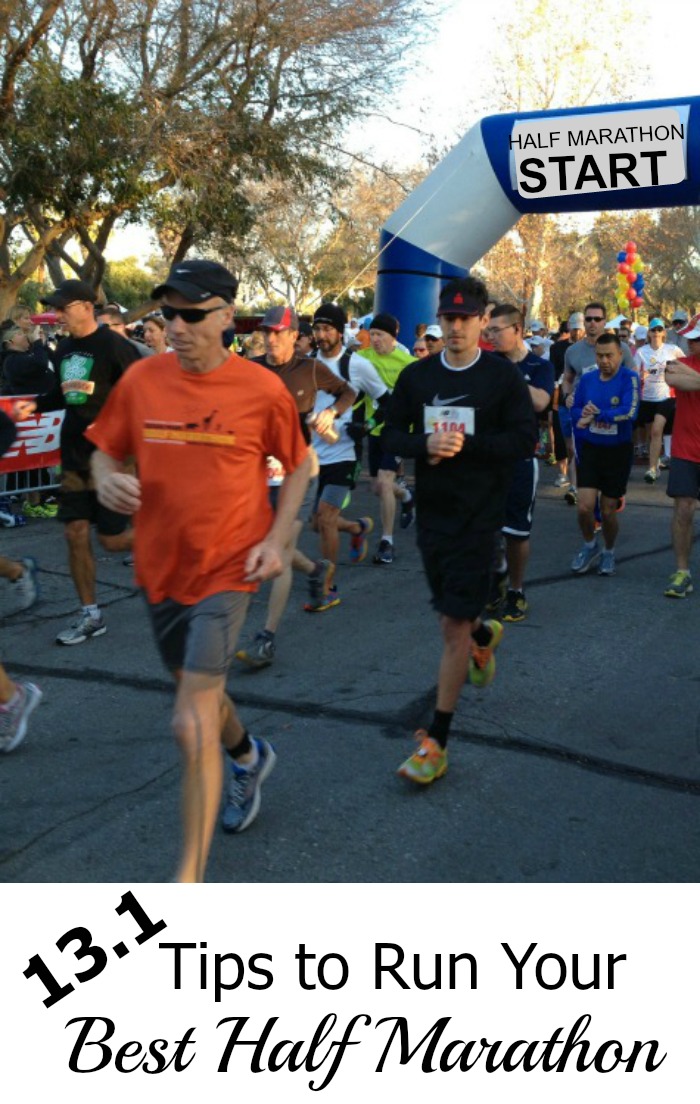 13.1 Tips to Run Your Best Half Marathon
1. Give Yourself Time to Train. If you want to run your best half marathon, plan to give yourself at least 12-16 weeks to prepare.
2. Build Your Base. Take time in the beginning phase of your training to build your running base. Depending on where you're starting, this can take from several weeks to a couple months.
3. Add Interval Training. Most of your interval training work will be around 800-1600 meter repeats at about your 10-15k pace. Don't be afraid to throw in some faster, shorter intervals, though, especially at the start of the speed training phase of your training. This will help build your VO2 Max and improve your form.
4. Lactate Threshold Training is Key. Tempo runs at a pace between your 15k and half marathon pace will improve your lactate threshold and help you run faster longer.
5. Train for the Course. Get to know your race course. Is it hilly? That means both uphill and downhill training. Is it on the road or the trail? You'll want to do the majority of your training on a similar surface.
6. Find a Training Partner or Group. Ideally, find a friend who is training for the same race. If that's not possible, joining a running club/group can help you find running partners of similar pace and experience. That will help with motivation and accountability.
7. Practice Your Goal Pace. Get to know what your goal pace feels like. Much of race training is usually done at a pace either faster or slower than race pace, so including pace training in some of your runs will help you know what it feels like. This can be done for a few miles in the middle or end of a long run, or a specific race pace/tempo run.
8. Build Your Endurance. While there is certainly no need for 20 mile runs, building your long runs up to about 12-14 miles will help your run your best half marathon.
9. Include Shorter Races in your Training. Running a couple shorter races during your training will help prevent boredom in your training, allow you to practice your race day preparation, and give you an idea of how your training is working. Keep your eye on the prize, though. Allow yourself a 5k in the second month of training, and a 10k in the third (at least three weeks before your half marathon). Racing too often will detract from your training.
10. Taper. Just like marathon training, you should take some time to allow your body to recover before your half marathon. Generally, a week to 10 days is enough time. Ease up on the mileage and speed so that you'll have fresh legs on the start line.
11. Create Your Race Day Plan. If you just stand at the start line and start running when the gun goes off, you'll probably not run your best half marathon that day. Have a plan, both for the run and for your race day nutrition and hydration. Visualize the race. Starting out a little slower that your goal pace is always a good idea, working into pace after a couple miles, aiming for a negative split. If you use gels or other nutrition during the run, plan that too.
12. Eat Like a Champion. Many runners fall into bad habits when they train for longer distances. They are burning a lot of calories, so they figure they earned those burgers and fries. Instead of that, think of your body like a finely tuned race car. Give it the best fuel and you will get the best result. Unless your goal is weight loss, you should strive to maintain your weight during training, so make sure to eat enough healthy calories.
13. Stay Hydrated. It can be difficult to maintain proper hydration while training for longer distances, especially during warmer weather, so be sure to get enough fluids and electrolyes before, during, and after your runs.
13.1. Have Fun. If it's not fun, then why are you doing it? Yes, running a half marathon is hard, occasionally frustrating, often humbling. But in the end, don't we do it because we enjoy it?
What's your favorite race distance?
And Now It's Time for the Running Coaches' Corner!
Loading InLinkz ...
---
Weekly Linkups
My weekly linkups! Please stop by and check out all of the great recipes, workouts, and information that all these awesome bloggers share every week!
Meatless Monday with Sarah and Deborah
Meatless Monday with Annmarie  and Rachel
Inspire Me Monday with Janice
Anything Goes with Marilyn
Wild Workout Wednesday with Annmarie, Michelle, Jen, and Nicole
The Plant Based Potluck Party with Deborah
The Running Coaches' Corner with Rachel, Suz, Lora Marie, and Me!
Giveaway Roundup and Try Out Thursdays with Smitha
The Blogger's Pit Stop with Kathleen, Janice, Julie and Me!
Living a Life of Fitness, Health and Happiness with Jill
Friday Favorites with Heather