I know that many of my readers are bloggers themselves. And I know that we, bloggers, always want to improve not only our writing, but our popularity, pageviews, and maybe even our potential revenue. At least I do.
To that end, I wanted to share a couple things with you that will help you be a better blogger, plus the links to some great posts on topics that will do the same thing. Just so you know, the first two are affiliate links. I stand to make a few dollars if you purchase through my link (thanks if you do!). But, I only recommend them because I believe that they will be helpful to you.
eBook: Build Up Your Blog by Gina Harney
Gina Harney, better known as the Fitnessista, has more than six years experience blogging, and has been very successful at building her brand, becoming respected and well-known, and has been able to make blogging her career.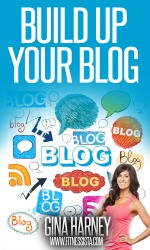 Now Gina is sharing some of her secrets in her new eBook,
Build Up Your Blog
. You will find information from the basic, "How to Choose a Platform," to the advanced, "Monitizing your Blog," with fun bits and pieces in between, like "Networking," "Creating a Newsletter," and "How to set up a Blogging Schedule." Gina even includes tips on handling negative comments, making the best use of social media, and finding your blogging voice. And there are some surprise "guest appearances" from a few popular bloggers, who offer their own tips. Who? I'm not telling, you'll have to read Gina's book!
It's available as a download for only $12. That's a great investment in your blog that you will be happy that you made. Click here to order.
Blog Well Summit
Have you ever attended a blogging conference? While I did attend Blogfest last August, it was close to home and I was invited because I am an IDEA Inspired Advisor. I have found that most blogging conferences can get pretty expensive, including the cost of registration, travel expenses, and other costs.
What if I told you about a blogging conference that was not only free of charge, but was virtual, meaning that you can attend from the comfort of your own office? I give to you the Blog Well Summit.
The Blog Well Summit is a virtual conference series. Each conference will cover one blogging topic in depth, through a series of video learning sessions, interviews with leading influencers, panel discussions, and social media events. The inaugural conference is scheduled for October 17-19, and will cover blog design, development, and branding.
The list of sessions, panelists, and interviews is too long to share here, but some of those featured include Carla Birnberg discussing Fearless Rebranding, Greatist founder Derek Flanzraich, on Branding Lessons, Brooke Birmingham, discussing her experience "going viral," and so many more. Check here for the complete list of panelists, guest, interviews, and sessions.
The Blog Well Summit is presented by Laura and Lance Williams, and Rita Barry. This virtual summit is free. All sessions will be available live, and will be accessible for 24 hours. If you can't make it, or if you want lifetime access to all of the sessions, plus special workbooks and resource guides, you can upgrade to a Full Conference Pass.
Blogging Tips and Tricks
There is a lot of great information available to answer your questions and to help make you a better blogger. In fact, there is so much information that it can be overwhelming at times, and you can end up not moving forward because you don't know where to start. I have a few go-to sources for blogging information that I know will give me easy to understand solutions. Here are a few of the most recent posts from some of those pros.
From Katy Widrick: Using Google Trends to Create Popular Posts.
From The Sits Girls: How Do You Find Time to Blog.
From Blog Genie: How to Consistently Write Better Blog Posts.
From HubSpot: A 28-Day Training Plan for Becoming a Better Writer.
From Blogging Betties: Serious About Blogging? Stop Doing This!
From Blogelina: Three Proven Traffic Tactics that Work Well.
Also, check out my Blogging Pinterest Board, where I keep a collection of informative and interesting articles, with tips from how to grow your blog, managing your social media, and finding free images for your blog.
Have you been to a blogging conference? What do you think about a virtual conference? If you're a blogger (and you probably are, or why would you have read this far?), do you have a blogging tip to share? Or blogging question to ask?