I hope that you had a great weekend celebrating Mother's Day! I certainly did, plus Alan's birthday was on Saturday,  so we were a little busy over the weekend. Add a party for a former cross country runner who just graduated from boot camp (US Marine…oorah!), and you have my excuse reason for sharing this Banana Walnut Bread recipe from a couple years ago!
But first, a few snapshots from the weekend!
Weekend Snapshots
On Saturday,  Alan announced the TriEvents LA Championship Series Triathlon. If you think driving two hours (on Friday) to San Dimas, getting up really early and spending the day with a mic in your hand doesn't sound like a good birthday, you don't know my husband!
We had a great turnout for the race, including former Olympian Julie Ertel, former Olympian and professional triathlete Michellie Jones, and Competitor co-founder, Bob Babbitt, who is also one of the co-founders of the Challenged Athlete's Foundation.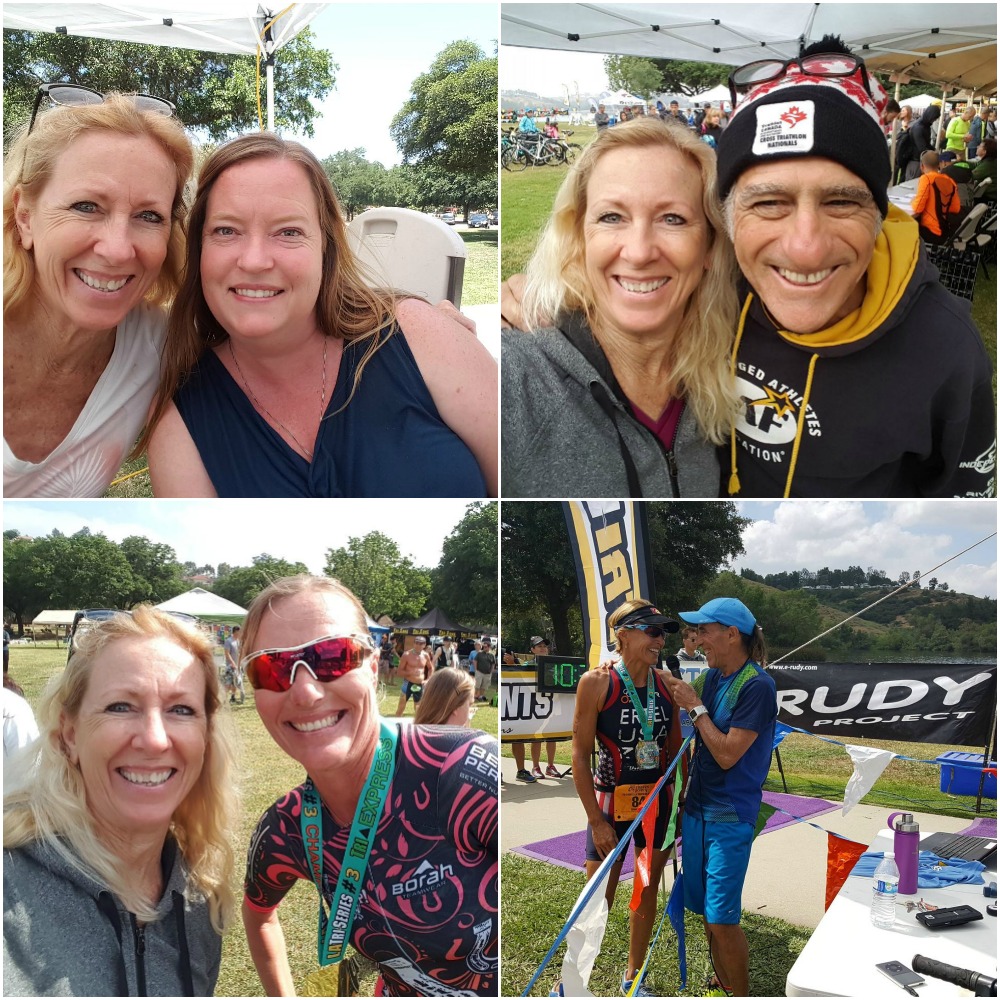 We also met my niece, Brynne, out there. She was supposed to sing the National Anthem, but, long story short, was late, hit traffic and road closures, and ended up missing the start of the race. Which was too bad, because she has a great voice and loves to sing. Maybe next race, when she'll listen to her aunt and leave home a little earlier.
After the race, and dealing with a dead battery (yes, that too), we drove home, rested for about an hour, then headed to a friend's house to celebrate her son, Garrett's, graduation from boot camp. We coached Garrett in cross country for four years, so we were very proud of him.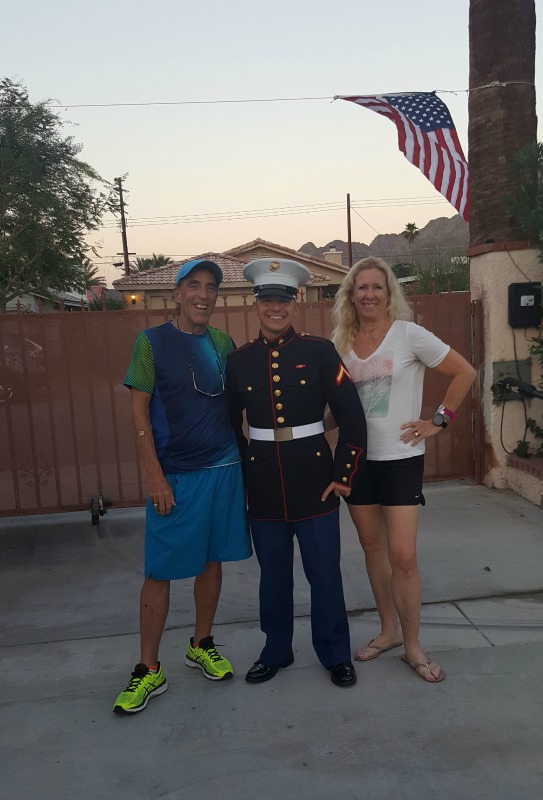 Sunday morning I was supposed to run 13 miles. I had it set up so perfectly, taking the day before completely off so that I'd be well rested. Unfortunately, I woke up with a headache which hung on all day (even now as I finish this post). So instead of running, I took a walk, hoping the fresh air would clear my head. That didn't really work, though I did manage a photo op!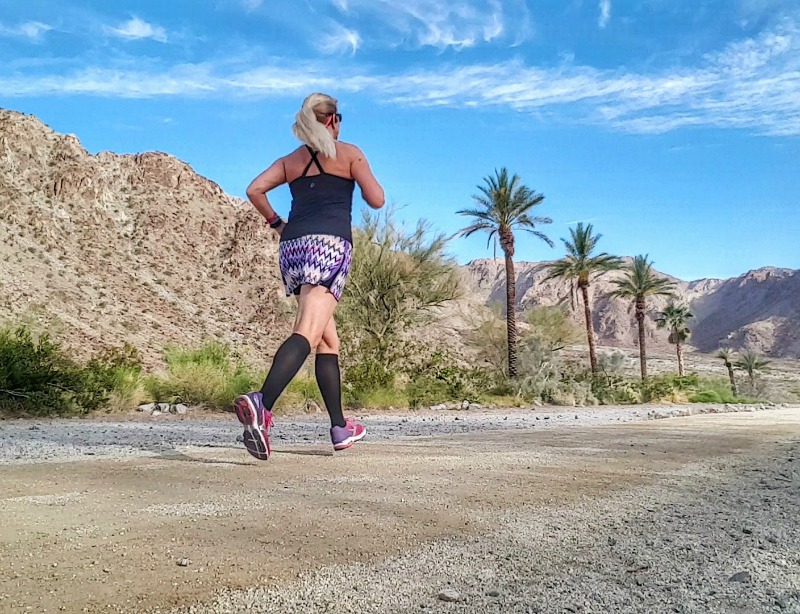 Even though my headache hung on all day, I was fortunate that it wasn't a "bad" migraine, one that would make me nauseous and send me to a dark room for the day. I was able to function well enough to get some errands done, including picking up a new battery, and go out to dinner with my son and his girlfriend. Which brings me to right now, about 9:20 at night, finishing up this post!
Speaking of which, here you go, the best vegan and gluten-free Banana Walnut Bread!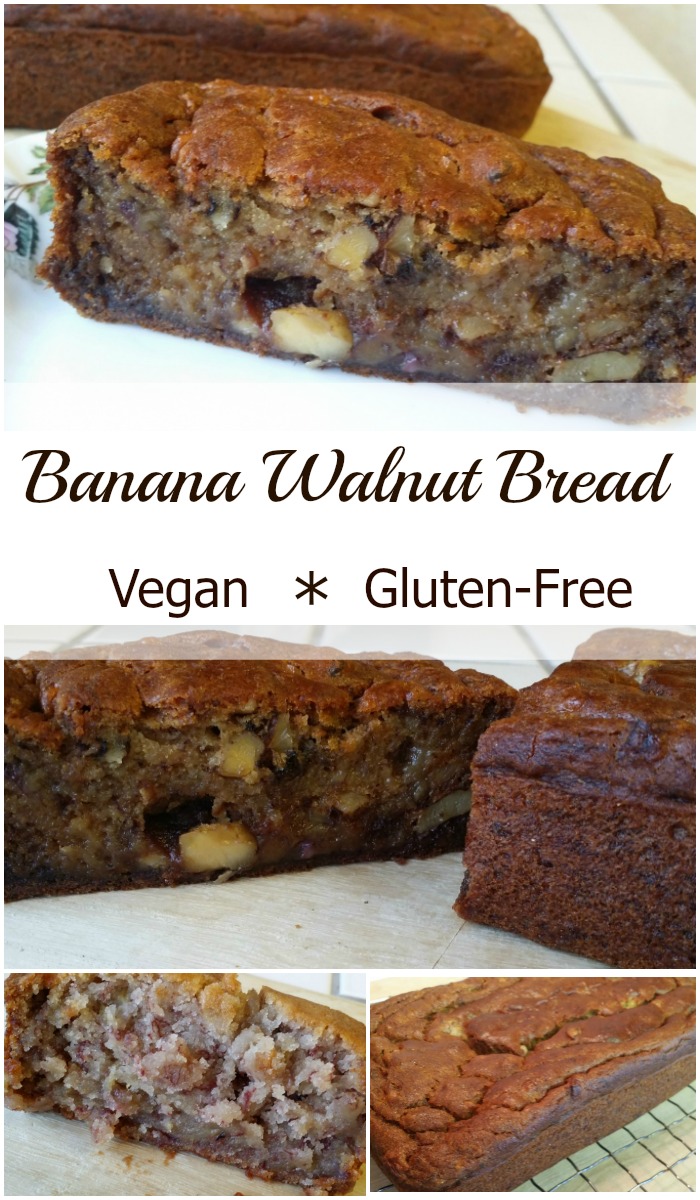 The Best Banana Walnut Bread! Gluten-Free and Vegan
This is my favorite Banana Walnut Bread recipe! It's vegan, gluten-free, and is slightly lower in sugar and oil. And it's pretty delicious.
I used aquafaba as the egg replacer. It's so easy, basically three tablespoons aquafaba equals one egg. In case you missed my original post, aquafaba is simply bean brine. You know, that juice you usually drain off and throw away. I used chickpeas for my aquafaba, though you really can use the brine from any type of bean, canned or freshly made.
By the way, my original post was Aquafabulous Vegan and Gluten Free Chocolate Chip Cookies. Just sayin'.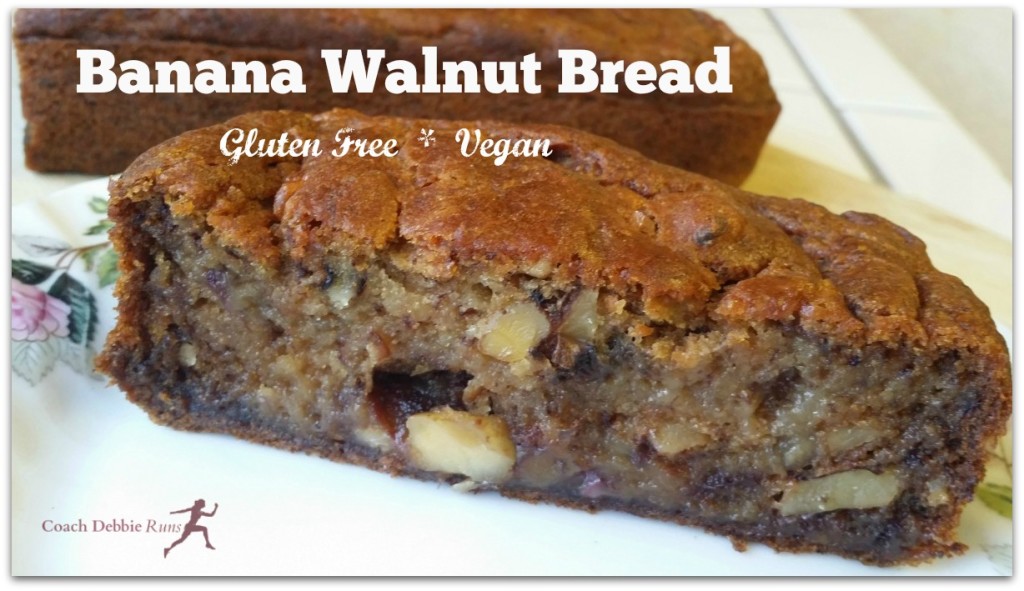 Banana Walnut Bread: Gluten Free and Vegan
Vegan, Vegetarian, Gluten-Free
Ingredients
1½ cups gluten free flour
1 teaspoon baking soda
½ teaspoon baking powder
½ cup walnuts or other nuts, chopped (optional)
6 tablespoons aquafaba
½ cup sunflower seed oil
½ cup vanilla vegan yogurt
1 teaspoon vanilla extract
½ cup sugar
¼ cup brown sugar
3 very ripe bananas, mashed
Instructions
Preheat oven to 350
Combine flour, baking soda, baking powder, and walnuts in a bowl. Stir gently until well blended
In another bowl, combine aquafaba, oil, yogurt, vanilla extract, sugar, and brown sugar. Mix until blended.
Add the mashed bananas and blend.
Slowly mix in the flour mixture.
Pour mixture into a greased loaf pan.
Bake until golden brown and check that a toothpick inserted into the center comes out clean (about an hour).
Allow to sit in the pan for about 10 minutes, then turn out onto a rack to cool.
Notes
I skipped the salt in this recipe because there was salt in the beans. If you use salt free bean brine you can add a ½ teaspoon sea salt if you'd like.

I used Bob's Red Mill Gluten Free Baking Flour
. It is a blend of white and brown rice flour, potato starch, and a few other ingredients, designed to replace regular flour one to one.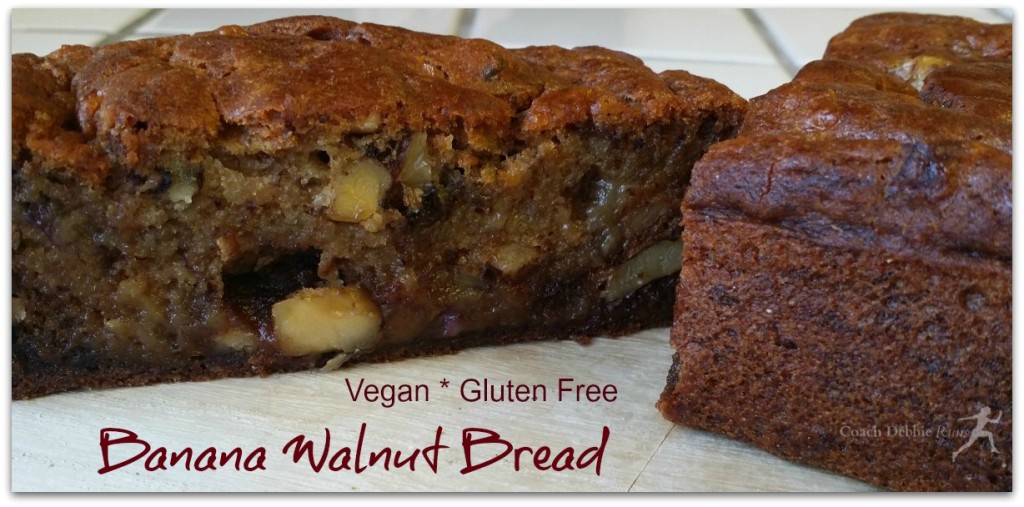 I also cut the sugar in half, replaced some of the oil and the almond milk with Silk vanilla soy yogurt (you can always use coconut yogurt if you prefer soy-free), and I used walnuts. And as I mentioned in the notes, I didn't use any salt because the bean brine did have salt. If you use salt-free beans, you may want to add 1/2 teaspoon of salt.
It only took an hour to cook and the texture was perfect. It was still plenty sweet.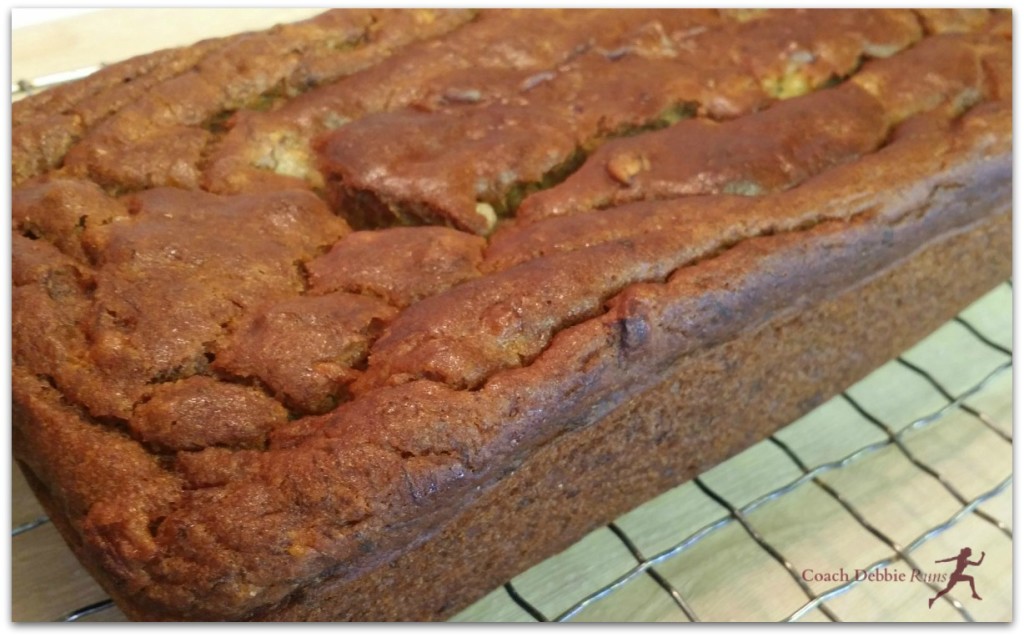 I hope you had a great Mother's Day weekend filled with lots of fun, family, races, and other adventures that I hope you'll share.
---
Weekly Linkups
My weekly linkups! Please stop by and check out all of the great recipes, workouts, and information that all these awesome bloggers share every week!
Meatless Monday with Sarah and Deborah
Meatless Monday with Annmarie  and Dixya
Tuesdays on the Run with Marcia, Erika, and Patty
Inspire Me Monday with Janice
Wild Workout Wednesday with Annmarie, Michelle, Jen, and Nicole
The Plant-Based Potluck Party with Deborah
The Running Coaches' Corner with Rachel, Suz, Lora Marie, and Me!
Giveaway Roundup and Try Out Thursdays with Smitha
The Blogger's Pit Stop with Kathleen, Janice, Julie, and Menaka
Friday 5 2.0 with Rachel and Lacey and Meranda