In case you missed it, I ran the Tram Road Challenge on Saturday. I'll have the recap on Wednesday, but just a few quick notes here. Or you can skip ahead to the Banana Blueberry Protein Pancakes. Your choice.
This post contains affiliate links.
Tram Road Challenge: The Teaser
As usual, it was tons of challenging fun. I made it to the top (if you follow me on Instagram you've already seen the photos) and Alan was there to say my favorite words, "and here's my favorite person in the whole wide world…" This time he added something about the overall woman's winner at the Gem of the Desert 5k and 10k (yes, on the same day, my PRs in both distances). Of course, kind man that he is, he didn't mention that it was in 1999.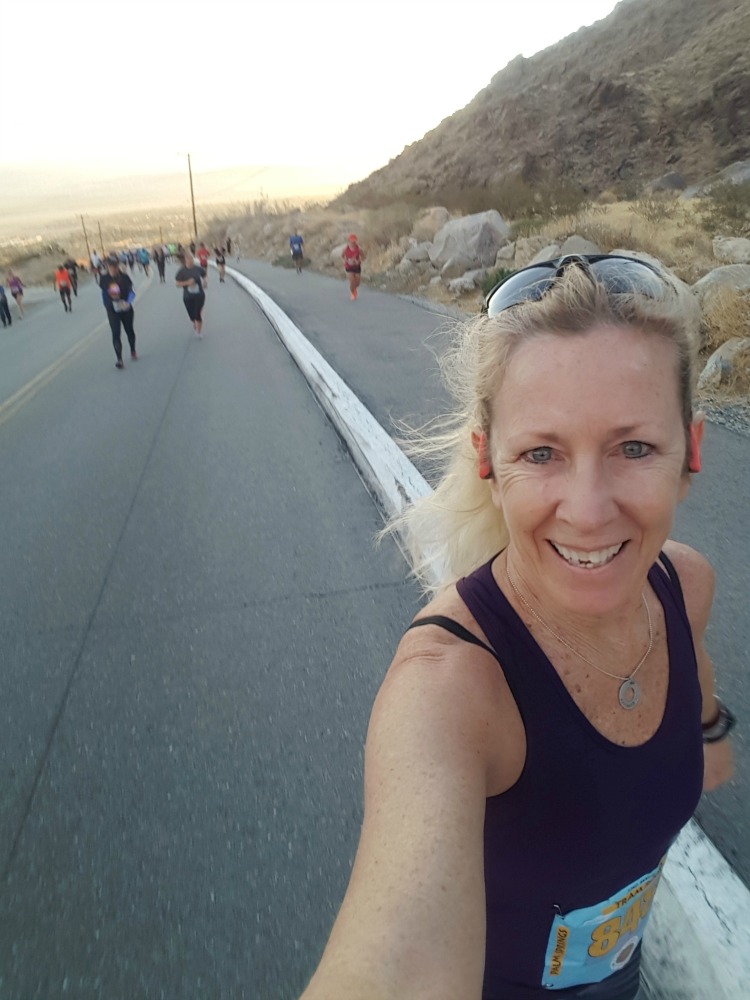 The great part is that I had no asthma problems at all! I carried an inhaler but didn't need to use it, so that's a win right there. The bad part is…well, I guess there is no bad part! One thing I did this year, that I've never done before in 25 years of racing, is to bring a recovery pack.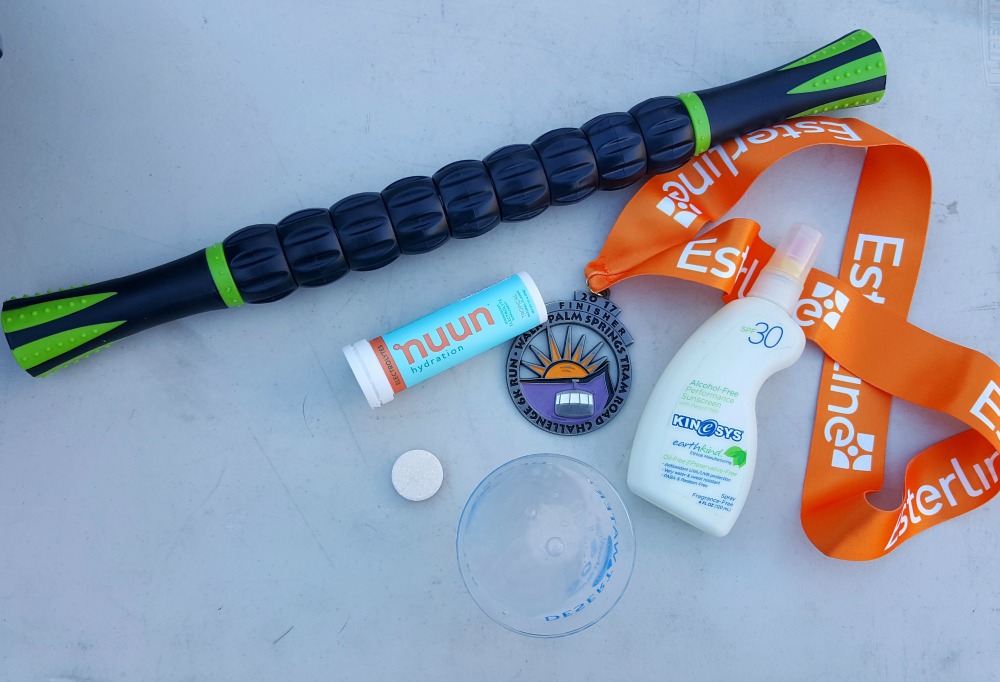 Actually, I didn't really even think about it until I received my latest Lucky Vitamin order on Thursday. I had ordered a Muscle Roller Stick and the thought struck me that I should toss it in my backpack along with a few other recovery essentials. I also received a few tubes of Nuun, so I tossed one of those in too. Of course, I brought some extra Kinesys sunscreen, though the finish was mostly shaded as it turned out.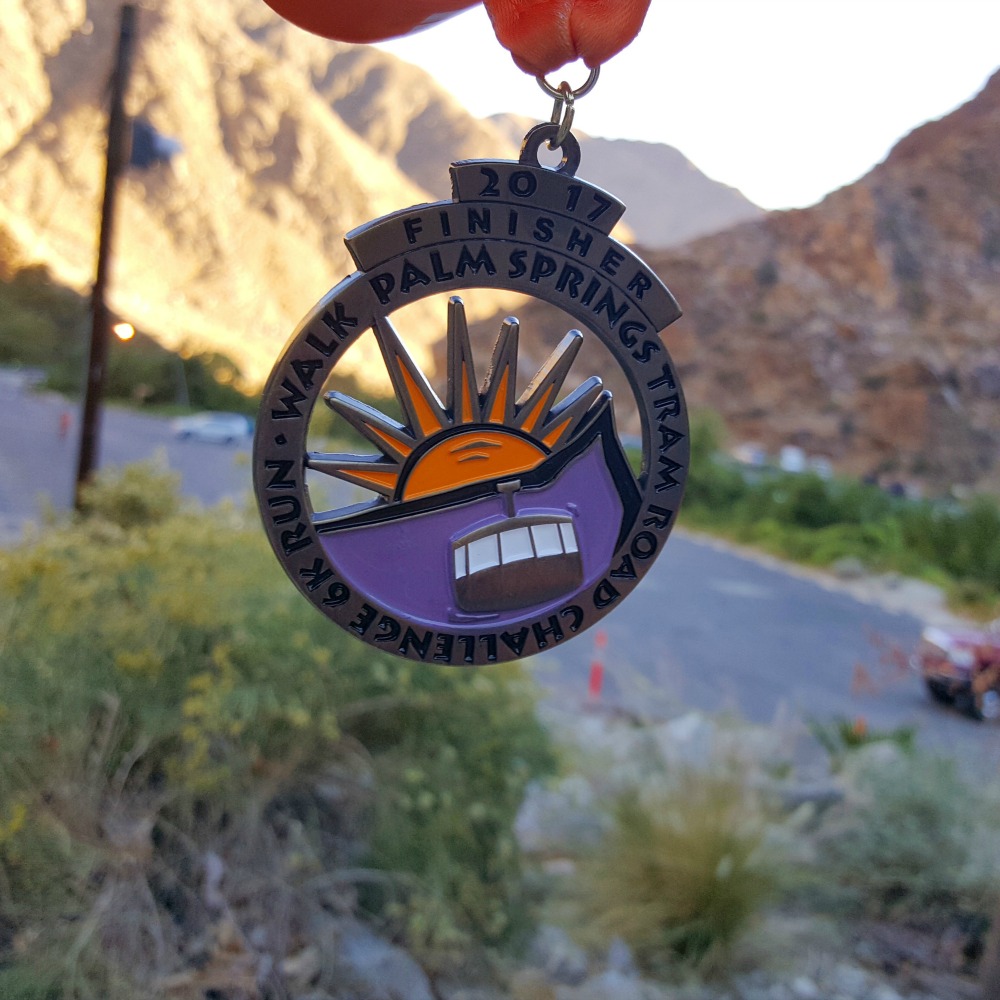 I'm pretty bad about stretching after a race. Time passes so quickly and there is socializing to do! But I found it so easy to use that muscle roller stick that I spent about five minutes right after I finished, and I'm pretty sure that is what enabled me to run an easy recovery run on Sunday with virtually no soreness.
The Nuun helped too. It wasn't hot in the morning (though it wasn't exactly cool either), but it was really dry. I should have carried it with me, but I was happy to have a couple glasses after I finished.
Stay tuned Wednesday! I'll have the complete recap!
Banana Blueberry Protein Pancakes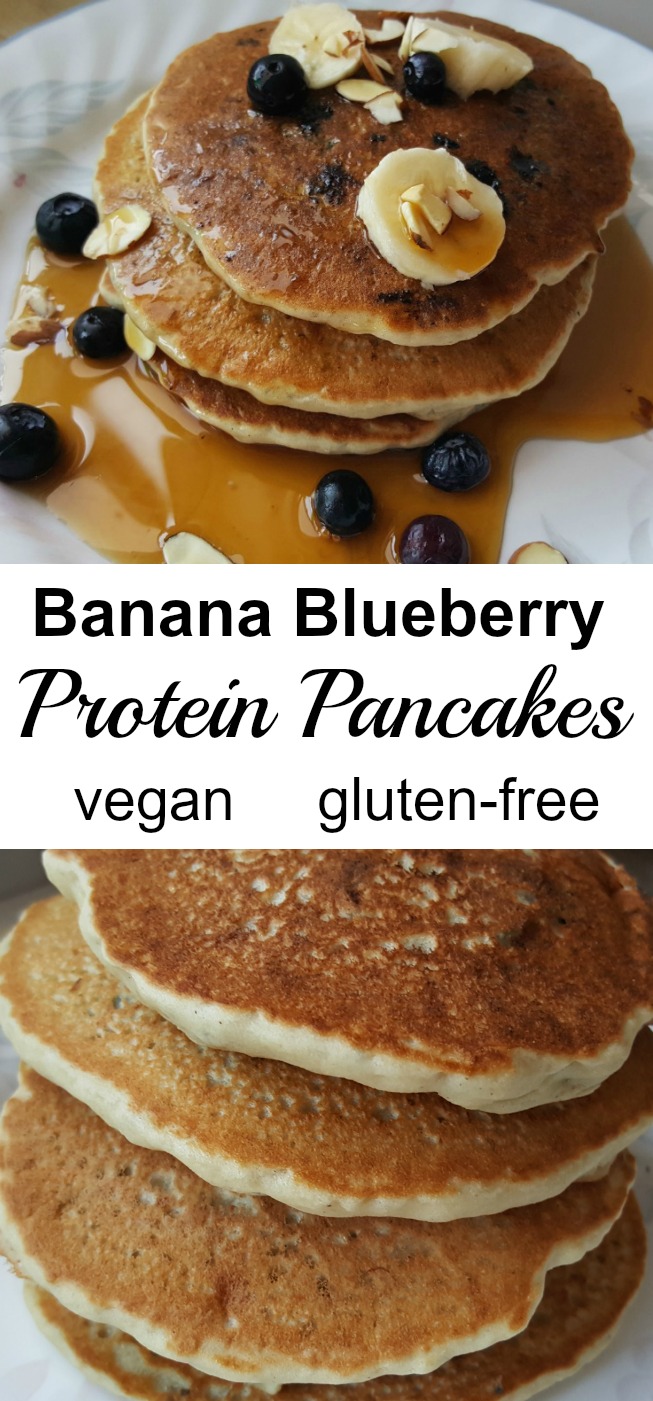 My husband loves pancakes. We don't eat them very often, mostly because for some reason I got it into my head that making plant-based pancakes would be hard. It's not. These pancakes are not only vegan, they are also gluten-free and get an extra boost of protein from Nuzest Vanilla Clean Lean Protein Powder. Oh, and there is no added sugar or oil. And guess what? They're delicious. Just ask my husband!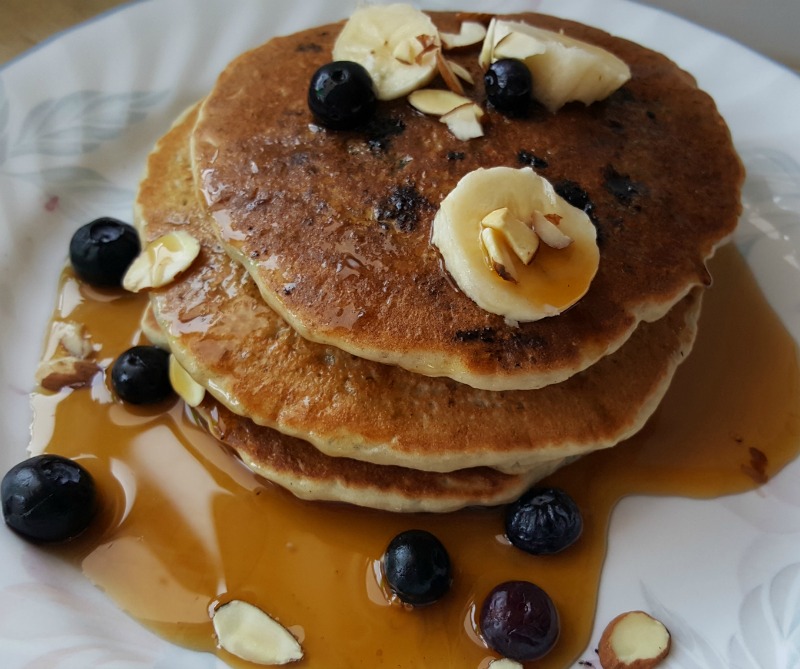 I also received fresh bags of flax and chia seeds in my Lucky Vitamin package. While I frequently use aquafaba (bean juice) as an egg substitute, I decided to use the flax seeds instead (chia seeds would have worked too!). Flax eggs are simple to make. Just whisk up one tablespoon ground flax seeds with three tablespoons water. Easy, right? You can use any of these: aquafaba (just drain the juice from a can of garbanzo beans), flax or chia egg.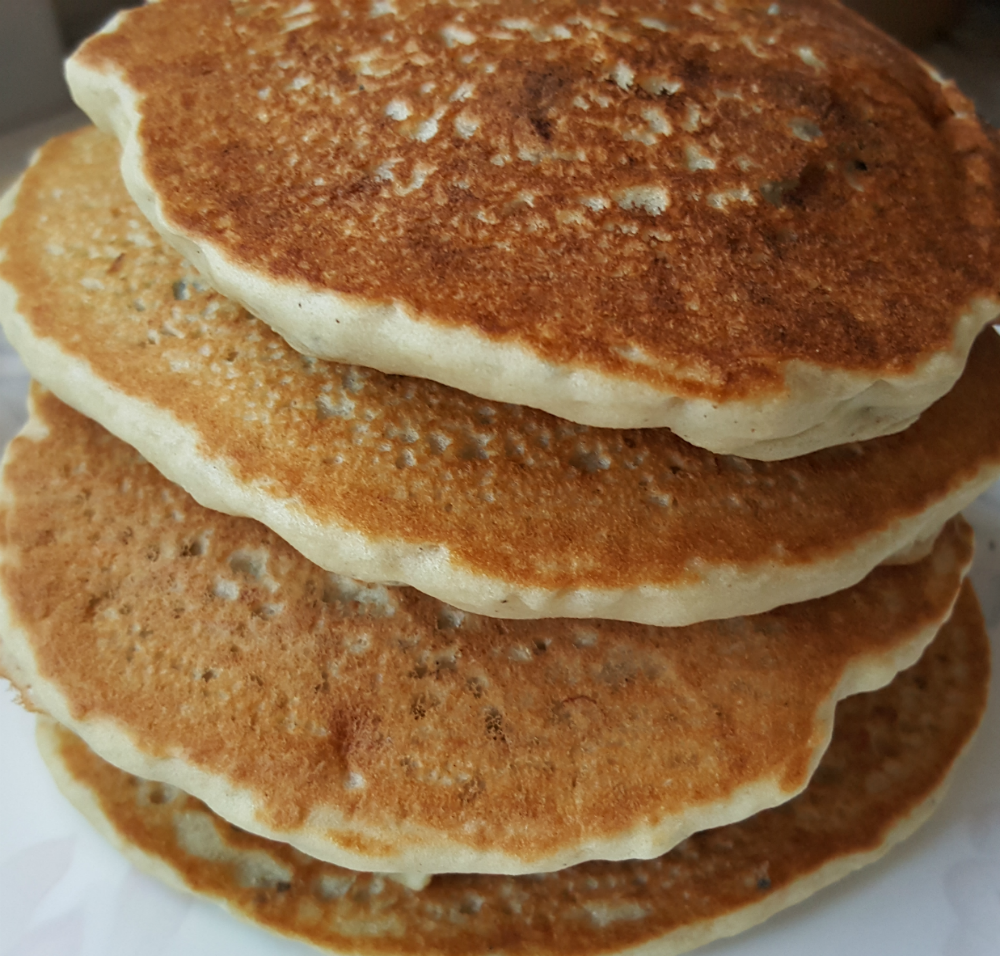 Here's a peek at all of my Lucky Vitamin order. So much good stuff at such great prices! I'm proud to be a Lucky Ambassador!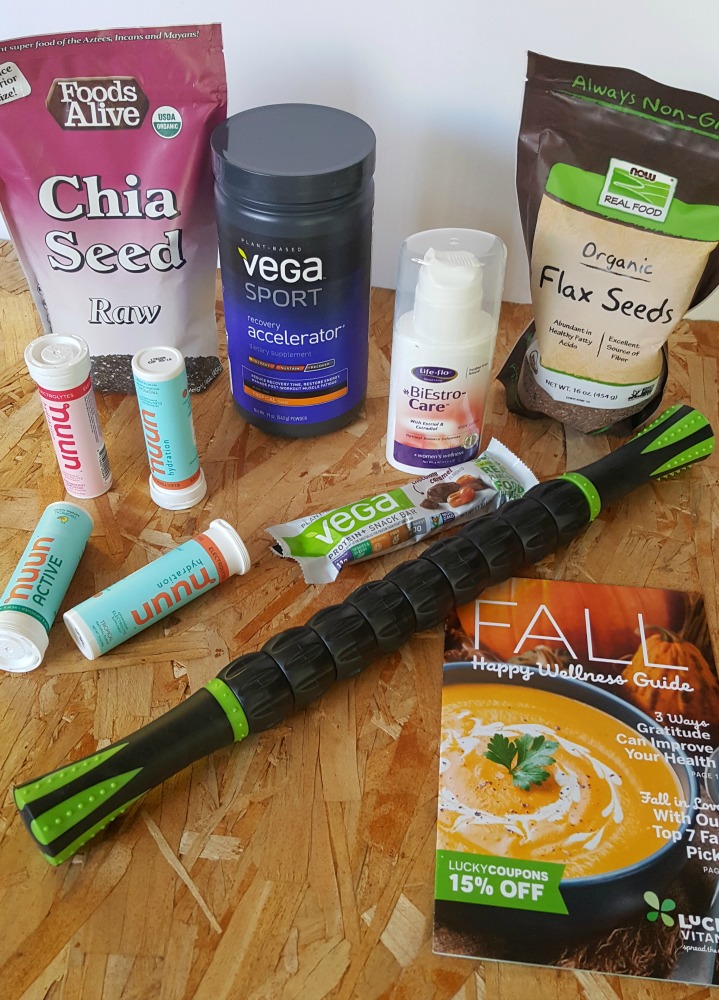 Banana Blueberry Almond Pancakes
Recipe type:
Vegan, Gluten-Free
Serves:
6 medium pancakes
Ingredients
1.5 cups gluten-free flour (I used Bob's Red Mill Gluten-Free All-Purpose flour)
1 tablespoon baking powder (make sure it's gluten-free if necessary)
½ teaspoon salt
1 large banana
1 Flax Egg (1 tablespoon ground flaxseed w/3 tablespoons water or 3 tablespoons aquafaba (the juice from garbanzo beans)
1 teaspoon vanilla extract
1.75 cups almond milk (or non-dairy milk of choice)
½ cup blueberries
¼ cup sliced almonds
Instructions
Preheat the grill or large non-stick frying pan over medium heat.
In a large bowl, combine flour, Nuzest Vanilla Clean Lean Protein Powder, baking powder, and salt.
In a medium bowl, take about ⅓ of the banana and mash with a fork. Add the aquafaba and stir to combine. Add the non-dairy milk and vanilla and stir until smooth
Slowly add the liquid ingredients to the flour mixture. Stir until just combined.
Slice ⅓ of the banana into small pieces, and fold in along with most of the blueberries and almonds (save ⅓ banana and few almonds and blueberries for garnish).
Brush the pan lightly with cooking or coconut oil.
Pour the pancake batter into the pan, cooking until golden brown on both sides.
Garnish with ⅓ sliced banana, blueberries and almonds.

Are you a pancake lover? What are your favorite add-ins?
---
Weekly Linkups
My weekly linkups! Please stop by and check out all of the great recipes, workouts, and information that all these awesome bloggers share every week!
Meatless Monday with Sarah and Deborah
Meatless Monday with Annmarie  and Dixya
Tuesdays on the Run with Marcia, Erika, and Patty
Inspire Me Monday with Janice
Wild Workout Wednesday with Annmarie, Jen, and Nicole
The Plant-Based Potluck Party with Deborah
The Running Coaches' Corner with Rachel, Suz, Lora Marie, and Me!
Friday 5 2.0 with Rachel and Lacey and Meranda