Starting a new year is always exciting. It's like turning to a clean page, getting a fresh start, where you can create new goals and plan new adventures. For runners, it's a great time to plan races and training for the year. It's also a good time to think about how to avoid running injuries.
Does it ever seem to you that some people are always getting injured? They may be great runners but they still frequently seem to be dealing with a running injury. While random things do happen that can cause an acute or even chronic injury, chances are that somewhere in that runner's program they are skipping one or two of these important steps.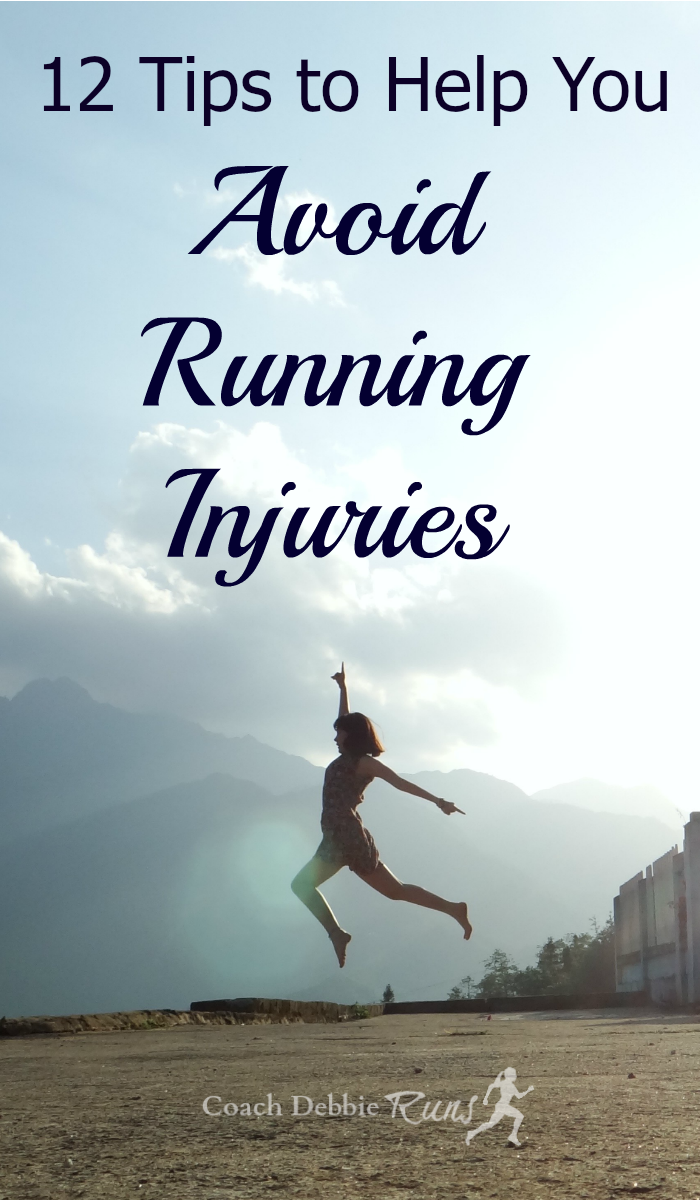 If you want to avoid running injuries, here are some tips that will help you run stronger and stay injury-free.
Tips to Help You Avoid Running Injuries
1. Follow a training plan. A good training plan will already have many of these tips built right in. It will help you vary your workouts, rest and recover when needed, add or reduce mileage when necessary, strengthen and balance your body.
What if you're not training for a race? It still pays to have a plan that provides all of the above. As you'll see with the rest of the tips, these things are vital to help you avoid running injuries.
A Coach will design a personalized plan that will help you perform better and avoid injuries.
2. Don't ignore small aches and pains. Small injuries can become chronic if not dealt with early, eventually forcing a runner to take extended time off of running in order to heal. Taking a day or two off when you feel a twinge in your knee or your heel can help you stay on the road.
3. Rest and recovery. Getting enough rest both during your active training and following your races is vital. Without it, your body will eventually start to break down. We get stronger when we are resting.
5 Tips to Improve Recovery During Training
4. Get enough sleep. Like rest, getting enough sleep is vital to keep your body and your mind functioning properly. Sleep is when our muscles rest and repair, and not getting enough can lead to injury and overtraining.
5. Variety is the spice of running. Not only will varying your workouts make your running more interesting, it will help you avoid running injuries. One day a week, run longer, on another day, run shorter but faster, find different routes to run, including some with hills. Try running on the trails occasionally. By changing things up, you provide more balance to your body and your training.
6. Too much too soon can happen to experienced runners too. Just because you ran a marathon a few months back, then took two months completely off running doesn't mean you're ready to head out for a 10-mile run. Resuming higher mileage gradually will help you avoid running injuries.
7. Run in the right shoes. Get fitted for your running shoes at a good running store that will let you try them out to see how they feel. Most will let you return them if you find they don't work for you. Have at least a couple pairs, both to let them dry out completely between runs and to offer the same kind of variety that changing up your runs does.
Keep track of your shoe mileage. They have a life-span of 300-500 miles. After that you will lose support and possibly risk injury.
8. Eat like a champion. How is eating related to avoiding running injuries? Proper nutrition will help keep you strong, hydrated, and running strong. Without it, your form can suffer, you can feel tired, and that can definitely lead to an injury.
9. Strive for the best running form. Running with upright posture, staying light on your feet, and with good arm movement will not only help you avoid running injuries, it can help you run faster too. Learning to activate your glutes before your run, strengthening your core, and flexibility training can help.
Here are some practical tips for improving running form!
10. Strength train to balance your body. Running is a great exercise, but it can create imbalances in your body that can lead to running injuries. Strength training can help address those imbalances. Weight training, yoga, and Pilates are all great choices.
Here's a great strength workout for runners!
11. Take care of your body when you're not running. In addition to strength training, there are other things you can do to help balance your strength, improve flexibility, and work out some sore muscles, all of which can help you avoid running injuries. They can help improve performance too!
Taking the time to stretch and use a foam roller is a great start. Just five to 10 minutes after your run will help. Scheduling an occasional massage or fascial stretch therapy session will also help.
Stretching: Learn the Core Four to increase your functional flexibility
12. Listen to your body. Sometimes when you feel like staying in bed and skipping your run it's more than just laziness. It may be your body telling you that you need a little extra rest. Tune into your body. Learn the signals that will tell you that you need an extra day off. It may help you avoid running injuries.
And Now It's Time for the Running Coaches' Corner!
Loading InLinkz ...
---
Weekly Linkups
My weekly linkups! Please stop by and check out all of the great recipes, workouts, and information that all these awesome bloggers share every week!
Meatless Monday with Sarah and Deborah
Meatless Monday with Annmarie  and Rachel
Inspire Me Monday with Janice
Anything Goes with Marilyn
Wild Workout Wednesday with Annmarie, Michelle, Jen, and Nicole
The Plant Based Potluck Party with Deborah
The Running Coaches' Corner with Rachel, Suz, Lora Marie, and Me!
Giveaway Roundup and Try Out Thursdays with Smitha
The Blogger's Pit Stop with Kathleen, Janice, Julie and Me!
Living a Life of Fitness, Health and Happiness with Jill
Friday Favorites with Heather