Before the recipe, a little funny/embarrassing story that relates to yesterday's stretching post.
I teach a stretching class every Monday. I also open the fitness center, so when I arrive I spent my time finishing payroll, catching up with the weekend financials, working on next month's newsletter. It all goes pretty quickly because we are still in our "off" season, so it's pretty slow. At about 8:45, I set up my music and mat for my class, and at about 8:55 my one student arrived (not uncommon to have small classes this time of year). At a few minutes after 9:00, we figured no one else was coming, so I started class.
At about 9:50, as we were finishing up, lying on our mats for the final stretches, I suddenly had a flash. My Monday class is scheduled at 10:00! Sure enough, as I finished with my one student, three more came at the correct time. So, I taught a second class. For fun, I included some foam rolling at the end of class, which they all loved.
In my defense, Mondays at 10:00 is a temporary time for my stretch class, which will move to Thursdays in October. Plus my current Tuesday/Thursday classes are at 9:00, so my mistake is understandable, especially combined with a student who was also confused about the time. Anyway, that's my excuse story and I'm sticking to it!
On to the food!
With this jackfruit salad, I aimed in a general way toward a "chickeny" flavor, hence the poultry seasoning. Another option would be to add some kelp flakes and create a "tuna" (or "tun-NO) salad. Having enjoyed curry stuffed avocado in the past, I think using curry powder in place of the dill would also taste great. Lots of options for this salad.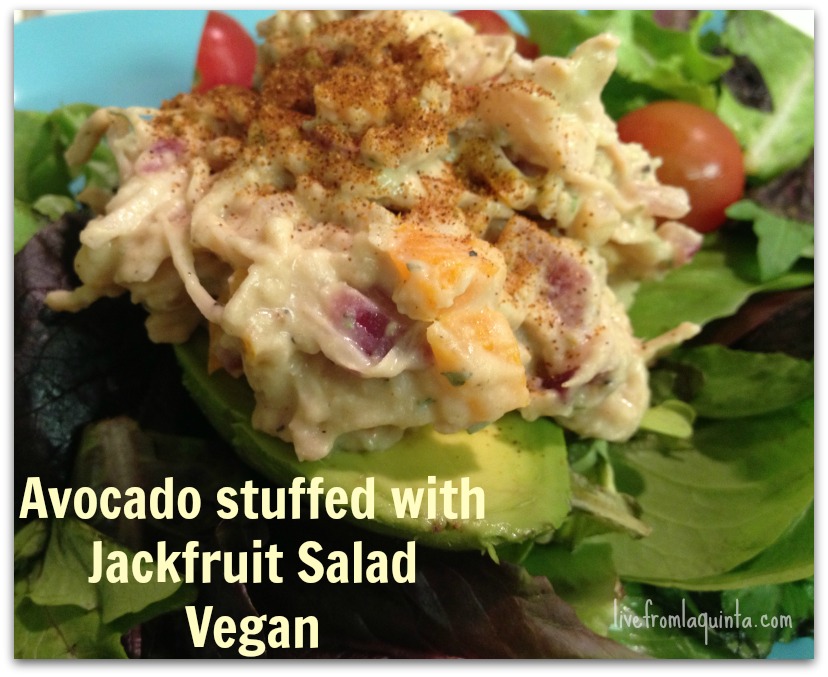 Avocado stuffed with Jackfruit Salad.
Ingredients
1 can Jackfruit (green, in water or brine), rinsed and drained
1 tablespoon oil
½ cup onion, chopped
2 cloves garlic, minced
1 can white beans, rinsed and drained
¼ cup vegan mayo
1 tablespoon dijon mustard
¼ cup orange or yellow pepper, chopped
1 teaspoon dried dill
½ teaspoon celery salt
½ teaspoon pepper
½ teaspoon poultry seasoning
mixed salad greens
cherry or grape tomatoes
2 avocados, halved and scooped out with a spoon
lime juice
Instructions
In a small bowl, use a fork to shred the jackfruit (so it looks like tuna or shredded chicken).
Heat the oil in a small frying pan over medium heat. Cook the onion and garlic until the onion is clear, two to three minutes.
Add the jackfruit and cook, stirring occasionally, until the jackfruit's moisture has evaporated.
While the jackfruit is cooking, place the beans in the bowl. Use a fork to mash them. Add the vegan mayo, mustard, orange pepper, dill, celery salt, pepper, and poultry seasoning. Stir gently. When the jackfruit mixture is cooked, add it to the salad ingredients and mix until the jackfruit is coated. Refrigerate until chilled.
On large salad plates, arrange the salad greens, a few tomatoes, and a half avocado.
Squeeze the lime juice over the avocado.
Spoon the jackfruit salad onto the avocado halves. Sprinkle with paprika if desired.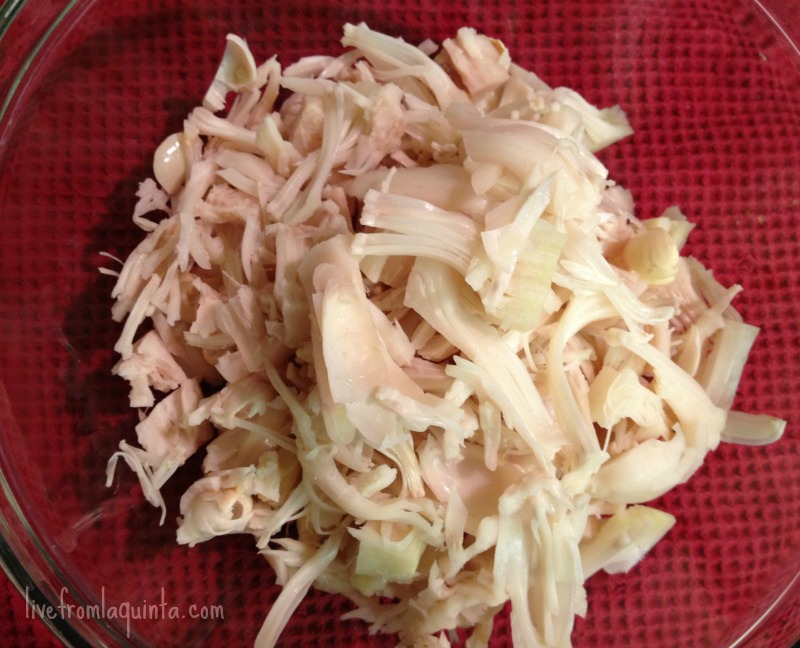 If by chance you have not seen my raves about jackfruit, you might check this post. With a texture like pulled pork, this "vegetable meat" is naturally low in calories, and will take on the flavor of whatever you season it with. Because it is a fruit (or a vegetable, I'm not sure which), it does not have a lot of protein, so most recipes will incorporate beans or tofu to make this "meat" as nutritious as it is delicious.  I've been using jackfruit for my burritos on a regular basis, and I'm finally feeling comfortable enough with it to start experimenting with other recipes.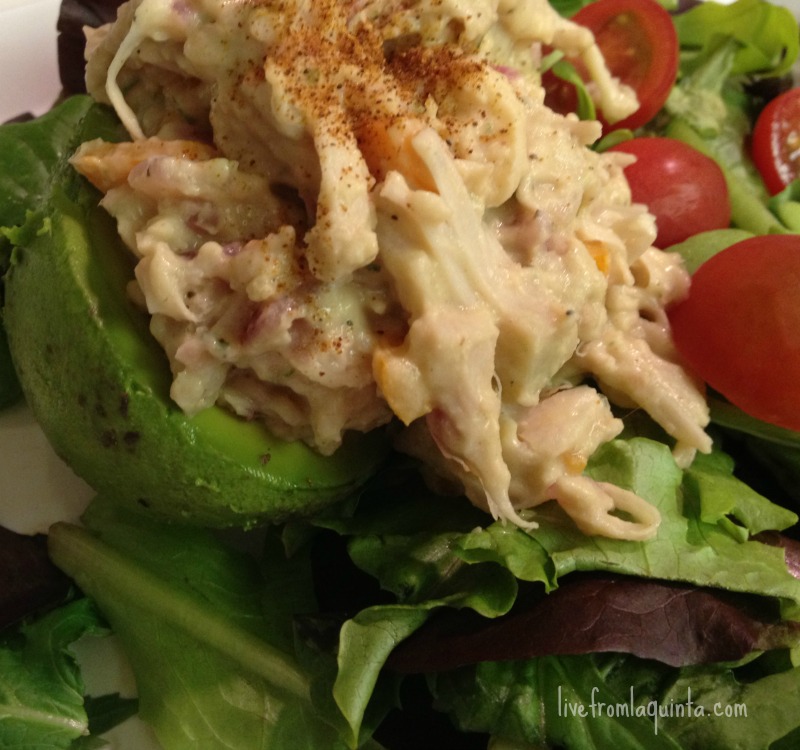 Here's your bonus!
Since there are only two of us, I had leftovers. Rather than serving up another stuffed avocado (which would have been good, don't get me wrong), I decided to try something different. So I made grilled jackfruit salad sandwiches, using vegan cheddar and pepper jack cheese.
Grilled Jackfruit Salad Sandwich
For each sandwich:
2 slices bread of your choice (I used a multi-grain bread)
1 tablespoon vegan butter
1 slice vegan cheddar cheese and 1 slice vegan pepper jack cheese (or your choice)
2 thin slices of tomato
3 thin avocado slices
jackfruit salad
In a large frying pan, melt the butter over medium heat. Heat the slices of bread for about a minute, then turn over.
Add a slice of cheese to each bread slice. Add tomato, avocado and a large spoon of jackfruit salad on one slice of the bread.
Top the salad with the other bread slice, and use a spatula to press down.
Cook, turning occasionally, until the cheese is melted and the bread is lightly browned.
So, have you tried jackfruit yet? I had a hard time finding it, but I finally found an Asian market that carries it.