I have this problem. When I make salad I tend to load it up with too many ingredients. Like an artist who can't tell when their painting is finished, I just keep on adding things, a few nuts and seeds here, some fruit there, until there are so many flavors it is hard to distinguish one from the other.
As I was driving home from work yesterday, planning this salad in my head, I was determined not to let it happen this time. The weather is warming up here in the desert and the thought of a chilled asparagus salad sounded delicious. I mentally started my shopping list, and right away I decided: none of my standard salad ingredients, radishes, tomatoes, cucumbers; no nuts or seeds, no fruit, no tofu.
Avocado was allowed, because it is healthful and, well, I love it. I wasn't going to use peppers, because, frankly, I don't care for them, but the yellow and orange peppers looked so lovely I changed my mind. Beans were good, I chose white Great Northern beans. Oh, and a few scallions, maybe some edamame. See what's already happening here? That was before I decided that adding quinoa would be just the thing.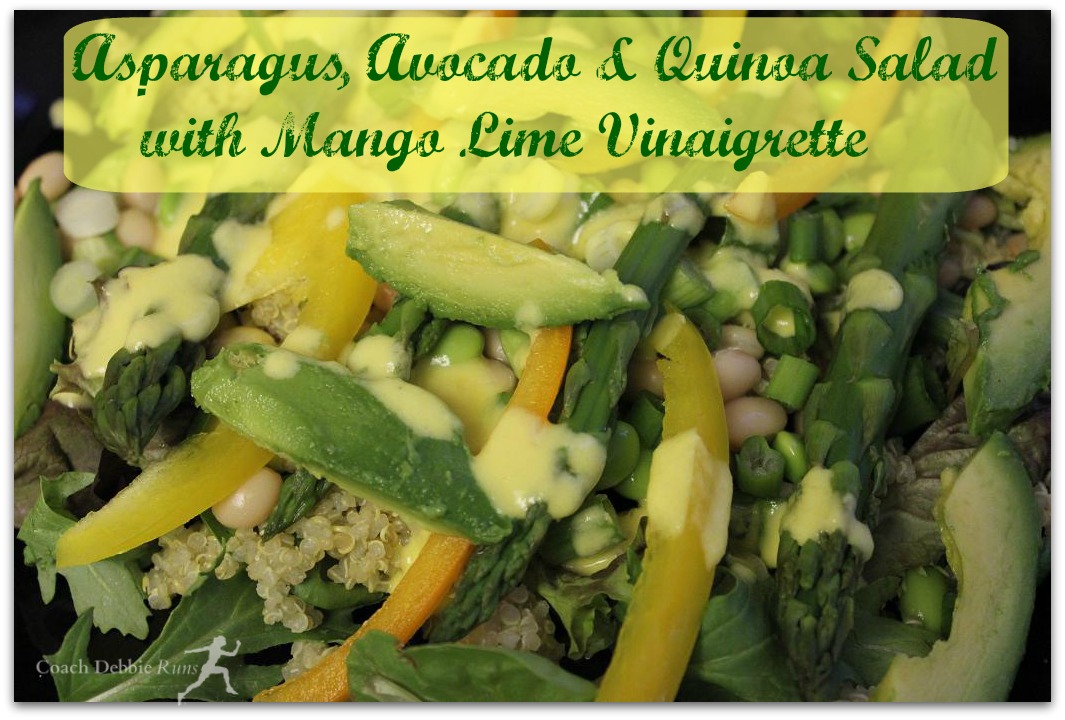 It wasn't until I got home that I realized I hadn't thought about a dressing. A quick search through the refrigerator and I came up with some frozen mangoes and a couple limes. That sounded cool and refreshing, perfect for the salad I had in mind.
Asparagus, Avocado, and Quinoa Salad with Mango Lime Vinaigrette
(The recipe makes enough for four meal sized salads. )
Ingredients
2 cups quinoa, prepared according to package directions and allowed to cool
16-20 spears asparagus, steamed and chilled
Mixed lettuce greens
1 can white beans (I used Great Northern), rinsed, drained, and chilled
1 cup cooked edamame
1/2 cup chopped scallions
1 avocado, sliced
A few slices each of yellow and orange peppers per salad
Lime juice
Prepare:
For each salad arrange about a cup of greens on a large salad plate. Sprinkle 1/2 cup quinoa over the lettuce. Sprinkle 1/4 cup of beans, 1/4 cup of edamame, and 2 tablespoons of scallions over the quinoa. Lay 4-5 spears of asparagus, pepper slices and avocado across the top. Drizzle with Mango Lime Vinaigrette (recipe below).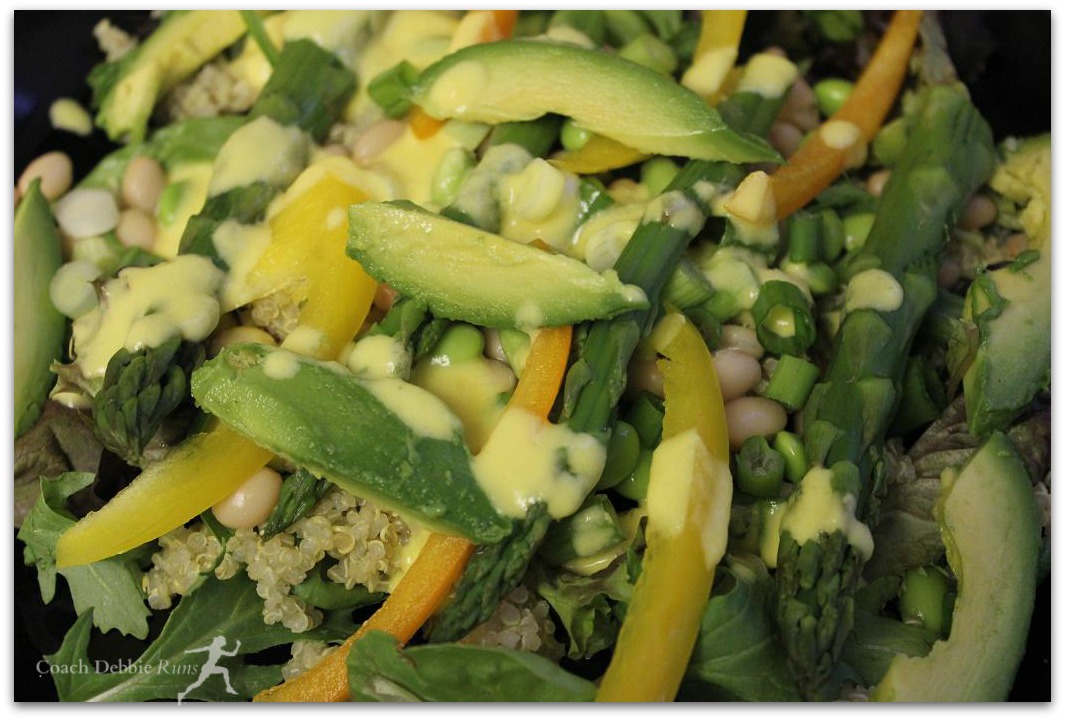 Mango Lime Vinaigrette
Ingredients
1 cup frozen mango
1/2 cup sunflower oil
1/4 cup lime juice
1/8 cup agave syrup
1 tablespoon white wine vinegar
1 teaspoon salt
1/4 teaspoon ground ginger
Put all the ingredients in the blender and blend until smooth. It will be thick at first because of the frozen mango. Allow it to sit while you assemble the salads and it should be just the right consistency.
With the exception of the quinoa (which can be room temperature or slightly warm), everything should be served chilled. That is what makes this the perfect summer salad!