Let me start by saying, there is no substitute for good writing that is free of grammar and spelling mistakes. That should really go without saying. Your post should have original, fresh content that informs, interests, and amuses your readers. That is what will create loyalty.
That being said, there are a few key things that you can do within your body of work that will help your post get more views, show up higher in searches, and generally get more attention.  Since we're talking about a body of work, let's talk about the anatomy of a great blog post.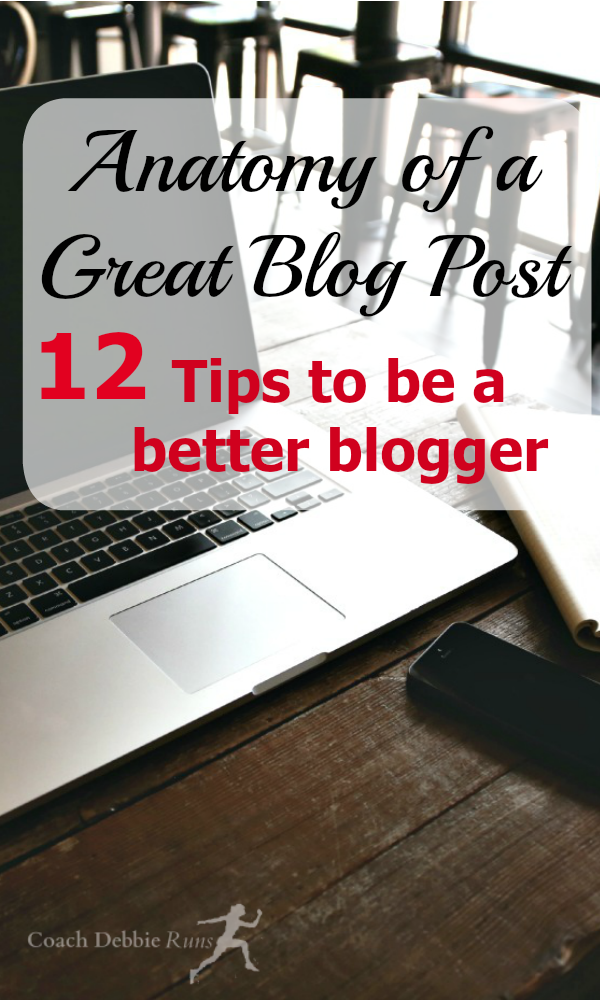 Anatomy of a Great Blog Post
Great Headline
A great post needs a great title. You want something that stands out from the crowd, contains your keyword, and is an appropriate length. Too short and you may get overlooked, too long and your entire title won't show up in a search. It takes just a few seconds to plug it into the
Co-Schedule Headline Analyzer
, which will check it for length, grammar, wording, and readability of your headline.
Section Headers
If your post is longer than a few paragraphs, use section headers to improve readability. They break up a longer blog post into eye-friendly sections, let your readers know what to expect in each section, and give you another opportunity to use your keyword within your post.
Introduction
Taking a paragraph or two to let your reader know what's coming will encourage them to stick around. A brief introduction will welcome the reader, introduce the topic of the post, and, very briefly, let them know what they will be reading about. And, it's another opportunity to use your keyword within your post.
Relevant photos
You post should have a minimum of one good quality photo. Two is even better since the trend is to create a "pinnable image," which is long and narrow, in addition to a square(ish) photo that can be used in tweets and Instagram posts. Having a title on each photo will help it gain traction in social media. Be sure to use legally obtained pictures that are attributed properly if necessary, and to watermark your own photographs. Here are some free resources for photo editing, free photographs, and more.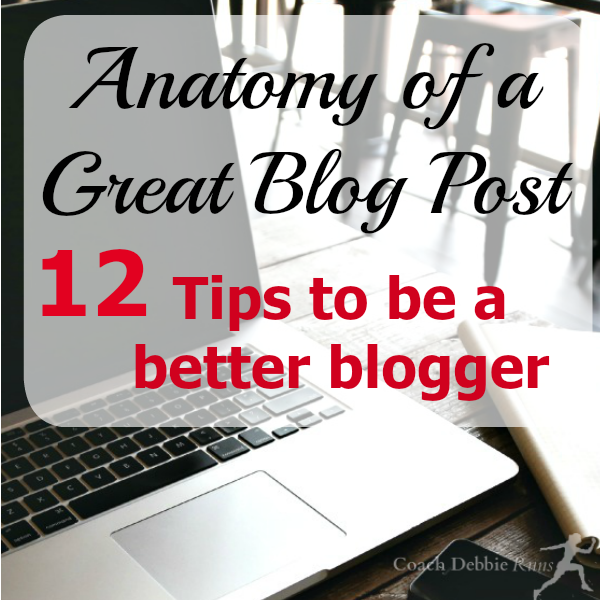 Keyword
Use your keyword several times within your post. Make sure to use it naturally and remember that Google understands synonyms, so you don't have to repeat the exact phrase over and over. For example, I don't have to repeat anatomy of a great blog post multiple times, I can also say how to write the perfect blog post or even tips for writing a good blog post, all of which pop up in the first two pages of a Google search for anatomy of a great blog post.
Short paragraphs
Long paragraphs are hard to read. Shorter, concise paragraphs flow easily. There is no real set number of sentences per paragraph, but I strive for two to five, depending on the length of each. Too short and reading feels choppy, too long and people find the paragraph difficult to read.
Justify Left
Writing that is left justified (ragged right), not centered or full, makes for much more natural and comfortable reading. Our eyes naturally look to the far left to start each new line. Center justified is not as comfortable, as the reader has to find the beginning of each new line which forces the eye to work harder.
Relevant Links
There are a couple types of links that can help your blog grow. First, link to relevant posts and pages on your own blog. This will keep your readers around longer, improve your bounce rate, and allow them to get to know you and your blog better (and hopefully develop into fans). You should also link to outside articles that are relevant to your topic. Here's a post that explains why outbound links are good for your own SEO. Make sure that your outbound links open in a new window or tab so that your readers can easily return to your post.
Closing Paragraph
The closing paragraph serves to tie everything together and to remind your readers that you fulfilled the promise of the opening paragraph. It doesn't have to be long, and it can include the call to action (see next section). Just a sentence or two to end your post gracefully.
Call to action
What response do you want from your readers? Comments? Shares? Advice? The best and most direct way to get the response you're looking for is to ask. Closing your blog post with a question for your readers to answer will make them more likely to comment. Would you like them to share your post? Then ask, leading to my next section…
Sharing Tools
Make it easy for your readers to share your content. At a minimum, you should have sharing buttons at the bottom of your post. You can also have them at the top or side (not my favorite, but many bloggers like them). Make your photos easy to add to Pinterest by having a hover-over Pin It button on each picture.
Comments
Make sure that comments are enabled so that your readers can join the conversation. The people that read your blog are bright, intelligent people who can add to the conversation, who may want to ask questions or give their own point of view on a topic. The choice to moderate comments is yours. I prefer not to, but
I have a good spam system in place
to prevent irrelevant comments from getting through.
These tips, along with your interesting topics and good writing, will help your blog posts stand out from the rest. Learn your blogging anatomy and your blogging will grow strong.

Did you find this post useful? I hope you will share it!
---
My weekly linkups! Please stop by and check out all of the great recipes, workouts, and information that all these awesome bloggers share every week!
Sunday Blog Hop with Jenn
Meatless Monday with Tina and Deborah
Meatless Monday with Annmarie 
Inspire Me Monday with Janice
Anything Goes with Marilyn
Bonnie, the Pin Junkie
Tip Tuesday with Debbie in Shape
Wild Workout Wednesday with Annmarie, Michelle, Sarah, and Angelena Marie
Wednesday Wisdom with Nanna's Wisdom
The Blog Booster Party with Kathleen
Friday Fitness with Jill