You Did It! You are a marathoner! It was hard, it was exciting, it may even have been grueling, but you did it. After a few days spent rejoicing, sharing your experience, showing off your medal, and impressing your coworkers, you may be thinking, "What's next?"
Okay, so maybe you will deal first with your sore muscles (in my case my toes were so sore I could hardly walk), blisters, and chafing, but if you are like most people, you will eventually decide to run your second marathon.
7 Tips for an Awesome Second Marathon
For many, the goal for the first marathon is simple. Just finish. But when you make that commitment to a second one, most people will want to finish faster.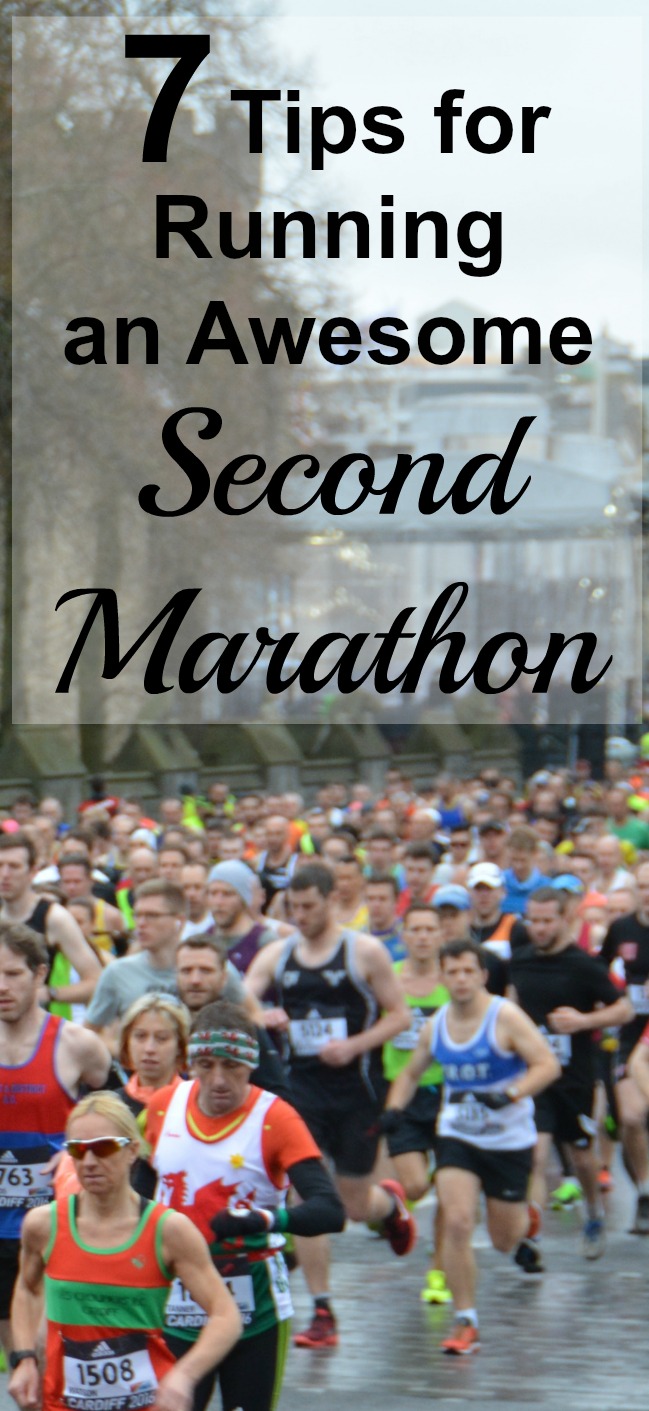 To run your second marathon faster, you will need to make some changes to your training plan. Here are seven tips for getting to the finish line of your second 26.2 faster than your first.
Wait. Yes, you read that right. In your excitement to start training for number two, you may feel like you want to get going right away. Don't do that. Give yourself and your body a few weeks to recover from your race.
Pick Your Race. Choose a race about five or six months out. Consider the size, geography, and location of your race carefully. If your goal is to run faster, a smaller, flatter race with cool temperatures is your best bet. This may not be the time to run in a race that encourages you to stop and pose with cartoon characters or princesses. Just sayin'.
Add Some Speed. While your first marathon was probably all about increasing your mileage, you will need to add some speed work if you want to finish faster. There are two types of speed work that I would recommend: Tempo (lactate threshold) runs and Interval runs. Tempo runs are longer, steady state runs, from two-five miles, done at about your half marathon pace. Interval workouts are typically done on a track, and are shorter, generally 800-1600 meters for marathon training, at about your 10k pace, with a short rest between intervals. Marathon pace runs are also great workouts that will increase your stamina and teach your body what your goal race pace feels like.
Add More Mileage. To run a faster marathon, you will probably need to train more than you did for the first. And that means more mileage. Add mileage gradually to avoid injury. You can add mileage by adding an extra training day and by increasing the distance of your individual runs. Don't do both things in one week. Add an extra day first, then you can work on increasing the daily mileage.
Take a Break. Take a cutback week every third or fourth week. Cut back on your mileage by about 20%, giving your body an opportunity to rest, which is vital to getting stronger and avoiding injury.
Get Personal. This is a good time to skip the cookie-cutter training programs and design your own plan (or hire a coach to do it for you).  If you create your own plan, be sure to keep a few things in mind. Depending on your running experience, your training plan should be from 16-24 weeks long. You should start with a base building period, where your focus is on increasing your mileage. Follow that with a period of higher intensity, where you will include your speed training workouts. Don't forget to schedule your taper period, from two to three weeks out from your goal race, where you will gradually decrease your training volume.
Take Care of Your Body. Strength training workouts, yoga, stretching, and foam rolling can help you run a faster second marathon by keeping you strong, flexible, and injury free. Pay attention to how you feel and don't ignore a small injury or it may become the thing that keeps you from achieving your goal. See below for my Body First Video about self-myofascial release for hip flexors and check out all my other Body First Videos for more foam rolling tips.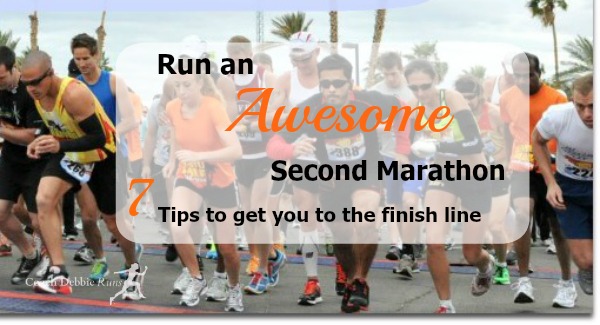 If you follow these tips, I can almost guarantee that, all other things being equal, you will run a faster second marathon.
Here is a post I wrote about running a faster marathon and here you will find a few of my favorite speed workouts.
Need more individualized help? I can create a personalized training program that is designed to get you to the finish line faster. I am both an RRCA and USATF certified coach.  Click here or the tab at the top of the page.
Are you ready for your second marathon? Do you want to get faster (whether it's your second or your tenth)? Do you have any tips to add?
Body First Video Series: Hip Flexors
I'm happy to share the next video in my Body First Series. Today, we're working on the hip flexors.
Ah, the hip flexors, those poor neglected muscles that make it possible for us to climb stairs, bend over, or even walk. As I mentioned in the video, the main muscles referred to as hip flexors are the psoas and the iliacus (together called the iliopsoas). Our lifestyle of sitting leaves our hip flexors weak and tight, which can cause back pain, contribute to poor posture, and leave us more vulnerable to injury.
The exercises above, along with a strengthening and mobility program will help counteract the sitting and help you become more balanced and supple. You can also check out this post: Taking a New Look at Stretching: The Core Four, in which I demonstrate stretches for the hip region, including hip flexors, glutes, Quadratus Lumborum (QL), and the lats, that are based on the principles of Fascial Stretch Therapy.
Tools Used in the Body First Videos
A few of you have asked about what tools I'm using in my videos. I use a variety of rollers, balls and other tools in my Body First Videos. While a regular foam roller and a tennis ball are certainly adequate, some special tools can offer a better option. Here are some of my favorites (affiliate links).
Intelliroll: This is the roller I'm using in the hip flexor video. I love that it is contoured to fit my body. The center cut-out allows me to roll my entire back and neck without compressing my vertebrae.
Trigger Point Grid: Also available in a 26 inch version. I love the multi-dimensional surface that helps you get into areas that you need to with differing angles and pressure.
Trigger Point Vibe: I don't own the Vibe (yet), but I got to try it out at IDEA World and I loved it. It has all the advantages of the Grid with the addition of vibration.
Trigger Point Massage Ball: I really like this massage ball because it is small enough to get into certain tight areas, but it's not as firm as a lacrosse ball.
Lacrosse Balls: That being said, lacrosse balls are great tools for self-myofascial release. They are firm and great for finding those trigger points. They're pretty inexpensive too!
Activ8r Body Ball: I bought this double hard rubber ball a few years back at the IDEA Convention expo. It's fairly expensive now. A better deal might be this Double Lacrosse Ball at only $12.95.
Spiky Massage Roller: This is the closest thing I could find to an oval spiky foot roller that I picked up years ago. I have no idea who made it (though I found it on a New Zealand website!). This is similar, though. The benefit of it being oblong is that it won't slip out or roll away as easily.
High Density Foam Roller: Nothing wrong with the traditional foam roller. The extra length makes it great for different chest openers (see last week's video). I like the high density because it is a little firmer and lasts longer than a simple foam roller.
What is your favorite SMR tool?
And Now It's Time for the Running Coaches' Corner!
Loading InLinkz ...
---
Weekly Linkups
My weekly linkups! Please stop by and check out all of the great recipes, workouts, and information that all these awesome bloggers share every week!
Meatless Monday with Sarah and Deborah
Meatless Monday with Annmarie  and Dixya
Tuesdays on the Run with Marcia, Erika, and Patty
Inspire Me Monday with Janice
Wild Workout Wednesday with Annmarie, Jen, and Nicole
The Plant-Based Potluck Party with Deborah
The Running Coaches' Corner with Rachel, Suz, Lora Marie, and Me!
Friday 5 2.0 with Rachel and Lacey and Meranda
Your Second Marathon was originally published on Live from La Quinta in September 2013.