Returning to the Marathon
As you know, I am currently training to run my 37th marathon, Rock 'n' Roll Marathon San Diego in June. While I have been running consistently (except during my 8 week "layoff" when I cracked my kneecap), training to run 26.2 adds a new level of intensity. I want to do well, of course, but I know that I need to have realistic expectations and train smart to accomplish my goal and not get injured. Here are my suggestions for successfully returning to the marathon.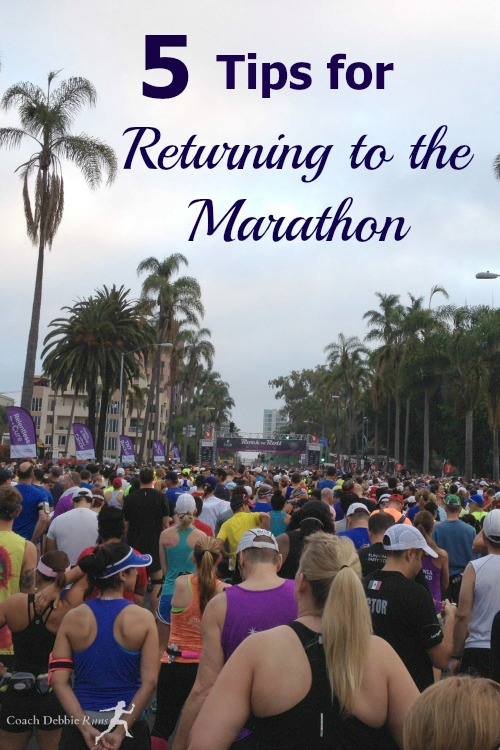 Tips for Returning to the Marathon
 Start at the beginning: If it has been more than a few years since your last marathon, stop looking at the Advanced plans. No matter at which level you were training before your layoff, time and de-training will take its toll. This is especially true if you are older or if your training level overall has been minimal lately.
Create a realistic goal based on your current running: Forget your wishlist time goal that you were so close to nailing five years ago. If you have been training and racing shorter distances, there are tools that can help you create a realistic marathon goal based on your most recent race times. If you have not been training at all, focus on building up your mileage (see tip 3). Try fitting in a few shorter races, including a half marathon about midway through training. That will help you define your marathon goal time.
Take your time building your mileage: Maybe you could manage a 12 week training cycle five or 10 years ago when you were training consistently, running two marathons a year, and, well, five or 10 years younger. Face it, you're starting from scratch here. While the 10 percent rule may be fiction, increase your mileage slowly and cautiously, and complete a solid base building period before you even start your actual training plan.
Take care of yourself: Marathon training is hard. You're pounding the pavement day after day, you're increasing your mileage, you're pushing your body to its limits. Don't ignore small problems. Knees ache a bit? Do you feel a twinge in your heel? Take care of it now. Your ice pack may become your best friend. Take an extra day off every now and then. Get a massage. Stretch. Foam Roll. Your body will get you to the finish line, just give it a little love and appreciation.
Have fun: You're doing this for fun, right? Or to prove that you still can? If you were going to make any money doing it you would have done so a long time ago. So relax. Enjoy the experience.  You know you can do it because you've done it before. You're already a marathoner.
I am finding this return to the marathon challenging but enjoyable. My goal is to stay injury free, have fun, and just possibly hit that goal that McMillan says I can (based on my most recent half marathon time): 4:12:56. (Ironically, that is within a few minutes of my first ever marathon time of 4:10:31!)
Have you ever returned to running after a time off? How did it go?
---
My weekly linkups! Please stop by and check out all of the great recipes, workouts, and information that all these awesome bloggers share every week!
Sunday Blog Hop with Jenn
Meatless Monday with Sarah and Deborah
Meatless Monday with Annmarie 
Inspire Me Monday with Janice
Anything Goes with Marilyn
Bonnie, the Pin Junkie
Tip Tuesday with Debbie in Shape
Wild Workout Wednesday with Annmarie, Michelle, Sarah, and Angelena Marie
Wednesday Wisdom with Nanna's Wisdom
The Running Coaches' Corner with Rachel, Suz, Lora Marie, and Me!
The Blogger's Pit Stop with Kathleen
Let's Get Real with Karen.
Friday Fitness with Jill
Fitness Friday with Miranda