The Grumpy Blogger
Every now and then I get in a mood. Some might call it bitchy. I prefer to think that sharing my opinion about certain things, in this case reasons I'll stop reading your blog, is an opportunity to spread my wisdom about what readers really think when they are reading your blog. And okay, it's a little bitchy.
I love to read blogs. I read a wide range of categories, but most specifically running, fitness, food, and, well, blogging blogs. I learn so much from other bloggers and I have developed real friendships with bloggers over the years. It really is a community that I love being a part of.
5 Reasons I'll Stop Reading Your Blog
Despite my opening words, I don't expect perfection when I read a blog. I love it when a writer opens their heart to share their life, and if the grammar isn't perfect, or the pictures are small, it really doesn't matter. I can read beyond the surface to the depth of feeling underneath.
However, that doesn't mean I don't expect a certain quality in the blogs that I read regularly. I'm loyal, but you can eventually push me away. Here are 5 reasons I'll stop reading your blog.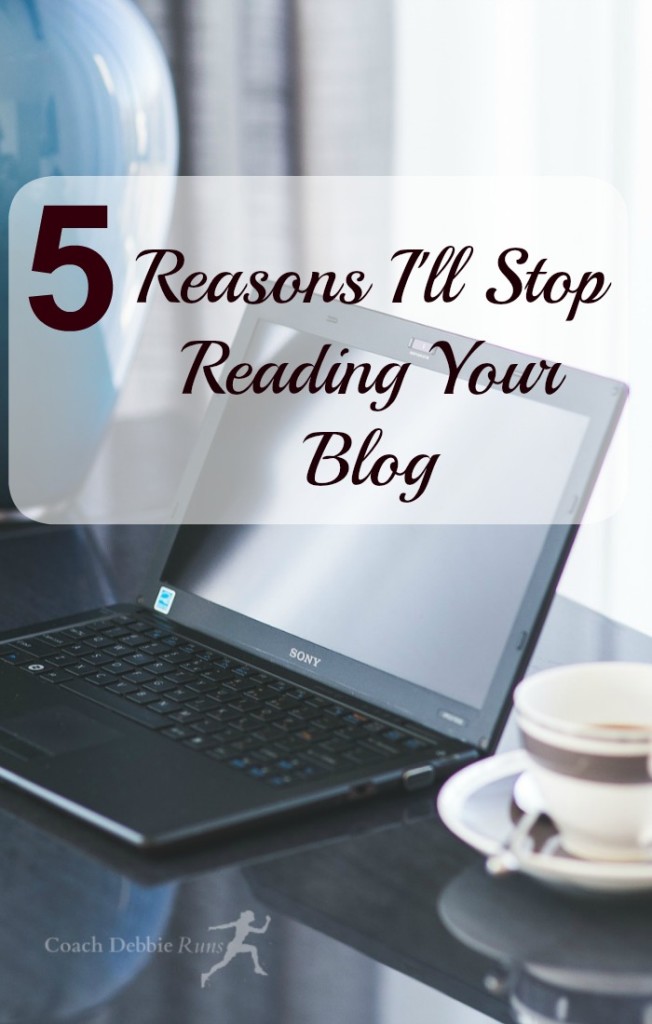 Slap Dash Post
I admit that I have been guilty of this crime in the past, particularly when I was a new blogger and trying to build a following. I was afraid that if I didn't post daily, or at least each weekday, my numbers would fall. I figured that a post, any post, even a quick, slap dash arrangement of words and pictures was better than nothing, right?
No. It's not. I can tell that you wrote just to have something to publish. There just isn't any care put into it, and as a reader, that hurts and offends me. Aren't I worth more than that to you?
Grammar and spelling
I did say above that poor grammar isn't always a blog-killer for me. That doesn't mean, though, that I will put up with continued bad grammar, spelling mistakes, and posts that have obviously not been proofread. I wrote a post a while back about common grammar mistakes. It might be worth taking a look at if it's something you struggle with.
Too Many Sponsored Posts and/or Affiliations
I like making money. Don't we all? And a blog can be a nice source of extra income, through sponsored posts and affiliate advertising (and other methods as well). And I understand that for some bloggers, it is their full-time job. But, once sponsored writing becomes the majority of your blog posts, and every other link is for an affiliate, I will stop reading. I love you. I respect your right to make money. But the money you make is based on your loyal readers. So respect me too.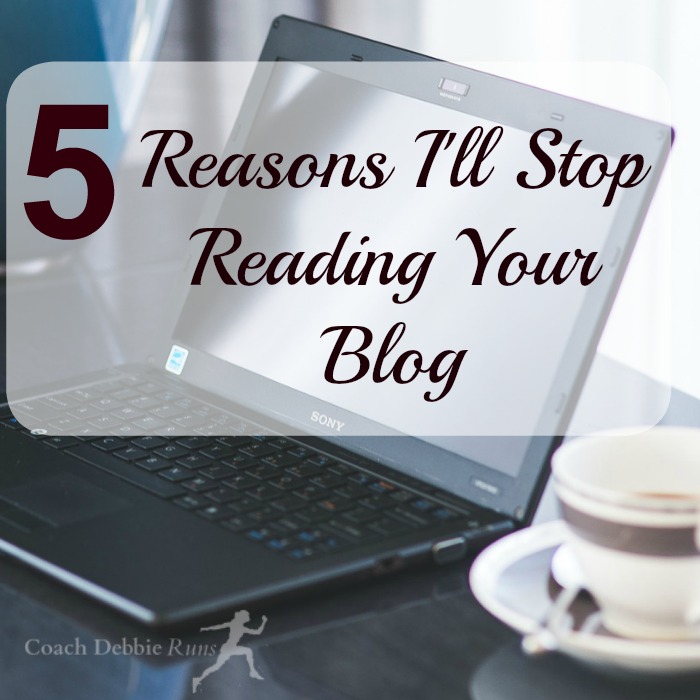 Boring
Something happens when a blogger's love of blogging dims, or they're feeling burned out. It starts to feel like they're just mailing it in. Not much new content, and what is there just doesn't have the same fire as before. I understand that it's hard to keep your writing at a peak level all the time. But, I also believe that if you don't love blogging anymore, it may be time to take a break or to tweak a few things.
Too many hoops to jump through.
I love interacting with bloggers. If I read a post that I love, that touches my soul, that validates my feelings about something, or if I want to weigh in on a topic that I disagree about, I want to have a conversation with that blogger. Please don't make it hard to comment.
While I don't mind leaving my name, email, and website (which is a perk if the blogger has Comment Luv), having to log in, play around with captcha, or other hoops to jump through, just makes me want to give it up. And moderation? If you have a good anti-spam program there really isn't a lot of need to moderate your comments unless you're a big or controversial blogger who gets a lot of trolling.
So, as you can see, while I don't expect perfection, I do have some standards that I expect from the blogs that I read. Bitchy? Maybe. But if you think about what all your readers expect from you and your writing, I believe you'll find they expect a lot of the same things.
What do you look for from your favorite blogs? What will make you stop reading?
---
My weekly linkups! Please stop by and check out all of the great recipes, workouts, and information that all these awesome bloggers share every week!
Meatless Monday with Tina and Deborah
Meatless Monday with Annmarie 
Inspire Me Monday with Janice
Anything Goes with Marilyn
Bonnie, the Pin Junkie
Tip Tuesday with Debbie in Shape
Wild Workout Wednesday with Annmarie, Michelle, Sarah, and Angelena Marie
Wednesday Wisdom with Nanna's Wisdom
The Blog Booster Party with Kathleen
Friday Fitness with Jill