We are all busy. Creating a delicious and healthy meal at the end of a long day can be challenging. Gardein (garden + protein) has been a part of my meal planning for as long as I've been vegetarian, and I'm always happy to recommend any of their products for new vegans and vegetarians, or for anyone who is trying to eat healthier.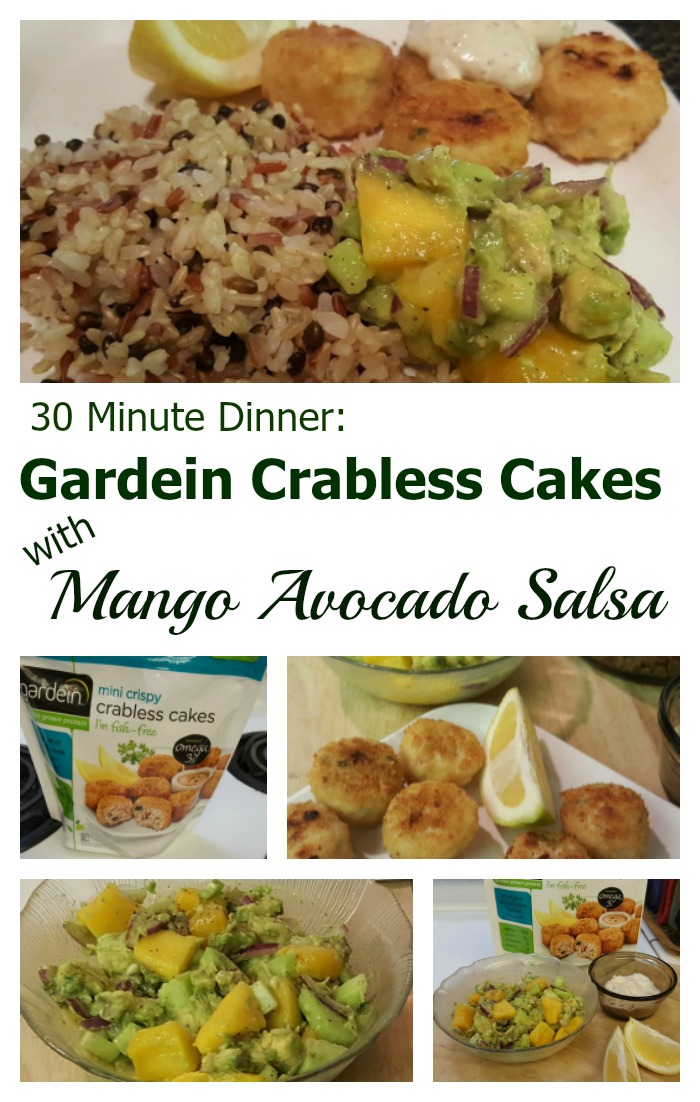 I spend a lot of time introducing people to the joy and ease of a plant-based diet. You don't have to be a vegetarian to enjoy a meat-free meal! Joining up with Meatless Monday is a great way to discover many delicious new foods and to enjoy some of the benefits of following a diet that contains less meat.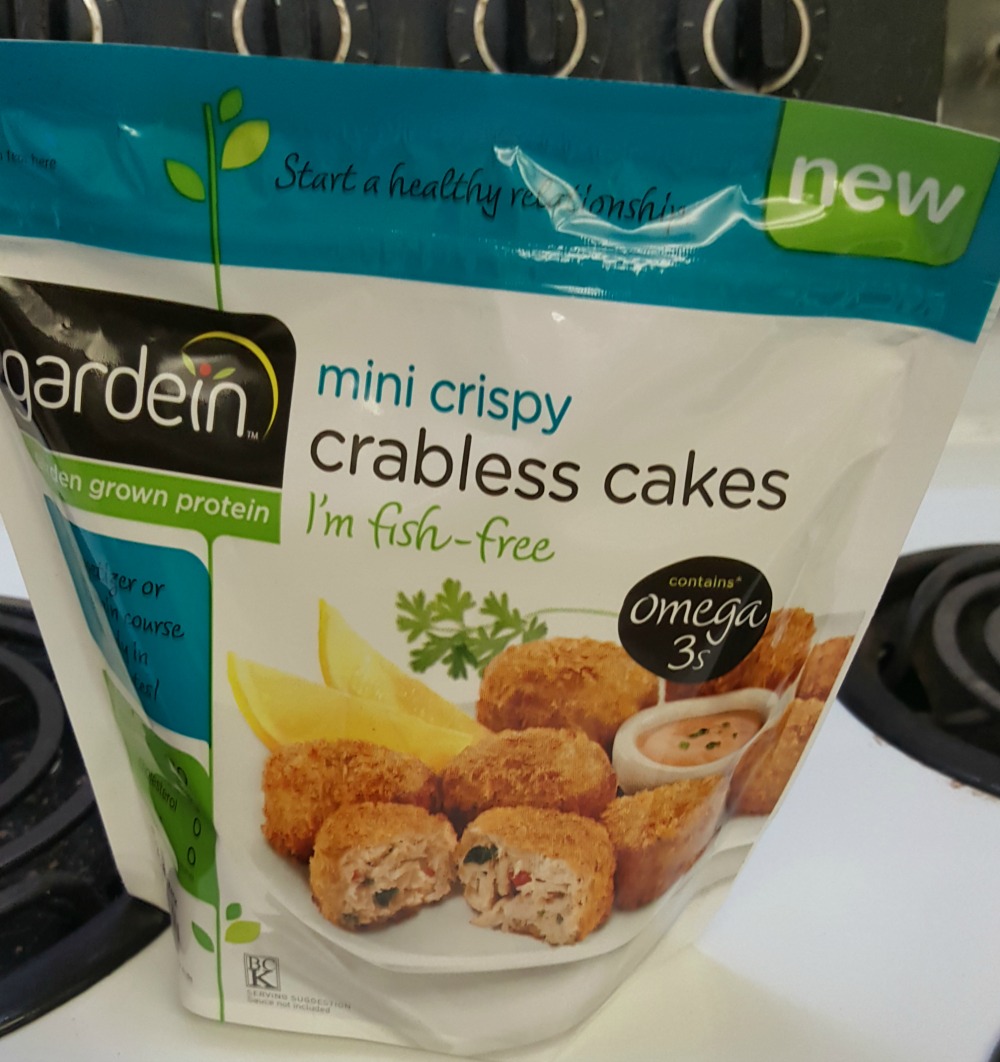 Gardein is made with non-GMO soy, wheat, ancient grains, and vegetables. It provides the taste, texture, and nutrition of meat with less fat and calories. Many Gardein products are also gluten-free! One serving of the Mini Crispy Crabless Cakes provides 9 grams of protein (or if you use it for dinner for two like I did, closer to 14 grams), no cholesterol and are an excellent source of plant-based Omega 3s. They make a great appetizer, or you can do like I did and serve with rice and Mango Avocado Salsa and make a meal!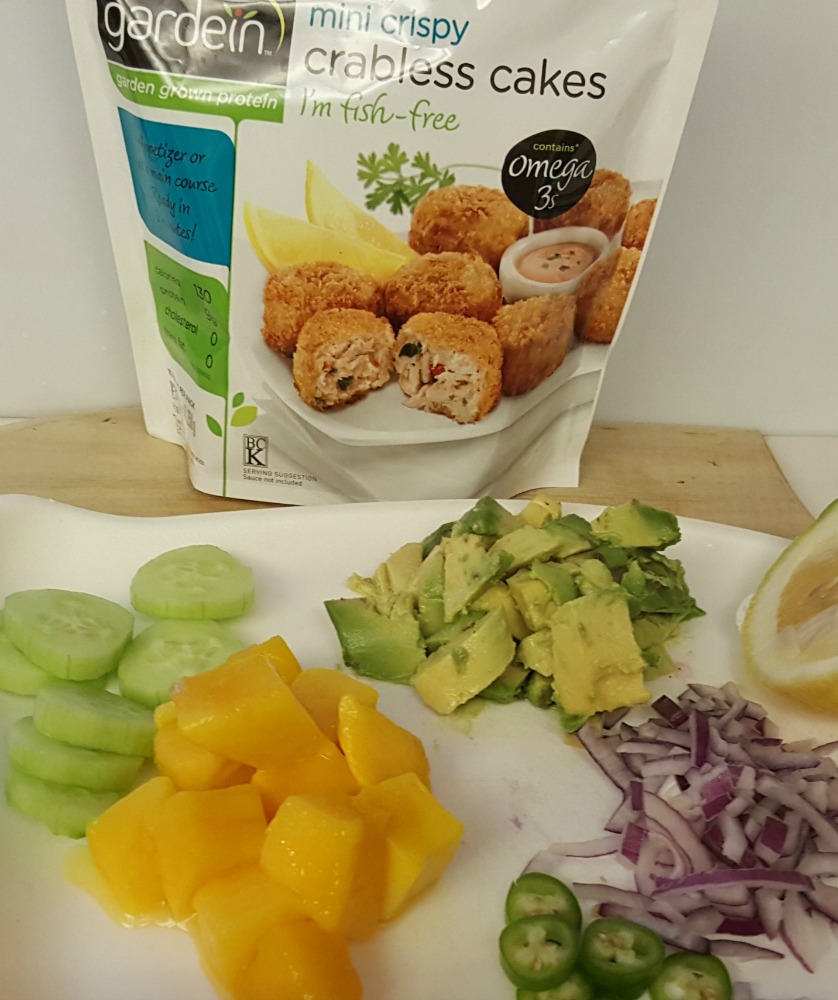 Going meatless one day a week is not only great for your health, it is good for the environment. The meat industry produces more greenhouse gasses than the entire transportation sector combined. If all Americans ate meatless one day a week, it would be the equivalent of taking 1/2 million cars off the road. And for Californians in the midst of a drought, here's a fact that will hit home: A pound of beef uses 1,799 gallons of water to produce. A pound of Gardein takes just 52.8 gallons (source: Water Footprint Research Methodology for beef usage).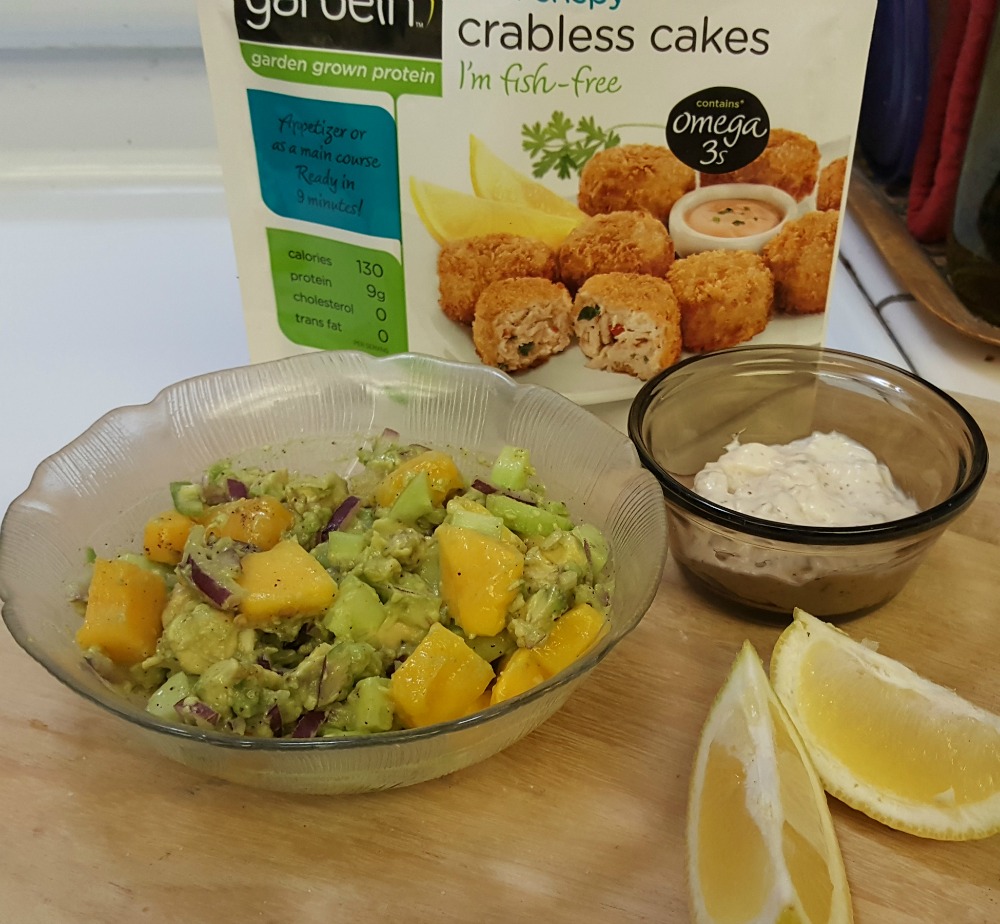 To be honest, I had shied away from the Crabless Cakes because I wasn't sure that I'd like them.  I was afraid of a "fishy" taste. When I was chosen for this campaign I decided to give them a try and I'm so happy that I did! They were light, crunchy, delcious, and not fishy at all!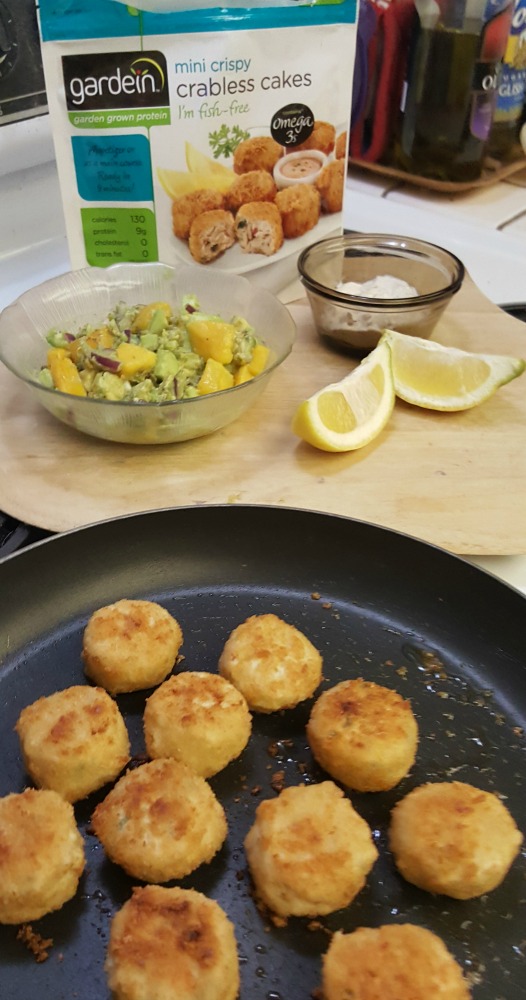 Gardein Crabless Cakes with Mango Avocado Salsa
While the Crabless Cakes make a great appetizer, I decided to make them a meal, so I served them with wild rice, vegan tartar sauce and I whipped up a fresh Mango Avocado salsa for a side. They were delicious!
30 Minute Dinner: Gardein Crabless Cakes with Mango Avocado Salsa
Ingredients
Gardein Mini Crispy Crabless Cakes
Vegan Tartar Sauce
Mango Avocado Salsa:
1 cup fresh or frozen mango, cut into one inch chunks
1 ripe avocado, cut into one inch chunks
½ cup cucumber, chopped
¼ cup onion, chopped
1 tablespoon Serrano or jalapeno peppers, seeded and chopped.
2 tablespoon lemon juice
Salt and pepper to taste
Instructions
Prepare Gardein Mini Crispy Crabcakes according to package directions.
For the salsa: Combine the mango, avocado, cucumber, onion, and peppers. Toss lightly then add the lemon juice and salt and pepper. Toss again. Refrigerate until ready to serve.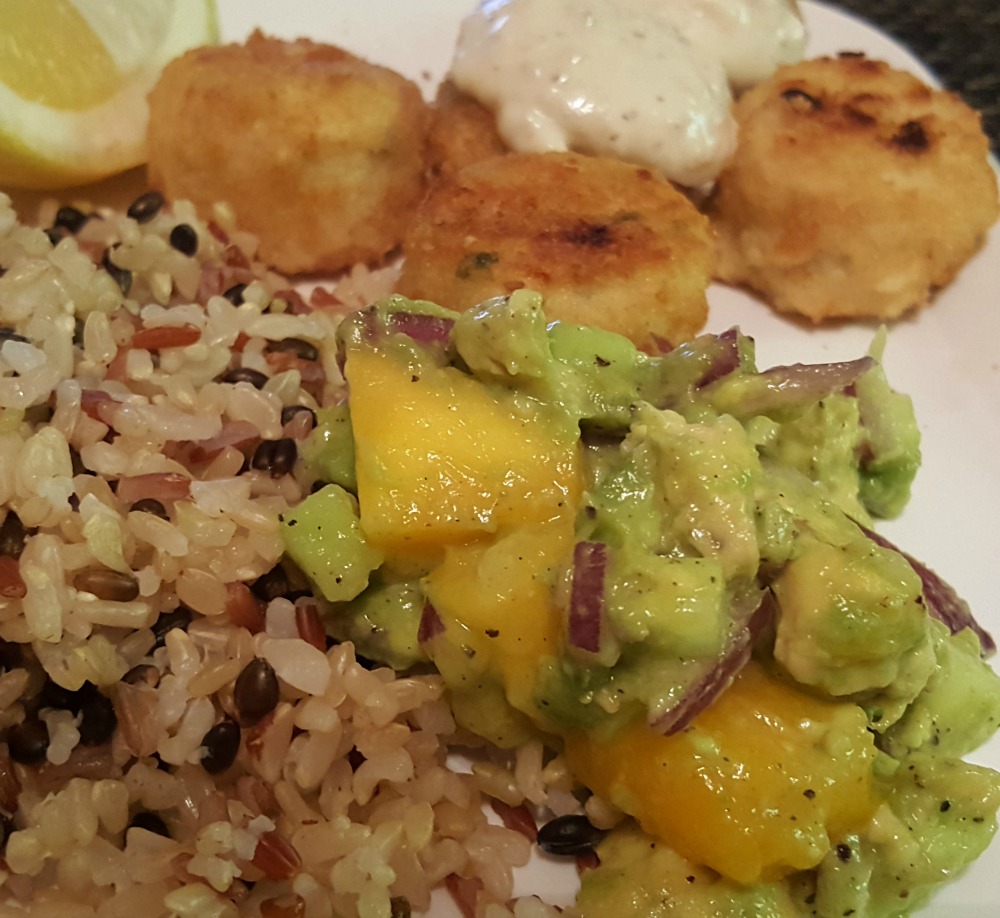 In the past, it could be difficult to find plant-based products at mainstream markets, but not anymore. You'll find Gardein right in the frozen food section of most supermarkets (I found mine at Ralphs!). New to preparing vegan food? Here's a tip: Try substituting Gardein for the meat in your favorite recipes!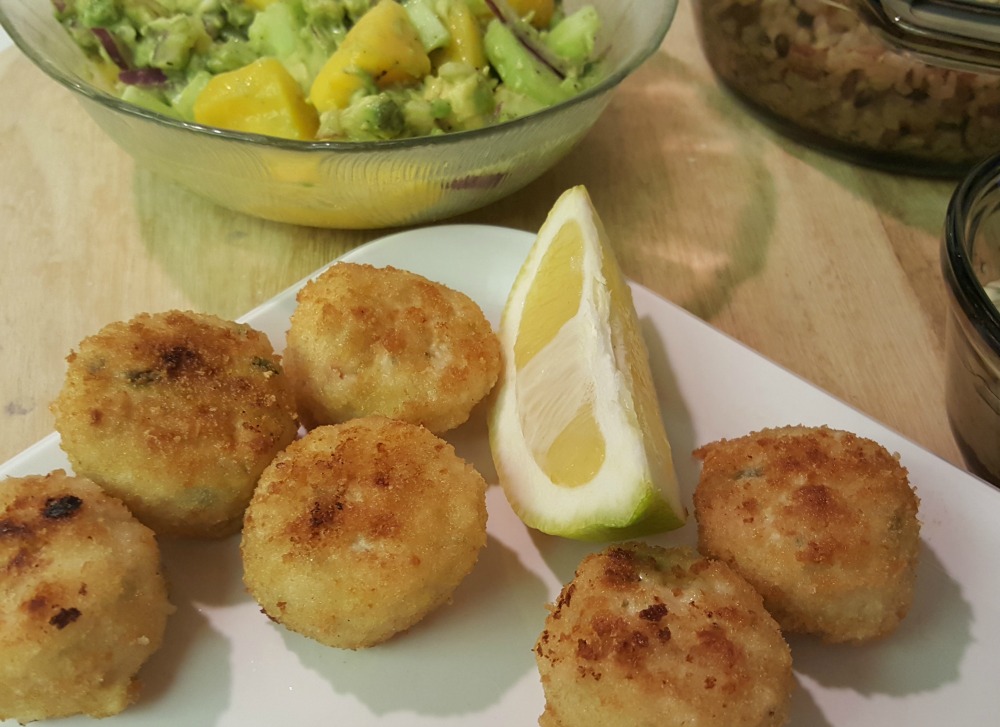 You can save a $1 on any Gardein product (through May 31).
Do you participate in Meatless Monday? Have you tried Gardein products?
---
My weekly linkups! Please stop by and check out all of the great recipes, workouts, and information that all these awesome bloggers share every week!
Sunday Blog Hop with Jenn
Meatless Monday with Sarah and Deborah
Meatless Monday with Annmarie 
Inspire Me Monday with Janice
Anything Goes with Marilyn
Bonnie, the Pin Junkie
Tip Tuesday with Debbie in Shape
Wild Workout Wednesday with Annmarie, Michelle, Sarah, and Angelena Marie
Wednesday Wisdom with Nanna's Wisdom
The Running Coaches' Corner with Rachel, Suz, Lora Marie, and Me!
The Blogger's Pit Stop with Kathleen
Let's Get Real with Karen.
Friday Fitness with Jill
Fitness Friday with Miranda