I will admit that I dug deep into the archives for this 22-minute runner's workout. Five years deep! Yes, I originally posted this post and video five years ago!
Oh, before I forget. The winner of the Nathan Sports Giveaway is Brittany K! Congratulations! Be sure to reply to my email within 48 hours!
In October 2012, even though I'd been blogging for a while, I was just beginning to discover what I'd call my niche. Before then, I'd post random stories and recaps, miss weeks at a time, and generally wasn't exactly sure what I was doing.
Then, in May of that year, I joined Fitfluential and the next month became a Sweat Pink Ambassador. Being a part of those two organizations changed my blogging and my attitude about it forever.
First of all, I met dozens of health and fitness bloggers, my tribe, most of whom I continue to read and respect today. I also learned my value as a blogger and influencer, finding out that there were actually businesses out there that would pay me for my opinion!
I've come a long way since 2012 (though I'd like to think that I don't look that much different). My blog has grown, I'm comfortable in my niche, though I do dare to step outside of it from time to time, and while Coach Debbie Runs will probably never be as big as some of the running and health blogs, I enjoy myself, know that I have great readers, and even make a few dollars! What more can a girl ask?
22 Minute Runner's Workout
Today's workout is designed with runners specifically in mind. If you're not a runner, that's okay, this is a total body functional workout with a special focus on the core, legs, and glutes. Plus it's quick, which appeals to runners because they have better things to do. Like running.
After warming up for 5-10 minutes, perform the following exercises, in order, for 45 seconds each. Take 15 seconds to get into position for the next exercise. At the end of each set, rest for a minute. Do a total of four sets. Alternate the standing leg on the single leg exercises on each set. Perform each exercise with proper form. Watch the video (which will guide you through one complete set) for tips on form.
1. Squat Jump: With feet shoulder-width apart, squat down, keeping your spine long and your knees behind your toes. As you stand back up, jump straight up with as much force as possible, pressing up through the hips. As soon as you land, continue the exercise by lowering back into a squat.
2. Single Leg Deadlift: Holding dumbbells, kettlebells, or a bar, stand on one leg with your knee very slightly bent. Keeping your spine long and neutral, with your core engaged, bend at the hips, keeping the weights close to your legs as you do so. Bend as far as you can without rounding your spine, then continuing to engage your core, tighten your glutes and leg muscles and stand back up. You will alternate legs in each set, for a total of two sets on each side.
3. Push Up to Side Plank: Start in a plank position with arms about shoulder-width apart, making sure that your shoulders are right above your wrists. You can be on your toes or your knees. Do a push-up, then lift one arm and turn your body into a side plank. Repeat the push-up, then do a side plank on the other side.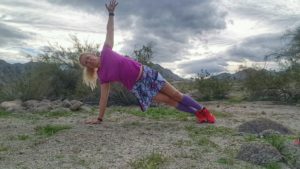 4. Single Legged Squat: This is a great exercise to develop balanced strength in your legs and glutes. It is also quite difficult, so you may have to build progressively toward a complete single-legged squat.
Stand on one leg. You may extend the other leg in front of you (a pistol squat, the most challenging version), or bend the other leg at the knee behind you with the toes pointing toward the ground. Extend your arms out in front of you. Bend your standing leg into a squat position, keeping your spine long, chest up, and knees behind toes. Don't allow your knee to fold inward or outward. Keep your pelvis in alignment. Stand back up.
Variations: When you begin doing this exercise, you may want to put a high bench behind you as you squat. You can hold onto something (just make sure that you don't pull yourself back up or twist your body out of alignment). You may also put the toes of the non-working leg on a bench behind you. Proper form is very important, so do the variation that is right for you. You will get stronger, you type "A"s and be able to do the hardest version soon enough!
5. Forearm Plank: Get into a plank position on your forearms. If you need, you may keep your knees on the ground. Make sure that your elbows are directly under your shoulders. You may add variations, like jumping jack legs, if you'd like.
Here's the video:
Enjoy that minute of rest, then repeat for a total of four sets. Enjoy!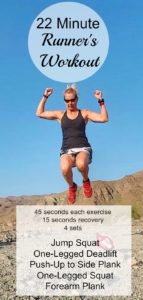 Disclaimer: Remember that while I am a coach and a personal trainer, I am not your coach or personal trainer. Make sure that you are in good physical health to start a fitness program.
If you like my videos, perhaps you would like to subscribe to my YouTube channel.
Runners! Do you have a favorite strength exercise that you believe helps your running? Share!
And Now It's Time for the Running Coaches' Corner!
Loading InLinkz ...
---
Weekly Linkups
My weekly linkups! Please stop by and check out all of the great recipes, workouts, and information that all these awesome bloggers share every week!
Meatless Monday with Sarah and Deborah
Meatless Monday with Annmarie  and Dixya
Tuesdays on the Run with Marcia, Erika, and Patty
Inspire Me Monday with Janice
Wild Workout Wednesday with Annmarie, Jen, and Nicole
The Plant-Based Potluck Party with Deborah
The Running Coaches' Corner with Rachel, Suz, Lora Marie, and Me!
Friday 5 2.0 with Rachel and Lacey and Meranda