It's happened to all bloggers at some point. Blogger's block. You want to write a post. You feel like you need to write a post. You sit down to write a post. And the mind goes blank. You've got nothing. The harder you try, the more your brain freezes.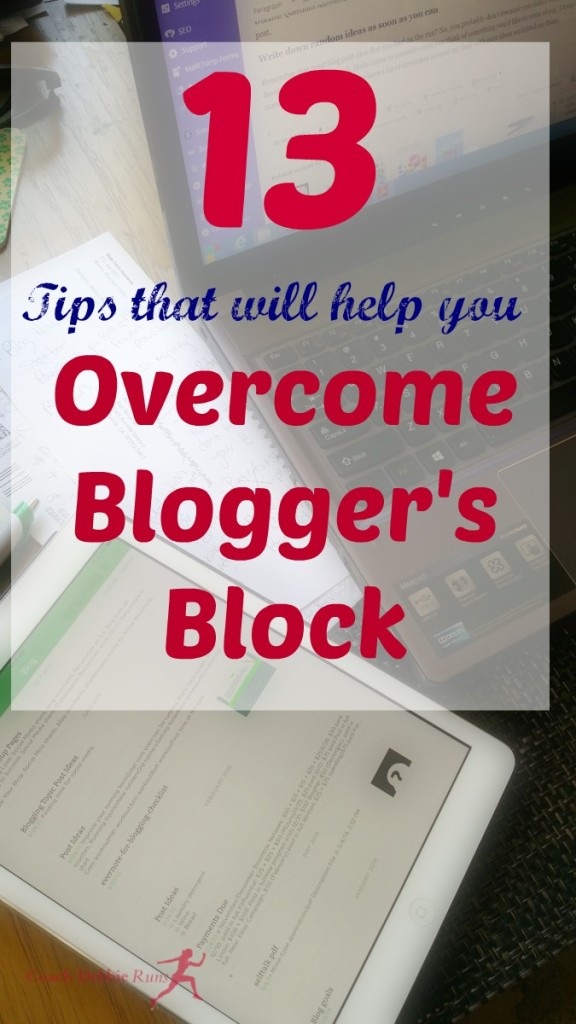 Sometimes it's an indication that you need a break. Frequently, though, it's a temporary thing and all you need is a little inspiration (or a few tips) to get going again. Here are 13 tips to help you overcome blogger's block.
1. Tell a story
Two years ago I saw Bo Eason speak at IDEA World. I learned from him that your personal story is your most valuable asset. Several weeks ago, when I was at Bloggy Boot Camp, we were encouraged to tell our story. It humanizes us, makes us relatable, allows readers to know who we really are, what we're afraid of, and what we're proud of. We all have stories. Sometimes we've learned a lesson from them. Sometimes they're just a part of our personal history.
2. Say it with pictures
A picture is worth a thousand words, so if you're short on ideas, share some photos of a recent event, adventure, or even something from the past. You can go with a wordless concept, or add descriptions. Once you start you may find that the words start to flow.
3. Ask a question
Are you in the market for a new (pick one) dishwasher, running shoes, car? You name it and your readers probably have experience and knowledge about it. Or maybe you'd like the benefit of their experience dealing with an issue with your child's behavior or a conflict with a teacher. While not the only thing to consider in such circumstances, crowdsourcing your readers will certainly get you a lot of thoughts and opinions on the matter.
4. Answer a question
Do your readers occasionally ask you questions, either in the comments or by email? Take one (or more) and answer it in a new post!
5. Tell us about YOU
Different than telling a story, just tell your readers a little bit about yourself. This can be a list of your favorite (or least favorite) things, what you like to watch on television, where you got married, etc. Tell us about a day in your life. There are a lot of blogger's memes floating around the blogging world.  You can use one of those for a starting point or create your own.
6. Review a book or movie
Have you seen a great (or terrible) movie lately? Read a good book? Share! Why would you recommend it? Is it appropriate for children? Why or why not?
7. Tell us about your favorite….
Start off a post by telling us about your favorite anything (run, meal, party, vacation, race, workout, teacher, class)  and let the words flow.
8. Share your expertise
Everyone is an expert at something. Whether you're a chef, personal trainer, coach, fashionista, you have expertise to share.  It may be a recipe, workout, or outfit, or, less obvious but still as interesting, how to select a good knife set, what is the best surface to run on, how do I measure myself for skinny jeans. If you're a mom, you are an expert (yeah I know it doesn't always feel like it). Breastfeeding, weening, potty training, toys for each age, intimacy after baby. The list goes on and on. There are so many things that you know that your readers want to learn.
9. Share a tip
People can learn from your experience. Did you just travel to run a marathon? How to pack for a traveling marathon. Did you go to a conference? What did you learn? Did you just buy a new car? How did you negotiate? There are so many things that we do in our daily life that others can learn and benefit from. Share yours.
10. Prompts
When all else fails, there are many lists out there with long lists of blog post ideas. Just Google blog prompts and you'll see.
11. Google
And speaking of Google, it comes in handy again to find out what your readers are searching for.  Say I want to write a general fitness article. I can Google fitness workout questions, and of course, 63 million links pop up. Take note of three things here. First, when you are typing your search, what else pops up as a suggestion? When I start to type fitness workout, in addition to "questions," I also see "music," "plan," "apps," "beginners," and many more. That is what people are searching for!
Then scroll down the page to the bottom, where Google suggests other fitness workout question searches you may be interested in. There again you will see suggestions based on what other people are looking for. Your readers want to know this stuff!
Finally, you can take a look at the first two or three pages of your search. See anything interesting? I see "11 Common Workout Questions Answered." Wow, an idea pops up! I'm not going to copy anything, but now I have an idea for a post.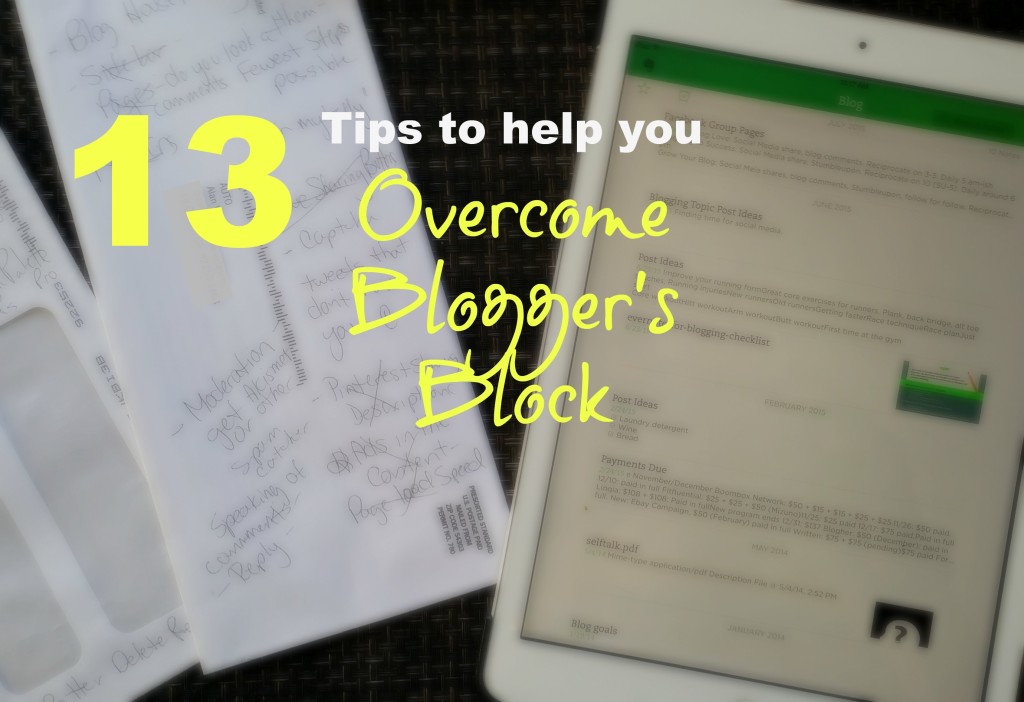 12. Write down random ideas as soon as you can
Remember that great blog post idea that you had on the run? No, you probably don't because you didn't write it down as soon as you got back. Make notes to yourself when you think of something you'd like to write about. I keep a running list in Evernote, but I also have a lot of envelopes around my desk with post ideas scribbled on them. I even sometimes create a new post, give it a working title and a couple descriptive sentences. Then it is there looking at me in my drafts, just waiting to be written.
13. Pull it from the headlines
Is there something in the news that affects you? A story that moves you, research that changes the way you look at things, an incident that angers or scares you? Share it with your readers.
These 13 tips should help you find a little inspiration on those days when the ideas just won't come. If you have something that works for you I hope you'll share it in the comments.
I'm linking up with Debbie in Shape for Tip Tuesday, Nanna's Wisdom for Wednesday Wisdom, Bonnie, the Pin Junkie, xoxo Rebecca for That Friday Blog Hop, and with Kathleen for the Blog Booster Party.