I try to keep everything positive in my posts, and that's mostly because everything is positive. I'm a "glass half full" type of girl, and generally see the bright side of everything. That doesn't mean that I don't have some stress, though. I have an aunt who is probably going to need long term care, my high-work season is kicking in, so my work hours increase, cross country (which I love) means I'm working every Saturday, and I never get enough sleep.
That is why, when I saw Kate's post today a little bell went off in my head. Her topic is simply, "Things that make me happy," and when she said that just writing them down made her feel happy, I knew I needed to tag along. So here they are:
Things That Make Me Happy
My husband. We'll be celebrating our 13th anniversary next month and he still makes me laugh everyday. He also still holds my hand and tells me he loves me.
My dogs. I'd list them separately but that would take the whole post. I love how happy they are to see me when I come home (even if it's only been a few minutes). I love how they snuggle with me. I love how excited they get when we go for a run or a walk.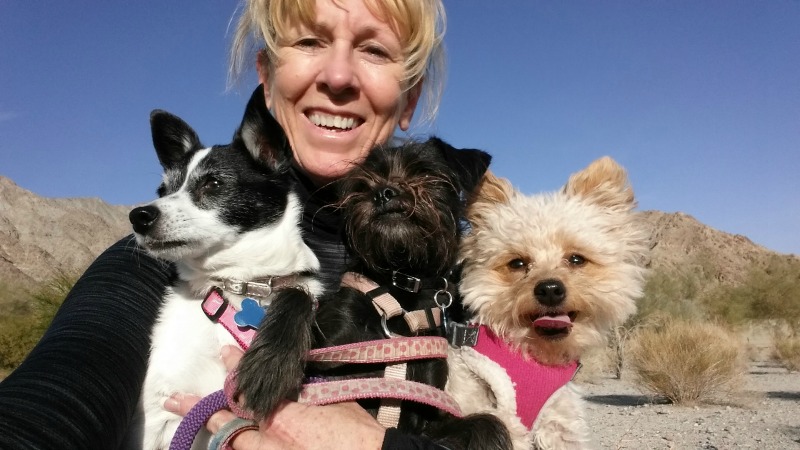 I love running. I tried cutting back by adding cycling to my routine, thinking that since I was getting older it would be easier on my body. I've gradually drifted back to just running, and while I'm not doing the mileage like when I was running marathons, I'm enjoying three to four days a week on the road and trails.
I love training (meaning training other people). I work mostly with a senior population and it is so rewarding to guide them through a healthy lifestyle. When my clients succeed, I feel successful.
Enjoying my first cup of coffee in the morning with my husband and my dogs makes me happy. We all have routines, even the dogs. Each one has their own ritual every morning. Penny talks to me and comes for her hug as soon as I sit down. Sydney jumps up for his "snuggle,"  Lily loves to be tucked into Alan's bathrobe, Goldie and Olivia like to share sips of coffee, and Buddy loves to share kisses. It's all in a morning's ritual. I love it all.
This video makes me happy. Alan takes care of the feral cats in the neighborhood. We get medical care and try to get them spayed and neutered, but there always seem to be kittens. The video shows about half of the cats he feeds, waiting for their dinner tonight.
I'm happy that Dancing with the Stars has started its new season. I admit it, I'm an addict. I don't watch much television, except reruns of Law & Order and NCIS, but I record the whole season of DWTS.
I love fall weather. It hasn't actually started here yet, but it's coming soon, I just know it. Pretty soon we'll actually be in the 80s instead of the 100s.
Yoga makes me happy. I don't get there quite as often as I want to, but when I finish a yoga class I feel like I'm glowing.
Writing. When I started this blog several years ago, I never realized that it would become such an important part of who I am. Whether I'm sharing a workout, posting a recipe, or just talking about my life, I enjoy the process of putting words to (virtual) paper.
Sunrise. And sunset. Actually I love all the views of my home town. Sometimes when I'm driving home from work I am in awe of the beautiful surroundings in which I live.
Coaching makes me happy. And part of that is making a difference in the lives of young people. And just looking at my girls makes me smile (the picture is just the varsity team, but they all make me happy).
I'm sure that as soon as I post this I will think of a few more things that make me happy. I am also happy to report that Kate was right. Just thinking and writing about all of these things has put a smile on my face. Now, if I could just get some sleep…
Edit: I knew I'd be back! This make it 13 things, but it just may be the most important. I'm beyond happy, ecstatic, that my grandson Samuel will be born in late November and that Sarah, my beautiful daughter in law is having a healthy, happy pregnancy.
What makes you happy? Please share!