Blogging can be a confusing business.
Even after six years I find myself wondering if I'm doing it right. How does my page look? Do people enjoy my writing? Should I take that sponsored post? Is it worth the time that I spend working on it?
I'm pretty sure about the answer to the last question, but I do wish that I had someone around six years ago to answer the multitude of questions that I had about blogging. With that in mind I put together this list of answers to beginner blogging questions. I tried to think of the things that I wish that I had known way back then, along with the input of readers of my Starting a Blog series.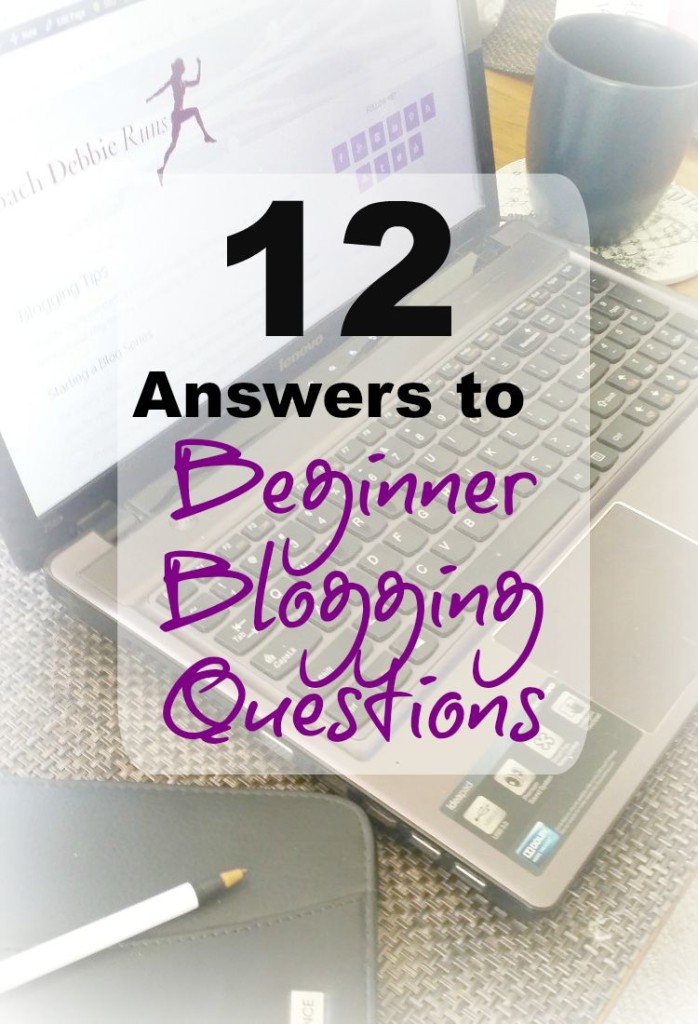 As I write these answers to beginner blogging questions, I realize that many of the answers will lead to more questions on your part. That's good. This is your starting point. As a beginner blogger I'm sure you're already realizing that there is a lot of information out there to learn. Start here, research and learn. This post will give you a little jump start. And always feel free to ask me, either in the comments or by email, anything that you need clarified, would like a little more information about, or don't understand. I'll do my best to answer, and if I don't know the answer (which is certainly possible!), I'll do my best to refer or steer you in the right direction to find those answers.
12 Answers to Beginner Blogging Questions
1. What is the best blogging platform? There are several great blogging platforms available out there and a lot depends on your needs. Blogger is an easy starting place to create a free blog even if you don't have any technical skills. WordPress (even the free version) has a more professional look. Tumblr is also good. There are a few others, so shop around.
2. How do you start a blog? Fortunately, you don't need any coding skills or even that many computer skills to create a blog. It's easy and free to start a blog on WordPress.com, Blogger, Tumblr, and a few other sites. Another option is to sign up with a web host, like Hostgator (with which I am hosted), Bluehost, or several others. They have the blog software that you can install easily. If you choose to do this, you will have to buy your own domain, and of course there are fees associated with hosting.
3. How do you make a design? When you start a blog on any of the above sites, you will have a choice of several template designs. Try them out, see if they fit your style. They will have different layouts to choose from, and you will be able to add "widgets" to personalize your blog's look. There are also themes you can pay for, which will give you more options for your blog.
4. How do I pick a name/niche? The first question you ask yourself should be, "what am I passionate about?" The second question should be, "what am I an expert at?" The answers to these two questions should get you started in the right direction. Whether it is fitness, fashion, mother/fatherhood, food, photography, books, dogs, or just about anything that you truly love, you can blog about it. It doesn't have to be the only thing your write about, but it will probably be at the core of your blog.
As for the name, play with a few ideas that fit with the niche you just found. If you're a runner who loves dogs, maybe "runswithdogs.com" will work for you (sorry though, that's already taken). Look to see if your name is available. If you use your own name for your URL (domain name), you can call your blog anything you want.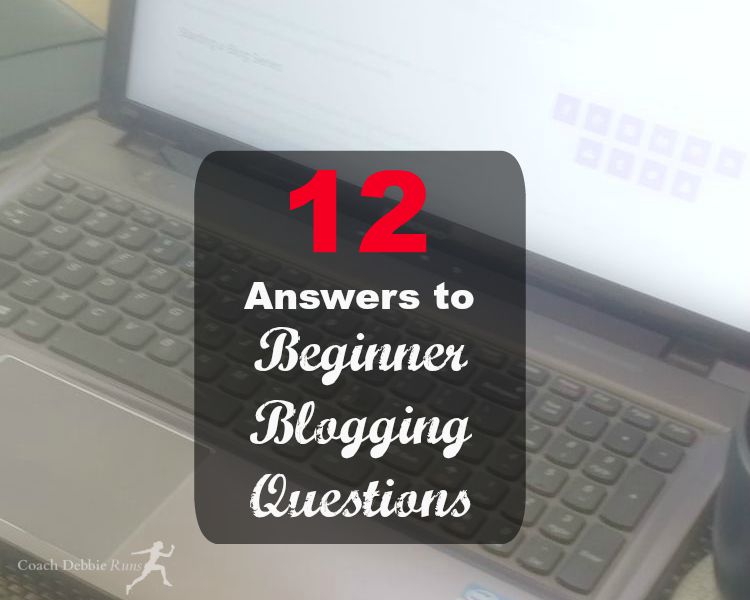 5. How do I get readers? The first few days or weeks after starting your blog may feel like you're talking to an empty room (unless your mom knows about it). First step: write interesting stuff. Then start sharing it on social media. Facebook and Twitter are great places to start. Read other blogs and leave thoughtful, interesting comments.
6. How do I get more readers? To get even more readers, first, and still most important, is to continue to write interesting and helpful posts. Learn a little about key words and Google (see SEO below), continue to build your social media accounts, and share your work. Be sure to share other people's posts as well. Blogging is a community, so by joining it and being a good citizen you will, before you know it, have blogging friends that will read and share your work.
Speaking of community, Facebook has many blogging groups, some in your niche, some just general, that will support you, teach you, and help you grow your blog. Pinterest is great, but it's very visual, so you must create beautiful images to share.
7. How do I get comments? Bloggers love comments! It somehow validates our work. So what if your numbers are growing, but nobody is commenting? Have you tried asking a question? Or asking for help, input, advice? Try it! Write thought provoking posts and ask your readers what they think about the topic you're presenting. And respond to the comments that you get. Just as bloggers love comments, commenters love replies.
8. How do I make money? There are many ways to make money from your blog if you want. You can join a publishing network, add affiliate advertising, write sponsored posts and reviews, sell a product or service. Check this post for some resources.
9. What is SEO? SEO stands for Search Engine Optimization, and basically means writing your post, using keywords, post length, and other tools, to make sure that search engines (most especially Google), will find it when someone searches for your keyword. For example, my keyword for this post is Beginner Blogger Questions. You will see it in my title, in my social shares, and several times within my post. My hope is that when someones searches for "Beginner Blogger Questions" my blog post will pop up as an option as high as possible, hopefully on the first page. Fortunately Google understands synonyms so something like "New blogging questions" will still find my post.
10. What about pictures? Do I need an expensive camera? To be honest, I rarely pull out my "real" camera (and to be even more honest, it is not an expensive camera, though it is a DSLR). Good photography is more about lighting, placement, and framing. A point and shoot, or even a phone can take good pictures. Your pictures will only be as good as the photographer. You may, at some point, decide to invest in a better camera. Just make sure that you take the time to learn how to use it properly.
A word about photographs. It seems so easy, depending on what you're writing about, to grab a photo from the internet and add it to your blog. I know because I used to do it. DON'T do it. Most photographs are copyrighted and you may be subject to a fine or other penalties if you use them. There are resources for free or inexpensive photographs.
11. How do I get ideas/know what to write about? Write about what you know and love. If you have passion for a topic, it will come through with your words. Use your expertise and teach your readers, help them solve a problem, or answer their questions.
12. What's the most important question I forgot to ask? I think that many people don't understand how much time blogging can consume. Writing a good blog post is just the beginning. You may need to research your topic, and once written you must market and share it. To be part of the blogging community you must read and comment on other blogs, as well as share their posts. It can become overwhelming if you allow it to be. Even more so if you work at a full time "regular" job.
I suggest you plan the time that you will work on your blog, and fit it into your schedule. You don't have to post everyday, in fact it's almost impossible to keep writing quality work if you do. You started your blog because you enjoyed writing. Remember that and you'll be fine.
Other Resources
As I mentioned, this post will basically just make you realize how much more you need to know about blogging. Here are a few more resources.
My Pinterest Blogging Info Board – I pin everything about blogging that I think can possibly help me. It will help you too.
My "So You're Starting a Blog" series – You'll find more detailed information about setting goals, getting more readers, and making money blogging.
13 Tips to Help You Overcome Blogger's Block – When you just can't think of what to write about.
Check out my Blogging Tips page for even more help.
Are you a new blogger? What other questions do you have?
If you are an experienced blogger, what advice would you give to a newbie? (I might make a whole post about this, so think hard! I'll credit you of course.).
---
My weekly linkups! Please stop by and check out all of the great recipes, workouts, and information that all these awesome bloggers share every week!
Meatless Monday with Tina and Deborah
Meatless Monday with Annmarie 
Bonnie, the Pin Junkie
Tip Tuesday with Debbie in Shape
Wild Workout Wednesday with Annmarie, Michelle, Sarah, and Angelena Marie
Wednesday Wisdom with Nanna's Wisdom
The Blog Booster Party with Kathleen
Friday Fitness with Jill