The theme in May for the Running Coaches' Corner is Summer Running, which got me thinking about, what else? Vacation! Of course, we're talking about running, so not any old vacation. Let's talk about taking a Runcation!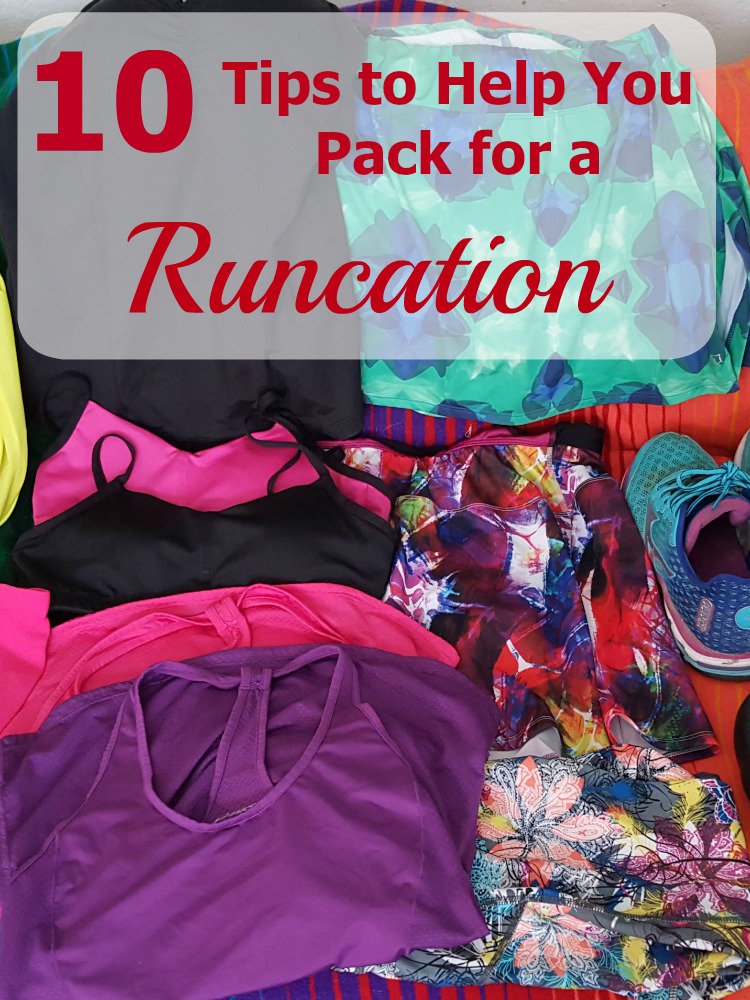 10 Tips for How to Pack for a Runcation
If your runcation includes a race, and you're flying, be sure to pack your race day gear in your carry-on luggage.
If you are on a race-cation bring two race day clothing options. Who knows what the weather (or your mood) may bring?
Make lists. Jot things down during the week before your departure. I've been known to use scraps of paper or even napkins when I think of something important, but Evernote or the note app on your phone works great too.
Have an idea how many days you'll be running during your runcation. Bring one per day: shorts/skirt/capris, bra (if you're female), top, socks, compression sleeves/socks if you use them. On longer trips, or if you'll be running more than three or four days, check on laundry availability.
Pack some running-related clothing such as warm-ups or a throwaway for before your run or race, something comfy for afterward, and, if you're running a relay race, clothing to wear in between your race legs.
If you're racing, you may want to bring two pairs of running shoes. If not, one pair should do for runcations of up to a week. An exception would be traveling for a relay race or to a humid locale where your shoes won't dry out between runs.
Don't forget your accessories! Sunglasses, gloves, race belt, armband, tiara, kidding about that unless you're running Disney. Accessories also include headphones, sunscreen, camera (if you use one besides your phone), GPS and/or other fitness tracker, wipes like Shower Pill, chargers for anything that needs charging (besides your phone this might include your fitness tracker, camera, headphones, etc.). Bring a hydration belt/handheld with bottles if you will be running long.
Running nutrition needs. This includes any gels, electrolytes, carb drinks, or whatever you will need while you are running.
Other nutrition needs. Depending on where you are traveling and the availability of certain items, make sure that you pack and special nutrition items that you may need. This may include recovery drinks, protein powders, pre-race nutrition, and even snacks.
Running Ragnar or other relay race? Here are my 5 Ragnar Essentials and a Complete Packing List.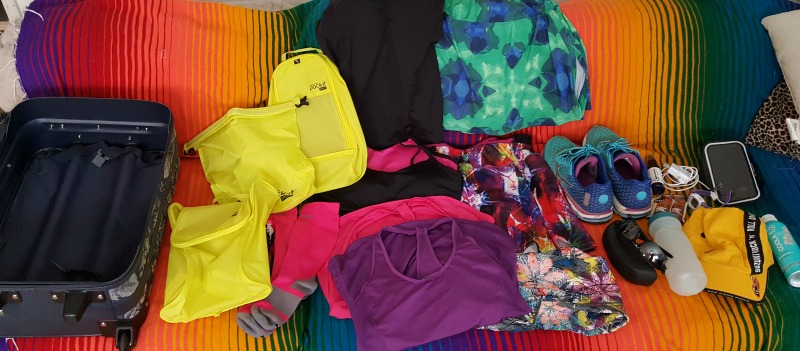 Here's a video I put together to show you how Eagle Creek Pack-It Sports can help you save space and keep organized with your runcation packing. Extra credit if you note my special photo-bomber at about 2:40 in.
What I'm Packing for My Runcation
If you're interested in purchasing what I'm packing, here are some links (some are affiliate links).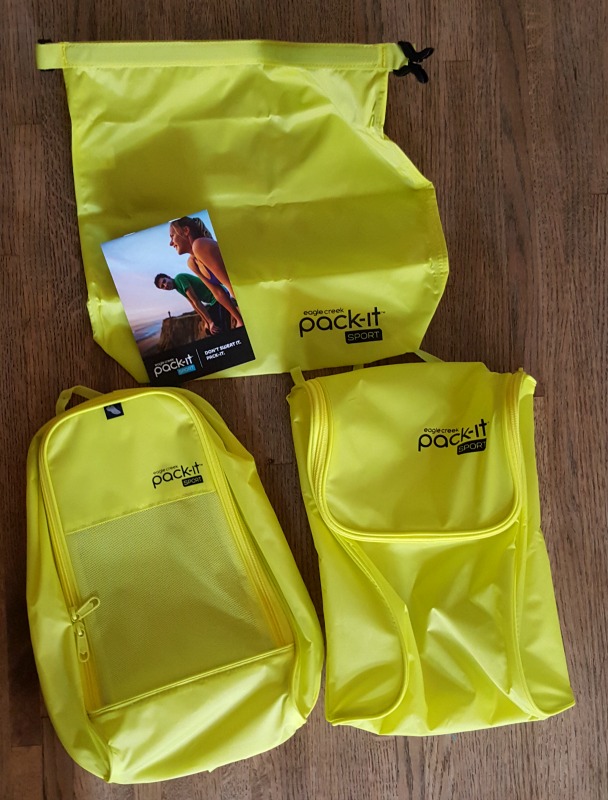 Pack-It Sport Wet/Dry Fitness Locker, Shoe Locker, and Roll Top Sac
Legend Compression Performance Sock For the month of May, save 20% on your purchase with code anewmay. After that, save 15%  anytime on with the code AmbFriend2016.
Skirt Sports Pictured is the Gym Girl Ultra Skirt in Psyched print and Emerald City, and the Redemption Capri in Tantrum. I'm also packing the Kelly tank and the Everyday Active Bra. Save 20% on your purchase with code CDR20!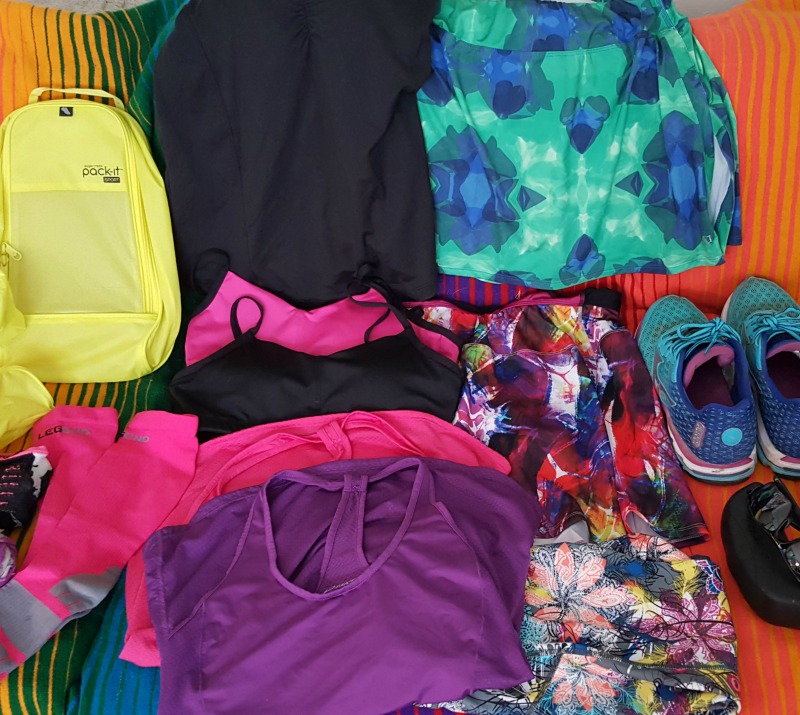 Mizuno Wave Riders. Road Runner Sports is having an awesome sale this week! 
Do you have any runcations or race-cations planned for this summer? Do you have a super-duper packing tip to add? Please share!
I received an Eagle Creek Fitness Locker, Shoe Locker, and Roll Top Sac to try out through my association with the Rock and Roll Marathon and the RocknBlog Team. All opinions are my own.
Now it's time for the Running Coaches' Corner!
Loading InLinkz ...
---
My weekly linkups! Please stop by and check out all of the great recipes, workouts, and information that all these awesome bloggers share every week!
Sunday Blog Hop with Jenn
Meatless Monday with Sarah and Deborah
Meatless Monday with Annmarie 
Inspire Me Monday with Janice
Anything Goes with Marilyn
Bonnie, the Pin Junkie
Tip Tuesday with Debbie in Shape
Wild Workout Wednesday with Annmarie, Michelle, Sarah, and Angelena Marie
Wednesday Wisdom with Nanna's Wisdom
The Running Coaches' Corner with Rachel, Suz, Lora Marie, and Me!
The Blogger's Pit Stop with Kathleen
Let's Get Real with Karen.
Friday Fitness with Jill
Fitness Friday with Miranda