Blogkeeping Tasks = The general blog housekeeping chores that are important to keep your blog running fast and smooth. The tasks I've listed here are simple enough so that everybody can do them. Yes, they take a little time, but the result is a better looking, faster blog that your readers will appreciate.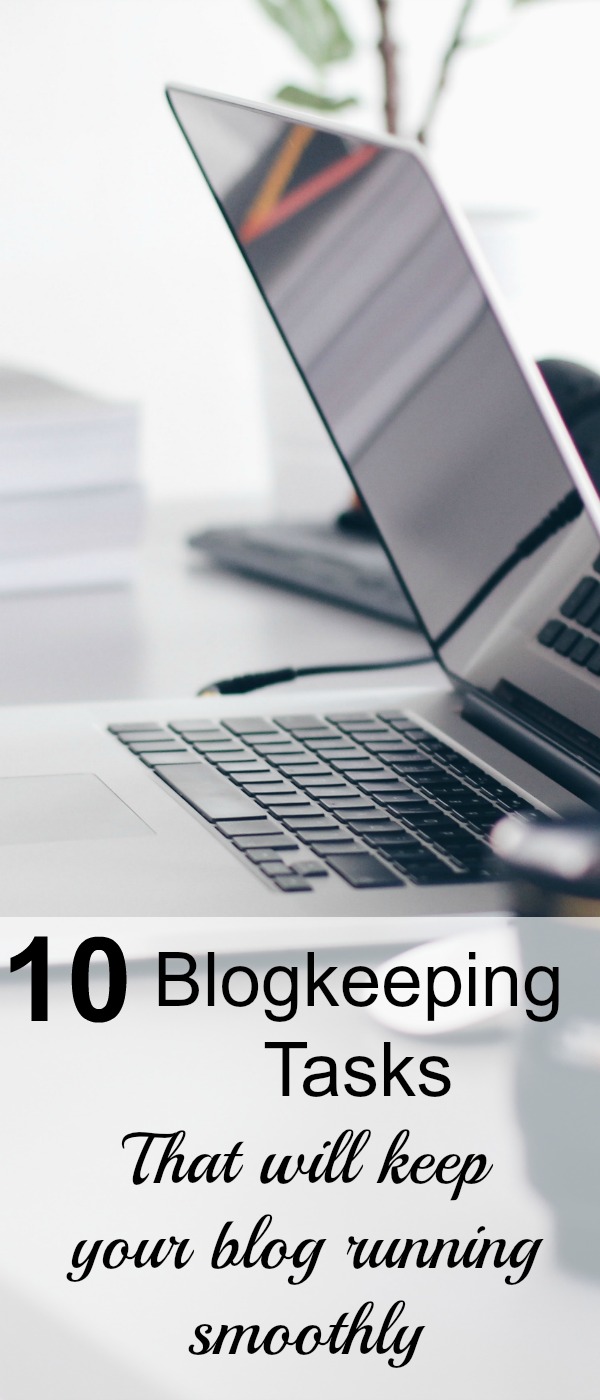 10 Blogkeeping Tasks that Will Keep Your Blog Running Smoothly
Here are 10 blogkeeping tasks that anyone can do. If you keep a regular schedule, about once a month, it will remain a quick and easy routine.  I've added a few suggestions that will help your readers enjoy and share your content.
1. Check your sidebar and other areas that you place all your pretty widgets. If you're like me, those widgets seem to add up, especially on the sidebar. From ambassadorships to advertisements, to plugins that show your tweets, pins, categories, and other fun things, it doesn't take long before your blog looks cluttered and messy.
Take a look at your sidebar and remove anything that is outdated. I've seen blogs advertising events that happened last year. Decide what you really need. Frankly, readers don't spend very much time checking your sidebar, so a lot of it can go. I try to keep the widgets that are important to me, a few ads, and an event announcement if there is something I want to share.
2. Speaking of ads, I understand that it is nice to make a little money, but do you want to do it at the expense of losing readers? Some blogs have so many ads that pop up, flash, and populate the content section, that I just want to give up on them. Take a look at your own blog as if you were a stranger (or a beloved reader). If something bothers you? You know it's annoying your readers.
3. While you're checking your front page, take note of how quickly the page loads. It better be fast or your reader may move on to the next blog. This can be a serious problem for blogs that use a lot of large pictures. Make sure to reduce their size before uploading them to your site. I use PicMonkey, (<–affiliate link), but any graphics program can work. You can still have large, beautiful pictures, but they won't be as slow to load (and won't take up as much space on your server). Also, see #6 below for how plugins can slow down your site.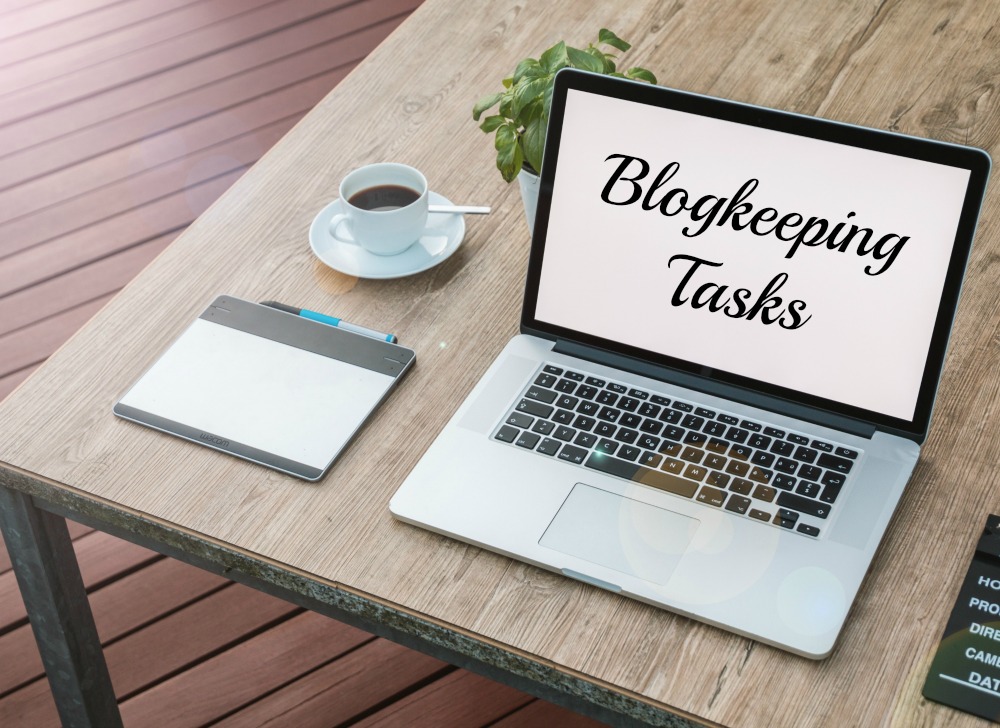 4. Check the links on your sidebar, including your sharing links. Strange things happen over time, so a quick click will let you know your links are leading the right way.
5. Take a look at your pages. How long has it been since you've updated them? Your About Me page definitely needs to be current (especially if you'd had any major life changes since the last time you updated it). Check the other pages too. Are they still serving a purpose? Do they need to be updated? Do you want to add a new page? Check the links on each page to make sure they work. And check the old comments, if you allow them on your pages. Just the other day I found a spammy comment that had slipped by.
6. Go through your plugins. Much like the sidebar, plugins tend to add up and they can really slow down your site. Check each one to see if you still need it. If not, get rid of it, or at least deactivate it. The following month, if you've noticed no difference since the deactivation, delete it.
I have a plugin called P3 (Plugin Performance Profiler) that shows me exactly how many resources each plugin uses. Users tend to expect a page to load in about 2 seconds. Longer than that and they may move on.
Many plugins, including P3, can be deactivated between uses. I also use Broken Link Checker, which uses a lot of resources, so I'll activate it, run it to I can check for broken links, then deactivate.
7. Check your spam folder. Try to keep it cleaned up so that it is relatively easy to take a look to see if a comment that was not spam was falsely reported. I recently upgraded to the paid version of Jetpack which includes Akismet. After using Anti-Spam for years I now have to remember to check my spam folder from time to time.
 8. Check your sharing tools. If your twitter share app does not include your handle, stop reading right now and go fix it. Go ahead, I'll wait. This is so important, yet I find that so many bloggers have not done this simple thing. Simply go to the settings of whichever plugin you use, and fill in the space where it says "Twitter User Name." So simple I'll bet you're wondering why you didn't do this before.
While you're at it, check the plugin you use for Pinterest shares. Most can be set so that the description of the pin will reflect either the title of the post or the Alt text of the image. This gives you an opportunity to use great keywords for your pinnable images. If you choose the Alt text option, make sure that you update the Alt text!
9. Update your networks. While not directly related to blogkeeping, if you are monitizing your blog, now is a good time to make sure that your social media and other related statistics are up to date with any brands or marketing organizations that you use. Any type of growth gives you better opportunities, so keep those number updated.
10. Take one last look. After you've done your blogkeeping, sit back and take one last look at your blog. It should look clean, load quickly, and be easily navigable. Then you're done for the month!
Taking the time to do these blogkeeping tasks once a month will ensure that your blog is a welcoming place that your readers enjoy stopping by, and will encourage them to stick around a while and share your content.
What did I miss? Do you have any tasks that you do regularly to keep your blog running smoothly?
While these housekeeping suggestions and solutions are targeted at all blogs, some of the instructions are for self hosted WordPress sites only. You might have to do a little research if your are using Blogger or WordPress.com.
---
Weekly Linkups
My weekly linkups! Please stop by and check out all of the great recipes, workouts, and information that all these awesome bloggers share every week!
Meatless Monday with Sarah and Deborah
Meatless Monday with Annmarie  and Dixya
Tuesdays on the Run with Marcia, Erika, and Patty
Inspire Me Monday with Janice
Wild Workout Wednesday with Annmarie, Michelle, Jen, and Nicole
The Plant-Based Potluck Party with Deborah
The Running Coaches' Corner with Rachel, Suz, Lora Marie, and Me!
Friday 5 2.0 with Rachel and Lacey and Meranda